It was a big win for patriots of differing stripes and degrees of comfort with their victories, as American Sniper set a new box office record for a Super Bowl weekend that saw New England overcome its own controversies to become NFL champions. Both faced formidable opponents—Seattle's "Legion Of Boom" defensive backs; some blog articles mocking a steakhouse—but they triumphed regardless, with Clint Eastwood's film adding another $31.85 million and Patriots quarterback Tom Brady another Super Bowl ring to their respective hauls (even as both were surrounded by bitter brawling). Perhaps it's no coincidence that Patriots coach Bill Belichick took his team to a screening of American Sniper at Eastwood's behest. Their fortunes are somehow intertwined, if only in the debates over whether they truly deserve them, or whether they both just got lucky thanks to some crazy slants.
Sharon Stone made a fraction of what Michael Douglas did for "Basic Instinct"
While American Sniper managed to overcome the distraction of the big ballgame, newcomer Project Almanac didn't fare as well, as most audiences got their fill of nonsensical spectacle and time-traveling from Katy Perry's halftime show with Missy Elliott and Lenny Kravitz. The teen-focused film landed at third place with an $8.5 million debut, failing to convince other teens to travel back to a distant past when they actually saw movies in the theaters and "found-footage" was still fresh. As Box Office Mojo notes, that's the second-worst debut for Michael Bay's Platinum Dunes shingle, which will no doubt stick to remakes of horror movies for all its time-traveling in the future.
Meanwhile, those looking to engage in simplistic racial dialogues this Super Bowl weekend mostly stuck to Twitter, rather than having Kevin Costner and Mike Binder walk them through it in Black Or White. The drama opened in fourth place with $6.5 million, but a Cinemascore of "A-" that suggests it could hang on for a little while as word of mouth spreads. Not likely for The Loft ($2.8 million), which at last opened a national dialogue on the dangers of loft ownership, but landed at tenth place all the same, in an America that remains divided over whether apartments should be divided.
Also of note: The first of two weekend IMAX screenings for Game Of Thrones managed to land in fifteenth place, with $1.5 million taken in over just around 200 theaters. It's evidence of a market demand for putting epic TV shows people have already seen into movie theaters. And of course, of the nation's continued thirst for war fantasies.
G/O Media may get a commission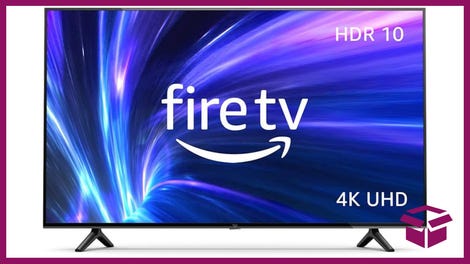 42% Off
Amazon Fire TV 50" 4K Smart TV
For more detailed numbers, visit Box Office Mojo.