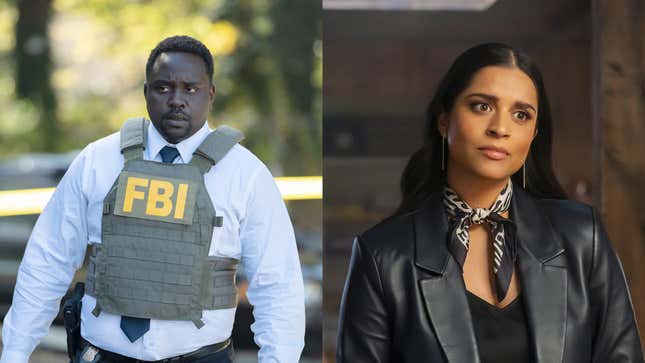 Welcome to What's On, our weekly picks of must-watch shows. Here's what you need to watch from Sunday, May 7, to Thursday, May 11. All times are Eastern. [Note: The weekend edition of What's On drops on Fridays.]

Brendan Hunt on "Ted Lasso," Karaoke, and Arsenal F.C.
---
The biggies
Class Of '09 (FX on Hulu, Wednesday, 12:01 a.m.)
Class Of '09 is an eight-part limited series starring Brian Tyree Henry, Kate Mara, Brian J. Smith, Sepideh Moafi, Jake McDorman, and Raúl Castillo. Set in three timelines, they all play rookie FBI agents in the past. In the present, they're caught up in different missions across the country, and in the future, a set of shady circumstances bring them back together. Class Of '09 premieres with two episodes, with the remaining installments dropping weekly. Look for The A.V. Club's review on Monday.
---
The Muppets Mayhem (Disney+, Wednesday, 3:01 a.m.)
The Muppets Mayhem follows the Electric Mayhem Band as they embark on an epic journey to record their first-ever studio album. With the help of a driven executive, Nora Singh (Lilly Singh), the old-school band comes face-to-face with the modern music scene. Tahj Mowry, Matt Vogel, Saara Chaudry, and Anders Holm also star. Check out The A.V. Club's review of the show Monday.
---
Hidden gems
Hannah Gadsby: Something Special (Netflix, Tuesday, 3:01 a.m.)
Nanette and Douglas breakout star Hannah Gadsby is back. The stand-up comedian returns with their third special on Netflix, titled Something Special. Taped in 2022 in Sydney, Australia, Gadsby will discuss everything from their wedding to multiple traumatic encounters with a bunny.
---
Becoming Ian Brady (Prime Video, Wednesday, 12:01 a.m.)
Directed by Andy Robinson, Becoming Ian Brady is a three-part docuseries charting the story of one of Britain's most notorious serial killers. Along with his partner Myra Hindley, Brady murdered five children between 1963 to 1965. The project examines Brady's twisted path, the impact of his actions, and how they were allowed to happen in the first place.

---
More good stuff
Missing: Dead Or Alive? (Netflix, Wednesday, 3:01 a.m.)
It's not a week on Netflix if a true-crime docuseries isn't added to the lineup. Missing: Dead Or Alive? is a four-part series following officers from a South Carolina sheriff's department searching for multiple individuals who've disappeared under troubling circumstances.
---
Intelligence: A Special Agent Special (Peacock, Thursday, 3:01 a.m.)
If you want a break from deciding whether to root for Ted Lasso's Coach Nate, here's your chance. Nick Mohammed returns in a special episode of his British comedy, Intelligence, in which he plays Joseph, a computer analyst at the NSA who teams up with Jerry Bernstein (David Schwimmer), an agent who antagonizes the crew with his brash style. Special Agent Special follows their fights against a rival who wants to destroy their business.
---
Can't miss recaps
Succession (HBO, Sunday, 9 p.m.)
Barry (HBO, Sunday, 10 p.m.)
Somebody Somewhere (HBO, Sunday, 10:30 p.m.)
Ted Lasso (Apple TV+, Wednesday, 3:01 a.m.)
Top Chef (Bravo, Thursday, 9 p.m.)
Yellowjackets (Showtime app, Friday, 3:01 a.m.)
---
Arriving now
The Real Housewives Of Atlanta (Sunday, Bravo, 8 p.m., season 15 premiere)
African Queens (Netflix, Wednesday, 3:01 a.m., season two premiere)
Fear The Walking Dead (AMC+, Thursday, 3:01 a.m., season eight premiere)
---
Ending soon
Rabbit Hole (Paramount+, Sunday, 3:01 a.m., season one finale)
Call The Midwife (PBS, Sunday, 8 p.m., season 12 finale)
Family Guy (FOX, Sunday, 9 p.m., season 21 finale)
Lucky Hank (AMC, Sunday, 9 p.m., season one finale)
The Company You Keep (ABC, Sunday, 10 p.m., season one finale)
Fantasy Island (FOX, Monday, 9 p.m., season two finale)
Night Court, Lopez Vs. Lopez (NBC, Tuesday, 8-9 p.m., season finales)
Accused (FOX, Tuesday, 9 p.m., season one finale)
Single Drunk Female (Freeform, Wednesday, 10:30 p.m., season two finale)
Slasher (Shudder, Thursday, 3:01 a.m., season five finale)
Titans (HBO Max, Thursday, 3:01 a.m., season four finale)
Walker (The CW, Thursday, 8 p.m., season three finale)
Ghosts (CBS, Thursday, 8:30 p.m., season two finale)