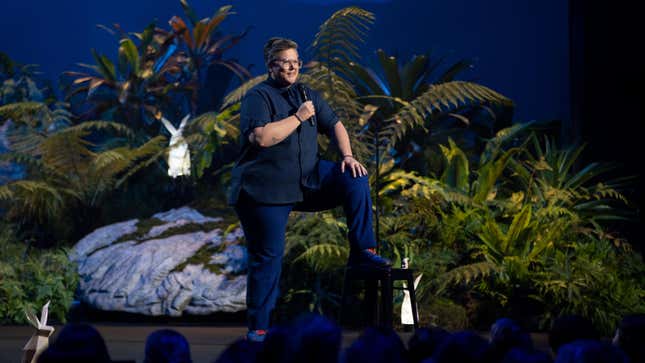 After spending the better part of 2021 standing up to their bosses at Netflix for their role in popularizing the regressive right-wing terror that threatens the lives of transpeople around the world, Hannah Gadsby let bygones be bygones and announced two specials with the streamer. The first will be Something Special, originally titled Body Of Work, and it will premiere on May 9.
Netflix plans to make you freeloaders finally cough up the dough
Returning to the scene of the crime where Gadsby filmed their acclaimed first Netflix special, Nanette, Gadsby performed the show in the fall of 2022 at the Sydney Opera House. Described as a "smart and feel good set," featuring stories from Gadsby's wedding and "traumatic encounter with a bunny," Something Special is Gadsby's first special since 2020's Douglas and the first not to receive a human name. Sorry, Matt-heads, but if Gadsby is through with nominal titles, we can kiss any hopes of "Hannah Gadsby's Matt" out the window—another day, another dream dead.

For their part, Gadsby was upfront about continuing to work within "a notoriously transphobic industry." However, Gadsby said they are "looking to broaden the scope of opportunities for genderqueer performers from around the globe" to "expand the diversity of offerings to audiences on one of comedy's biggest platforms."
In 2021, Dave Chappelle's Netflix special The Closer, in which the comedian joined "team TERF" among other hacky, transphobic offerings, became the subject of public ire for Chappelle's openly hateful material. Gadsby responded to the controversy by telling Netflix CEO Ted Sarandos, "fuck you" on Instagram. Gadsby rightly argued that there were real-world consequences to all those hilarious jokes about pronouns and bathrooms. Nearly two years later, GLAAD says that as of February 2023, politicians introduced more than 300 anti-LBGTQ bills, breaking the last two years of record-breaking bigotry.
"These bills represented a coordinated effort to deny transgender people our freedom, our safety, and our dignity," said Chase Strangio, deputy director for transgender justice at the ACLU's LGBTQ & HIV Project, before the introduction of another 150-some-odd bills. "Across the country, trans people and our families are gearing up to fight back and prevent every one of these bills from becoming law. The history of LGBTQ people in the U.S. shows we are hardly strangers to having our health care politicized or our safety threatened by misinformed and misguided politicians."

Of course, we don't anticipate Gadsby's special creating the kind of controversy Chappelle blanketed our country in. If anything, we hope to see a new flurry of think pieces asking, "What is a comedy special?"
Something Special premieres on Netflix on May 9.