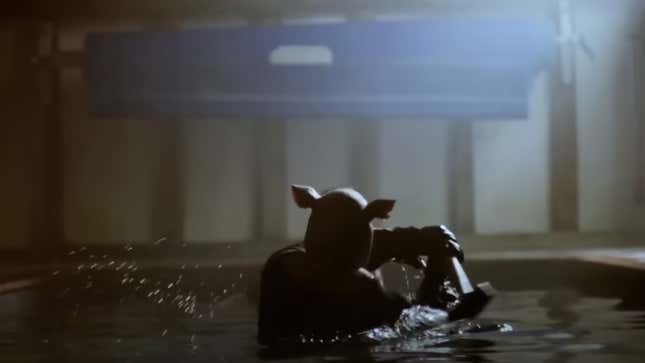 First, there was slasher Winnie The Pooh. Next, there was murderous Bambi. Now, says Winnie The Pooh: Blood And Honey writer/director Rhys Frake-Waterfield, we can expect a whole lot more.
Oh bother, Hong Kong shuts down Winnie The Pooh
Per Frake-Waterfield, he's planning on turning his micro-budget slasher into an entire cinematic universe of dark-sided childhood tales. Already on the docket: an adaptation of Peter Pan that finds the spritely Tinkerbell in recovery from drugs even harder than applause.
"The idea is that we're going to try and imagine they're all in the same world, so we can have crossovers," he tells The Hollywood Reporter's Alex Ritman. "People have been messaging saying they really want to see Bambi versus Pooh."
Winnie The Pooh: Blood And Honey trailer immediately went viral, and while Jagged Edge Productions hasn't revealed an official budget, Frake-Waterfield told Variety it sat somewhere under $100,000. Although it won't see a wide release until next week, the film has already smashed that budget at the box office, bringing in almost $1 million during an initial run in Mexico.
Frake-Waterfield's projects so far have relied on opportunity; both Winnie The Pooh: Blood And Honey and Frake-Waterfield's proposed Bambi horror film depict Disney characters that entered the public domain in 2022. For a time, many industry experts even suspected Disney would renew their copyright on Pooh, given that the franchise has generated nearly $80 billion for the company over the years. But that didn't happen, and now, we could see Bambi and Pooh claw each other to scraps.
Despite his penchant for characters indelibly associated with the House of Mouse, Frake-Waterfield makes it clear he's not just eyeing Disney projects for his future slate.
"There are many, many, many other ideas out there which aren't tied to Disney, loads of old fairytales and urban legends, concepts that are synonymous with your childhood," Frake-Waterfield shares, "and they're the ones which I want to build up into a twisted alternative reality."
Winnie The Pooh: Blood And Honey opens in the United States on February 15.