It's a testament to Madonna's star power that every new album she releases is an event. However, the promotional cycle for Rebel Heart was provocative even by her standards: A hacker leaked demos from the album back in December, prompting the early release of six full songs just before Christmas (and an arrest several weeks later). That still didn't prevent another avalanche of demos and remixes from appearing online and infiltrating YouTube, however—ensuring that nobody was entirely quite sure what the final version of Rebel Heart would actually sound like.
That shroud of mystery and intrigue still suits the ever-chameleonic icon, even if Rebel Heart's main themes are clear-cut studies in contrasts: confident braggadocio and expressions of uncertainty; unfettered lust and tender love; relationship optimism and post-heartbreak sorrow; seeking out religious redemption and tangoing with the dark side. None of this is particularly new territory for Madonna, but these juxtapositions do make for some of her most vulnerable, engaging work in years—in particular "Joan Of Arc" (during which she acknowledges her fallibility when faced with criticism) and the bitter, piano-driven ex-kiss-off "HeartBreakCity."
Musically, Rebel Heart also fares better than 2008's Hard Candy and 2012's MDNA, which felt like they were trying too hard to make Madonna fit in with current hit makers. The album itself is a mix of synth-brushed ballads, sinewy dance-floor workouts and outré electro production; the obvious potential hits from the record (specifically "Ghosttown," co-written with several notable Demi Lovato collaborators) sound effortlessly contemporary. In fact, most of Madonna's notable collaborations this time around don't sound forced. Highlight "Holy Water" is a stern, grayscale technopop team-up with Natalia Kills that boasts alien synth squiggles and martial beats, while the gospel-tinged, acoustic-guitar-featuring "Devil Pray"—which features subtle co-production from Avicii and Blood Diamonds—is an irresistible plea for salvation and divine guidance in the face of temptations such as drugs. The electro-fried hip-hop jam "Bitch I'm Madonna" is the right kind of gimmicky, a Nicki Minaj-featuring earworm about partying that's mindless fun and impossible to take seriously, what with such sentiments as "I poured a beer into my shoe and got my freak on."
With a clunky lyric like that, it's difficult to tell if Madonna is winking at listeners—or asking them to accept such inanity at face value. Unfortunately, Rebel Heart has its fair share of those head-scratchers. "Body Shop" employs eye-rolling descriptions about fixing various car parts (e.g., "tighten up the suspension") as sexual metaphors; "Iconic"—which features guest verses from Chance The Rapper and an opening salvo from Mike Tyson—can't decide if it wants to skewer fame or encourage people to embrace it; and "Unapologetic Bitch" resembles watered-down Santigold. And while her distortion-smudged, guitar-marred Kanye West collaboration "Illuminati" is pleasingly confrontational, the song's lyrical progression is a distracted mess: Madonna namechecks a trendy list of rumored Illuminati members, chastises people for forgetting the real Illuminati were Enlightenment brainiacs, and then implores people to dance and let the music take over. The result? All of these shiny party people resemble the Illuminati.
G/O Media may get a commission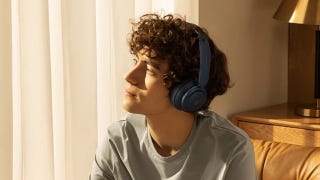 30% off
Soundcore Headphones and Earbuds
Despite these wince-inducing moments, Rebel Heart is a step back in the right direction. While her reputation as a bulletproof dance-floor queen still looms large, Madonna endures because she's never been afraid to own her imperfections, and be emotionally forthright about, well, everything. Rebel Heart finds her doing both of those things, and the music is better for it.