With less than a minute remaining in this year's Winter Classic between the Philadelphia Flyers and the New York Rangers, a pileup in the crease of New York goaltender Henrik Lundqvist ended with a penalty shot being rewarded to the Flyers' Daniel Brière (on account of a New York player covering the puck with their hand while in the cease, which was not necessarily conclusively evident from the replay but which could have easily happened amidst that scrum).
For Flyers fans, the call offered a glorious opportunity to a tie a game that had shifted dramatically since the Flyers jumped out to a 2-0 lead, with the Rangers scoring three unanswered goals. For Rangers fans, it was a controversial call that threatened the thin 3-2 lead they had been holding onto for much of the third period.
Meanwhile, for me sitting at home with no vested interest in the outcome of the game, I was simply smiling knowing how much better this narrative was going to be for tonight's finale of HBO's 24/7 Road to the Winter Classic. In fact, it was so perfect a narrative that coach John Tortorella, whose New York Rangers would win the game after Lundqvist shut the door on Brière's penalty shot, actually claimed after the game — despite winning — that the awarding of the penalty shot was a conspiracy between the referees, the NHL, and NBC (the network airing the game). It was a ludicrous claim, as any conspiracy on that level would have also paid off Lundqvist to let the shot in and have the game go to overtime (obviously), but it reflected how the HBO cameras foreground the role of narrative both on and off the ice.
As with last year, those HBO cameras made watching the Winter Classic on television (on CBC specifically, avoiding the scourge of Pierre McGuire on the NBC broadcast) a singularly compelling experience, one where every lingering question could potentially get an answer. When Jaromir Jagr effectively spent the final two periods sitting on the bench with an undefined injury, we had hope it would be defined a few nights later (although it remained vague in tonight's episode); when Scott Hartnell stirred up trouble in front of the Rangers bench, we knew we had a good chance of getting the full uncensored version during tonight's broadcast; when rookie Brayden Schenn scored his first NHL goal during the game, we could tell that was going to be at least a brief focus during tonight's finale. And this is just within the Flyers: You could find an equal number of potential narratives emerging during the game on the Rangers side of the ice.
Compared with last season, it feels as though this year's installment of 24/7: Road to the Winter Classic has accumulated a larger collection of potential narratives, although that might be because I watched the second and third episodes on Sunday night (having fallen behind over the holidays). Claude Giroux both suffered his concussion and returned from it during the course of the special, raising some discussion about whether he was rushed back to the ice (which thus far seems unfounded, although long term impact remains unclear), but also creating a narrative that the special was able to cover from beginning to "end" (right up to his goal during the Winter Classic itself). In general, though, it felt like the narratives resonated more effectively (especially with the young Rangers team, where "star" narratives were largely ignored in favor of focusing on players like Ryan Callahan, Brian Boyle, and Michael Del Zotto), and I was more readily able to pick out each player's narrative when they touched the puck, like a sort of instant memory jolt — while much of this is having just watched many of those narratives the night before, I am sure, I do think that the show was particularly sharp this season in terms of drawing these players to the surface.
G/O Media may get a commission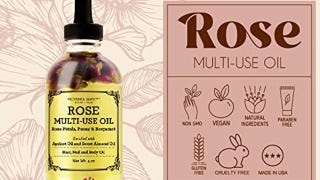 Provence Beauty Rose Multi-Use Oil
This was no clearer than with Flyers goalie Ilya Bryzgalov, who emerged as the star of the series in its first episode among both the audience and his teammates, who razzed him about it within the special itself in a nice meta moment capturing the morning after the premiere aired. When I reviewed the premiere, there was some discussion that I could have focused more on Bryzgalov's philosophizing regarding the universe, which is true: As far as characters go, Bryzgalov was the closest thing to a "television star" to emerge out of the special. As the series has gone on, though, Bryzgalov's narrative shifted considerably. While he remained wonderfully offbeat, his storylines consistently taking on a comic tone in the middle installments (based primarily on the editing, but not entirely unjustified by the content), his on-ice performance slipped to the point where backup Sergei Bobrovsky was chosen as the starting goalie for the Winter Classic. It was a decision that made perfect sense from a hockey perspective given Bryzgalov's recent struggles, but it offered a dissatisfying end to the 24/7 narrative surrounding the goalie.
However, while it may have been dissatisfying, it was dissatisfying in ways which foreground the value of the series, a case of reality imposing on televisuality. When dealing with any sort of documentary, moments like this one are valuable as a reminder that the "real" still remains paramount, that a breakout character can still be benched when he can't manage to keep pucks out of the net and is growing into a larger disappointment with each passing game. Of course, it also makes narrative in addition to complicating it, to the point where Bryzgalov's final note in the series is a solemn glimpse of a goalie whose skill has not lived up to the largeness of the moment in front of him. In charting Bryzgalov losing his smile, the series reinforces the sense that 24/7 is documenting an ever-changing reality, an 82-game season that started before the cameras arrived and will continue long after the cameras are packed away.
As I noted when reviewing the premiere, my basic evaluation of 24/7 from last year stands: This is a highly compelling series, one which provides tremendous access for hockey fans while offering stimulating narratives for more casual spectators. What struck me this season, however, was that the absence of big name stars on the level of an Ovechkin allowed for a much stronger sense of team dynamics. While individual contributors were highlighted (particularly on the Flyers, given Giroux's breakout season and Jagr's veteran presence), something about the two teams and their general philosophies felt uniquely conducive to the documentary treatment.
Some of this might have to do with their coaching staff, with both John Tortorella and Peter Laviolette emerging as rational, if occasionally emotional, voices at the center of their respective teams. Sure, Tortorella eventually lost it on the referees after the Winter Classic (which, notably, was either ignored by the HBO editors or unseen by their cameras), and Laviolette did have a brief confrontation with a Dallas Stars player that was a little bit on the ugly side, so I'm not suggesting that both were wholly likeable presences (although Tortorella definitely got the nicer edit given his relationship with young Liam Traynor). However, speaking exclusively of their work as coaches of hockey teams, they spoke in a clear, straightforward fashion which made their advice comprehensible, actionable, and narratively effective.
At the end of the day, though, 24/7 is about the players. When I reviewed the premiere, I expressed some reservations about how the series might handle the rash of concussions within the NHL, an issue that ended up being extremely central given Giroux's injury, news of Chris Pronger's grim prognosis, and a number of players returning after concussions (including Marc Staal and Brayden Schenn). Ultimately, the series was uninterested in the broader implications to the "NHL" as a whole, never really grappling with the trend towards protecting against concussions (which as of today are being investigated by the International Ice Hockey Federation) or the ongoing debate about the future of enforcers in the league (as spurred on today by Toronto GM Brian Burke's comments). Instead, concussions became personal rather than occupational, a way to help us understand the struggles that each player faces. While more could have been done to investigate this ongoing concern, I will say that concussions were treated as more than just another injury even within the narrow focus of the series, which is about as well as I hoped they would handle it given their mandate.
When parts of my review were picked up by a Yahoo hockey blog, I was dismissed in the comment section as someone who wants to suck all the fun out of hockey and as someone who doesn't understand the game, but I fucking loved the little details of life as a hockey player which are really the backbone of 24/7. Little moments like Max Talbot complaining about getting speared in the balls, or Claude Giroux imploring "Henry" Lundqvist to let him score one tonight, or the Flyers conversing on the ice on how best to respond after Mike Rupp mocked Jaromir Jagr's trademark salute after his first goal during the Winter Classic — all of those are the kind of insights that the HBO cameras capture which are rarely part of the game, and I'll continue to watch any subsequent series in order to get my yearly dose of profanity-laden hockey trash talk. In addition, expanding beyond the on-ice banter, it's fascinating to see more about who these players are as "people," with Dan Girardi's toddler and Ryan Callahan's grandmother emerging as characters in their own right. All of this represents the spirit of hockey, a spirit that is not erased by concerns over concussions and a spirit that 24/7 evoked in every episode this season.
While it was hard not to see last year's first installment as a promotional effort, and technically speaking this year's installment was just as much of an advertisement for the league, I found it easier to turn off the cynical side of things and just enjoy the show this time around. Now that we've accepted this will be happening every year, and now that we understand what it seeks to accomplish, I believe we've reached the point where 24/7: Road to the Winter Classic can be quite simply viewed as a yearly highlight for hockey fans. With entirely different teams, and entirely different stories, it still delivered an incredibly satisfying four hours of television, and I hope (and very much expect) that we'll be enjoying much the same a year from now even if I also hope that we'll have fewer concussion-related concerns to contend with at that point.
Stray observations:
I do wish that HBO had done more with Bryzgalov's controversial comments regarding his benching, but it was clear that they wanted to move onto the game without getting into Laviolette's response — I know the CBC commentators made the suggestion during the Winter Classic that this might be a case where the HBO cameras kept things in check more than normal, so I'm curious to follow where that story might go.
Another year, another lack of coverage surrounding the alumni game — not a shock, but that feels like something they could focus on a bit more in the future if they decide to expand beyond four episodes (which is always possible, although maybe not entirely likely).
It also wasn't shocking to see that HBO skipped over the Canadian national anthem, the performance of which played to the Canadian broadcast audience as well as the Canadian players, but I would have liked to see some closeups of the people booing so I could hunt them down. Booing national anthems is the worst (and I'd say the same of Canadians booing the American anthem as well).
A favorite moment in tonight's installment: The sudden reappearance of Sean Avery just before I knew he was about to be put on waivers. I hold no real grudge against the guy, but it was a nice little editing moment.
Would be very interested to hear from Flyers and Rangers fans — I've yet to have the experience of watching this show as a fan of one of the teams, and likely never will given the exclusion of Canadian teams, so I'm interested in how this changed your perspective on both your own team and on their rivals.