It was always going to be difficult to top or even just match Happy! season one. The impossible-to-categorize Syfy joint put forth a tightly-paced, absurdly over-the-top first season that was chock full of bloody action and boundary-pushing humor set against the ticking clock storyline of Nick's (Christopher Meloni) daughter Hailey (Bryce Lorenzo) being held captive by a dangerous meth head Santa Claus (Joseph D. Reitman). There was a lot happening but it somehow coalesced into a surprisingly fun show last winter.

Sharon Stone made a fraction of what Michael Douglas did for "Basic Instinct"
Unfortunately, because of where season one left off, season two gets off to a much slower start. Nick is trying to walk the straight and narrow for Hailey, while Hailey's mom Amanda (Medina Senghore) is struggling with daily life after what she saw in Sonny Shine's (Christopher Fitzgerald) tower at the end of last season. Remember the S&M hamburger bag alien bug orgy? It was definitely seared into all of our brains and Amanda is dealing with some serious PTSD from actually having been there. Obviously.
Meanwhile, the orcus demon inside Blue's (Ritchie Coster) body is wreaking havoc in prison, Sonny Shine is on a crusade to Make Easter Great Again (MEGA)—which, haha—and Smoothie (Patrick Fischler) is obsessed with rabbits and flayed a man alive, so... not much has changed with Smoothie. And finally, Meredith (Lili Mirojnick) got kicked off the force, so she's working as a real estate agent, but the real work she's doing is to take down Sonny Shine once and for all, which includes a three-dimensional murder board that puts anything Carrie Mathison has done to shame.

G/O Media may get a commission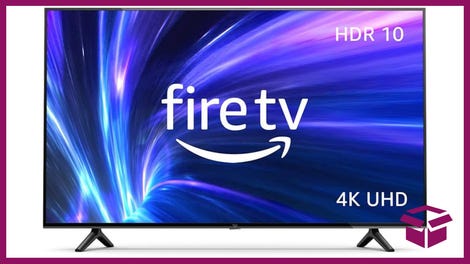 42% Off
Amazon Fire TV 50" 4K Smart TV
The trouble is that all of these storylines are happening in a fairly disjointed way for the first couple of episodes. Whereas in season one Hailey's kidnapping quickly set up a through-line, season two doesn't have something like that to bring everything together right away. So it not only feels a little scattered, but it also lacks the sense of urgency that was built into Hailey's kidnapping. That being said, there are two big reasons why fans should hang in there if the first two episodes don't grab them right away.
Firstly, the show has not lost its absurd humor and highly-stylized violence. Imaginary friend Happy (voiced by Patton Oswalt) is still there acting as Nick's partner and conscience, providing excellent one-liners and sight gags. There's also a great sequence in the second episode where Nick takes Hailey on a daddy-daughter outing that, in true Nick Sax fashion, goes from awkward to hilarious to sad in the blink of an eye. The premiere also features a massacre in a warehouse that recalls the fight between Burton and Nola in season three of Banshee—two very different scenes but both so exquisitely choreographed and super bloody. So while the storylines may not be as compelling as they were in season one, Happy!'s core DNA is still intact and should be enough to get you by until the second big reason to keep tuning in: episode three.
It makes a huge difference that Syfy made the third episode, "Some Girls Need a Lot of Repenting," available for review because it's where things really take off. The action ramps up, the storylines start to come together, Smoothie has an eyebrow-raising encounter with Hailey, plus Ann-Margret drops by for a rousing musical number—the legendary star of stage and screen is game play a fictional version of herself filtered through the Happy! lens that will never let you look at Ann-Margret the same way again. But in addition to taser-fueled kicklines and giant phalluses, the third episode also offers hope that the second season may be able to match the greatness of the first season (or at least come close); it's the first of the new episodes that is truly compelling to watch.
Three episodes in, the jury is still out as to whether the second season will find the urgency and emotional stakes that the first season had but things are looking up. At the very least, the new Smoothie-Hailey story arc is quite intriguing and has the potential to go to some interesting, entertaining and even dark places. So while it might take some time, fans could end up quite Happy! with season two.