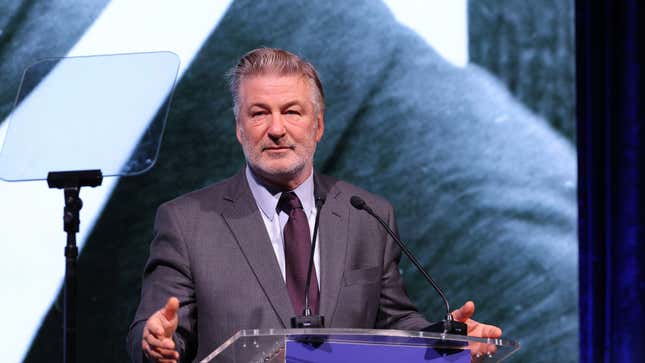 Alec Baldwin has officially entered a plea of "not guilty" in his New Mexico trial today, denying the state's charges of involuntary manslaughter in relation to the death of cinematographer Halyna Hutchins on the set of the low-budget Western movie Rust. As Deadline notes, this move is not wholly unanticipated: Baldwin has been vocal, since the first days after Hutchins' death—on October 21, 2021—that he was not responsible for the firing of the gun he was holding on the movie's set during a rehearsal, an incident which killed Hutchins and wounded director Joel Souza. The plea comes as Baldwin's trial already promises to veer contentious; earlier this week, a Santa Fe district attorney begrudgingly dropped a "gun extension" on the charges that could have added 5 years on to Baldwin's potential sentence, with the DA citing "big-city attorneys" in a clearly frustrated press statement.
Baldwin still faces up to 18 months in jail, and fines, if he's found guilty in the trial; armorer Hannah Gutierrez-Reed, who was responsible for the handling of weapons on the film's set, is facing the same charges (and had the same extension dropped against her earlier this week). By pleading "not guilty," Baldwin opts out of one of the first hearings in the legal proceedings surrounding Rust, which will now head closer to trial.
Meanwhile, the film itself is apparently still heading towards completion: It was recently announced that production on the movie—with Baldwin in a starring role, presumably barring any, well, incarceration—has been moved to Montana. Hutchins' widower, Matthew Hutchins, is listed as an executive producer on the movie (with producers having previously stated that one of their goals with finishing and releasing the film was to provide some income for Hutchins' family), although, as Deadline notes, he's apparently also listed as a witness for the prosecution in the upcoming trials.