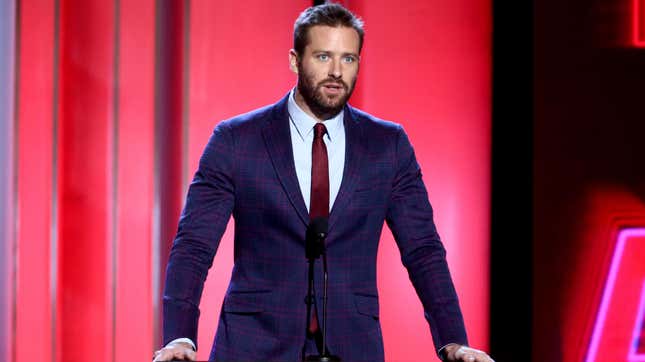 Beleaguered star Armie Hammer, who has more or less disappeared from public life since the shocking allegations of sexual assault, cannibalism, and abuse were made public in 2021, will not face sexual assault charges in Los Angeles. In a statement, the L.A. County District Attorney's office explained that due to the "complexity of the relationship," which made proving a "non-consensual, forcible sexual encounter" impossible to prove beyond a reasonable doubt, charges will not be filed against the actor.
Food Network host Jonathan Bennett dishes on "Halloween Wars"
"Sexual assault cases are often difficult to prove, which is why we assign our most experienced prosecutors to review them," Tiffiny Blacknell, Director of the Bureau of Communications for the L.A. County D.A. told CNN. "In this case, those prosecutors conducted an extremely thorough review but determined that, at this time, there is insufficient evidence to charge Mr. Hammer with a crime."
"As prosecutors, we have an ethical responsibility to only charge cases that we can prove beyond a reasonable doubt. Due to the complexity of the relationship and inability to prove a non-consensual, forcible sexual encounter we are unable to prove the case beyond a reasonable doubt."
Accusations made by a woman identified as Effie were posted on social media and began a wave of allegations against Hammer. During their fitful four-year relationship, Effie claims Hammer physically abused her throughout and raped her in 2017. Hammer denies the allegations.
"I am disappointed with the LA County District Attorney's decision not to prosecute Armie Hammer," Effie told CNN. "I felt a duty to speak out and file a report in order to try to hold Armie accountable for all the harm and trauma he has caused me and in order to protect other women from experiencing similar abuse."
While Hammer denied the allegations made by Effie, he admitted that the "power dynamics were off" in relationships with others, saying he was "one million percent" emotionally abusive toward Courtney Vucekovich and Paige Lorenze, two female accusers featured in the House Of Hammer docu-series, which is its own source of controversy. Effie accused the series directors Elli Hakami and Julian P. Hobbs of exploiting her trauma. "They remind me of Armie," she said last September.
In a post on Instagram, Hammer wrote: "I am very grateful to the District Attorney for conducting a thorough investigation and coming to the conclusion that I have stood by this entire time, that no crime was committed. I look forward to beginning what will be a long, difficult process of putting my life back together now that my name is cleared."
Since the allegations went viral, Hammer's star dipped significantly. Aside from being the subject of the House Of Hammer series, Hammer spent the last two years out of the public eye, supposedly selling timeshares at a Cayman Islands resort, according to Variety's sources.