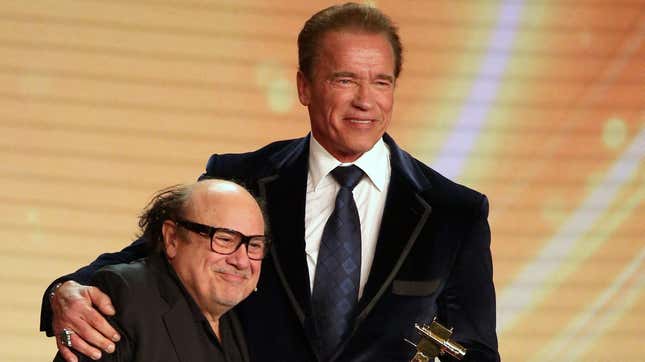 The concept of mortality really grinds Arnold Schwarzenegger's gears. In their new conversation for Interview Magazine, Schwarzenegger and Danny DeVito eschewed the fluffy friendly stuff for going deep on childhood memories and the idea of an afterlife, which, by the way, the Governator does not believe in. "Anyone that tells you something else is a fucking liar," as he says himself.
Arnold Schwarzenegger knows some of those "Terminator" sequels weren't very good
Schwarzenegger concedes he doesn't know what happens to the soul, but he's certain we'll never see each other in these bodies again, "Except in some fantasy," he says, dismissing a handful of major religions' teachings in one go. "When people talk about, 'I will see them again in heaven,' it sounds so good, but the reality is that we won't see each other again after we're gone. That's the sad part. I know people feel comfortable with death, but I don't."
This is remarkably candid for the press tour of the new Netflix action-comedy series FUBAR, but Schwarzenegger is not afraid to tell the world that he "will fucking miss the shit out of everything" when he passes on to the great hereafter. (Or to nowhere, as the case may be.)
Agreeing with DeVito that life is "the best" ("[To] have fun and to go to the gym and to pump up, to ride my bike on the beach, to travel around, to see interesting things all over the world" are the action star's examples), Schwarzenegger is seeking someone to blame for the fact that we don't get to live forever. "I don't know what the deal is, but in any case, it's a reality, and it truly pisses me off." DeVito observes, quite accurately, that the actor-politician does not want to die. "No," says his Twins co-star. "What the fuck? What kind of deal is that?"
Well, it's a good question! You can read the full, essential dialogue here.