I was wondering what your favorite use of a song was in a TV show or movie, a situation where the scene and the song just brought out the best in each other. For me, while I've never been a fan of Sinéad O'Connor, the use of her song "No Man's Woman" (a song I didn't care for at all when it was first released) over the final few scenes of the première episode of Alias just spoke to me in places I didn't know I had ears. —Jason Varghese
Tasha Robinson
We haven't covered this precise topic, though we did cover favorite movie soundtracks not so long ago, and four years back, we did an inventory of movie scenes owned by pop songs. But that was a relatively small list, and there are so many possibles, and that Inventory didn't cover TV at all, so I think we can safely revisit the subject here. You asked for just one all-time favorite, and mine was the one I wrote up for that Inventory: The opening sequence of Trainspotting, set to Iggy Pop's "Lust For Life." My thoughts on that sequence are already on record, though, so just to avoid being redundant, I'll nominate a couple of runners-up, both from Terminator: The Sarah Connor Chronicles: Johnny Cash's "The Man Comes Around" (over a sequence where the FBI tries to take down Terminator Garret Dillahunt, with disastrous consequences, much of it merely suggested by sound effects and by visuals seen from the bottom of a pool), and better yet, Shirley Manson's "Samson And Delilah"(over a scene where Sarah Connor and her son John are captured and tortured). I found Sarah Connor Chronicles disappointing and often dull, but these two sequences were stylish, nervy, cinematic, and daring enough to keep me coming back all the way to the end of the series.
Claire Zulkey
It's hard to pick just one. Recently, I watched an Inventory video on undemanded sequels which reminded me of how well Donnie Darko used Tears For Fears' "Head Over Heels," which was definitely a situation where I couldn't tell whether I liked the scene because I enjoy that song so much, or if I liked the song more because it was used in a nicely directed scene. (Good use of slo-mo, too.) Another one that leaps to mind is the use of Israel Kamakawiwo'ole's version of "Somewhere Over The Rainbow" for Mark Greene's death on ER. I think I was past really caring about the characters at that point in the show, but the sweetness and tenderness of the song (which is already a little heartbreaking to me) brought me back into the moment.  Unfortunately, that version of the song (which is sad enough as it is) has completely ruined it for me. Whenever I hear "Somewhere Over the Rainbow," I think of sad death.
Kenny Herzog
Six Feet Under inspired mixed reactions when it aired, and tends to provoke both fawning appreciation and valid critique in retrospect. But one thing many of us agree on is that its finale's closing minutes were about as good as series wrap-ups get. And probably better. For months after "Everyone's Waiting" aired, Sia's "Breathe Me"—which, up to that point, had been a nominally well-received single off her Colour The Small One LP—owned mainstream radio and stole the bookends of countless lovesick mix-tapes. The closing montage in question—in which youngest Fisher progeny Claire drives off into the proverbial open road of her future, and show creator/episode director Alan Ball flashes forward to the moment of death for each remaining Six Feet Under featured player—is humbling, unsettling, over the top, and achingly touching, all signature qualities of the HBO landmark at its best. But it would have been smoke and mirrors without hearing those opening piano chords as Claire trades in her rear view for the unknown, Sia's consoling vocals ease us through psychic glimpses of each character's fate, and a climactic orchestral swell mounts with almost unbearable catharsis as we tour through the life of a gasping, elderly Claire (and, more succinctly, a life in general and all it touches) through the photos we saw her take when she was young. It could have been a gimmick, but thanks to some superbly insightful music supervision and a previously underappreciated song by a fledgling Aussie tunesmith, those nine minutes still resonate with remarkable series-specific pathos and lasting personal impact.
Keith Phipps
So many to choose from, but nobody can make me fall in love with a song the way Wong Kar-Wai can. Chungking Express in particular makes incredible use of a wide variety of music, including Dennis Brown's "Things In Life," Dinah Washington's "What A Difference A Day Made," and a cover of the Cranberries' "Dreams" by Faye Wong, one of the film's stars. But everyone reading this who's seen the movie probably already has one song in their head: "California Dreamin'" by The Mamas & The Papas, which Wong's character plays over and over again as she works in one of Hong Kong's food carts. It lends movie and character alike a melancholy yearning that images alone couldn't convey, and it gains power through repetition. But the reason it's my favorite comes from the way Wong uses it the first time: The film follows two lovelorn protagonists, switching suddenly from one to the other at about the halfway point, when the acoustic guitar kicks in and we're thrown into a different sort of world and a different kind of longing, albeit against the same chaotic, urban clutter of the first half. The music changes everything the way only music can. (There's a YouTube clip of this moment, but it loses its impact out of context. Just go see Chungking Express already if you haven't, okay?)
Josh Modell
There are millions, literally millions, as Rob Lowe would say on Parks And Rec, of examples of this, and hundreds of thousands in Wes Anderson's movies alone. So I'm going with The Who's "A Quick One, While He's Away," from Rushmore. The film specifically uses the "You Are Forgiven" section of the mini-epic, which is a nice juxtaposition, considering that the scene it's used over is all about revenge: Jason Schwartzman's character strikes first, releasing bees into Bill Murray's hotel suite. Then Murray destroys Schwartzman's bike. (All harmless so far, right?) Finally, Schwartzman cuts the brake lines on Murray's car, and gets himself arrested. Anderson uses a huge chunk of the song, which probably wasn't cheap, but it turned out pretty much perfect.
Todd VanDerWerff
The Sopranos was always known for its great musical choices, but it especially knew just how to close out a season. My favorite sequence—and one that's stuck with me persistently since I last rewatched it for my Sopranos rewatch project last summer—is The Rolling Stones' "Thru And Thru" in the episode "Funhouse." I'm not going to spoil, but Tony has just done something fairly shocking, something it seemed like the show might string out for several seasons (a lesser show would have), and when he returns home for his daughter's graduation party, it's like nothing has even happened. "Thru And Thru" is such a good choice, because it's so strangely spare and simultaneously apocalyptic, suiting the show's growing sense that the end was coming, that nothing could be done to stop whatever was around the bend. All along, footage of the graduation party intercuts with footage of the aftermath and consequences of the actions the Soprano mob family has taken over the course of the season, until one final shot of the party, a cut in close on Tony Soprano's face as he contentedly sucks on a cigar. And then the song's hammering drums kick in, like the first bombs beginning to fall, and we cut to the waves that hide Tony's latest misdeed. And the show makes very clear just where all of this will end. (Bonus answers: The use of Johnny Mathis' "Wonderful, Wonderful," even if sung by a Mathis sound-alike, in The X-Files' "Home" has made me never able to hear that song the same way again. Same with "Hurdy Gurdy Man" by Donovan in Zodiac.)
Zack Handlen
In the past year or so, I've soured a little on Quentin Tarantino's Inglourious Basterds. I'm not sure why; I love Tarantino, and I think segments of the movie are absolutely brilliant. And I find the critique, intentional or unintentional, of the way Nazis are often portrayed in film pretty fascinating. I think I'm getting too used to Tarantino's tricks, like the long dialogue scenes where the tension builds to an unbearable point. There are four or five sequences like this in Basterds, and while they're well-written (and brilliantly acted, often by Christoph Waltz), there's something too calculated in the process, as though Tarantino can't help showing off how good he is at this sort of thing. It makes me feel like I'm appreciating the technique instead of engaging with the movie, and I've grown less enamored of the movie because I find a lot of it boring now. I mention this because when Tarantino lets images speak for themselves, when he puts the characters ahead of his voice, he's capable of sequences of remarkable power. Like this one, set to David Bowie's "Cat People (Putting Out Fire)," in which Melanie Laurent puts on makeup like a woman preparing for battle. Whatever reservations I have about the rest of the movie, this scene always knocks me on my ass.
Michaelangelo Matos
The funniest music cue ever has to be in Albert Brooks' Modern Romance. Robert Cole, Brooks' character, is a film editor who keeps breaking up and getting back together with his girlfriend. (My then-girlfriend and I lay in horror together after watching that movie, going, "Is that us?" over and over. Thankfully, it wasn't.) Cole is single and decides to party it up by taking Quaaludes and going home alone. It's a virtuosic extended piece of physical comedy, with Brooks stumbling all over his house, calling his assistant editor (Bruno Kirby) to tell him "I love you… in the right way" ("The 'ludes kicked in, right?" Kirby says), and—the pièce de résistance—deciding to put on some music: "I've got so many great albums! I love 'em, I love 'em. Music is the doctor of the soul." And what prescription does he bring up? Walter Murphy's "A Fifth Of Beethoven," the frothiest disco record ever. A more perfectly incongruent choice could not have been found.
Jason Heller
While watching Glee the other night (my girlfriend got me hooked; she's a sick woman), I was pleasantly surprised to see Amber "Mercedes" Riley tackle Otis Redding's "Try A Little Tenderness." Being one of Glee's underrated talents—within the show's storyline and in real life—she knocked it out of the park. But I couldn't help but be reminded of John Cryer's lip-synched, scenery-swallowing rendition of the song in Pretty In Pink. I'm not sure whether we're supposed to be jaded about John Hughes' Brat Pack flicks at this point in the pop-culture cycle, and I couldn't care less. I love that shit. In his role as the infatuated yet prideful outsider Duckie Dale, Cryer owned that song (and presaged the rise of karaoke by a decade). His proto-emo performance also perfectly embodied Hughes' uncanny sensitivity to the pulse of the '80s teen as it harmonized with the nostalgia of his own Boomer generation. Or maybe he just had an ear for a really great tune. The word "iconic" gets kicked around like a hacky sack nowadays, but I'd say Cryer's horny, heartrending mimicry of Redding's rumbling romanticism is one of the 1980s' most potent, indelible images. In any case, it's fun to imagine the older, combed-down Cryer singing "Tenderness" today—perhaps to Charlie Sheen.
G/O Media may get a commission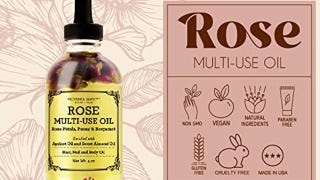 Provence Beauty Rose Multi-Use Oil
[pagebreak]
Nathan Rabin
In Blue Valentine, Ryan Gosling tells Michelle Williams that he doesn't want their song to be like everyone else's. He doesn't want to have to share a standard like "It Had To Be You" with the rest of the world. No, he wants a song that belongs solely to the private universe that is their relationship. So he proposes Penny & The Quarters' "You & Me," an absolutely heartbreaking declaration of love rendered all the more powerful by its elegant simplicity: It's just an aching, yearning voice, an acoustic guitar and backup vocals moaning in empathy. Blue Valentine shattered me emotionally, but nothing about it was as devastating or haunting as its use of "You & Me."
Marc Hawthorne
I'm a child of the '80s, so it's not surprising that a lot of my epic songs-in-scenes come from films associated with Cameron Crowe and John Hughes: John Cusack hoisting that boom box over his head in Say Anything… and wooing me (and Ione Skye) with Peter Gabriel's "In Your Eyes," Jennifer Jason Leigh and her baby fat getting naked (thank you, Lord) and laid to Jackson Browne's "Somebody's Baby" a couple of times in Fast Times At Ridgemont High, and the Ferris Bueller's Day Off gang hanging out at the Art Institute Of Chicago with Dream Academy's perfect cover of The Smiths' "Please Please Please Let Me Get What I Want" playing in the background. (Since there's no Ferris Bueller soundtrack to buy, if anyone wants to sell me their Dream Academy single, let me know.) I'm also partial to Michael J. Fox losing his coked-out mind at Phoebe Cates' fashion show with Jennifer Hall's dreamy "Ice Cream Days," adding to the beautiful tragedy near the end of Bright Lights, Big City. But I'll go ahead and fess up to the most recent scene-stealing song to grab my attention, even though it originated as a YouTube video and I usually receive rolled eyes from friends when I mention it: It's Chris Brown's "Forever" from the wedding video that went viral a couple of years ago. For some reason, that song, matched with all of those dorky, dancing Midwestern groomsmen and bridesmaids, always sends shivers up my spine, and the power of that whole scene was solidified when I experienced those exact same shivers when The Office did its parody. I know Brown is a bad dude and I probably shouldn't go around celebrating his music, but in my mind, "Forever" is no longer his song—it belongs to some couple in St. Paul who I will never meet, but who currently symbolize the most romantic moment my cold soul can imagine.
Will Harris
The cinematic moment that leaps immediately to mind with this topic is the brilliant use of Andy Williams' "Happy Heart" at the end of Danny Boyle's Shallow Grave. Whenever I'm listening to the song and hear Williams burst into the chorus, I can't help but think of Ewan McGregor's blissful smile, at the end of the film. I still laugh out loud at the way BreakingBad made use of the Association's "Windy," though I have to wonder if the band was as amused as I was to find their song serving as the soundtrack to a day in the life of a meth-addicted hooker. As long as we're talking about AMC series, another surprising but effective choice of song came at the end of the first episode of TheWalkingDead, when the closing moments were set to, of all things, an obscure Wang Chung song called "Space Junk." But hey, it worked. Lastly, as someone raised on the music of Al Jolson, I never fail to be tickled by Richard Locraine's decision in Richard III to set the demise of the title character, played by Ian McKellen, to Jolson's incongruously upbeat "Sitting On Top Of The World." When I interviewed McKellen, I asked about the choice of song, and he said that, although he'd personally been against it, Warren Beatty sold him on its validity by arguing, "You're determined to discover everything that's cinematic about the play and express it on the screen, and you don't want the support of the man who was the first person to ever speak in a movie?" Preach it, Warren!
Chris Martins
To me, the combination of song and celluloid gets no better—if we define "better" as "gut-wrenchingly poignant"—than Elliott Smith's "Needle In The Hay" playing as Luke Wilson attempts suicide in The Royal Tenenbaums. At that point in the movie (a point which exists in every Wes Anderson movie), the characters' complex bonds begin to unravel, and a sort of comic sadness begins to creep into every scene. But as familiar as that arc feels, there's no preparing for the bathroom scene, where Smith's quavering voice and addled words become impossible to ignore, drowning out all other sounds and replacing whatever humor remained with breathless tension. As Wilson starts haphazardly chopping at his trademark pretty-boy 'do, and moves on to his beard, the dread builds. Eventually, some combination of the cold lighting, Wilson's determination, and Smith's nudity tips viewers off to the imminent wrist-slashing just before it actually happens, and when it does, it feels like the floor falls away. It's heartbreaking, and even after Wilson recovers, Smith's words rattle around the brain, a reminder of the irreversible invisible scars left by such a severe, desperate act. For fans of both the movie and the musician, that scene took on an agonizing realness two years later, when Smith died, apparently by stabbing himself.
Marcus Gilmer
I, like Todd, picked an episode of The Sopranos for this one, but it comes a bit before "Funhouse"—specifically, the penultimate episode of season one, "Isabella." The episode finds Tony delving further and further into his depression, loaded on lithium and hallucinating about an exchange student named Isabella staying next door at the Cusamanos' house. It also finds (12-year-old spoiler alert) Uncle Junior finalizing his plans for his hit on Tony. Things come to a head when a despondent Tony heads to an appointment with Dr. Melfi, and the men Junior hired to kill Tony finally get their chance. Soundtracking the scene is Tindersticks' "Tiny Tears," a beautiful string-laden ballad that builds with organ and lush orchestration as singer Stuart Staples croons in his vibrato baritone. (The fact that Tony's own family is trying to gun him down gives an extra heft to some of the song's lines, like "How can you hurt someone so much / You're supposed to care for.") The song's inherent melancholy is a perfect reflection for Tony as he pulls himself together enough to leave bed and head to Melfi's office, gazing into the Cusamanos' back yard for Isabella along the way, and finding it empty. The song builds to its swirling climax as Tony, in a scene that pays tribute to the attempted assassination of Don Corleone in the first Godfather, purchases orange juice and a newspaper as the gunmen make their move, shooting and missing Tony by inches. Here, the use of silence is as perfect as the use of song. While "Tiny Tears" perfectly builds the mood for the scene leading up to it, the song cuts as another bullet shatters the window on Tony's SUV and Tony leaps into action; that's when he snaps out of the malaise he's fallen into, a major turning point for a character who was looking into the abyss just moments before.
Scott Tobias
How has Martin Scorsese not been mentioned yet? Though he owes his use of songs to innovators like Kenneth Anger, no one has advanced the practice more than Scorsese, whose most memorable scenes are often closely associated with a piece of music. Who can forget the montage set to Derek & The Dominos' "Layla" in GoodFellas, or the blistering punctuation of Dropkick Murphys' "I'm Shipping Up To Boston" over the opening credits of The Departed, or Jackson Browne's "Late For The Sky" coming through Travis Bickle's TV set as he teeters on the brink of insanity in Taxi Driver? But my favorite Scorsese music cue doubles as one of the great star entrances of all time: Robert De Niro strutting into a bar in slow motion, a woman under each arm, to the Rolling Stones' "Jumpin' Jack Flash" in Mean Streets. It's an electrifying moment: Without needing a word said, Scorsese establishes the charisma that makes De Niro's character simultaneously dangerous and irresistible, and sets the film—not to mention his career, and De Niro's—on course.
Sam Adams
There are millions of obvious answers to this question, and a few less so ("Under Pressure" in Grosse Pointe Blank leaps to mind, although I've already waxed rhapsodic about the soundtrack in this space). But after narrowing it a bit to focus on songs that both define the films they're in and are changed by their inclusion, I started thinking about the way Joe Berlinger and Bruce Sinofsky employ Metallica's "Orion" in their documentary Paradise Lost: The Child Murders At Robin Hood Hills. In case you haven't seen the documentary, or its equally disturbing sequel… It focuses on three teenage metalheads from economically depressed West Memphis, Arkansas who are blamed for the horrific mutilation and murder of three young boys. Damien Echols, Jesse Misskelley, Jr. and Jason Baldwin become the targets of the police investigation based solely on their taste in music, their outsider status, and the fact that Echols checked out books on witchcraft from the public library—evidence enough to condemn any teenager trying to stand out in a small town. While they clearly believe that Echols, Misskelley and Baldwin have been railroaded, Berlinger and Sinofsky don't shy away from the evil of which they're accused. The film is threaded through with helicopter shots of the dark woods in which the boys were killed, scored to the terrible beauty Metallica's epic Master Of Puppets track, which serves the dual function of reminding the audience that heavy metal isn't all breakneck tempos and growling angst.