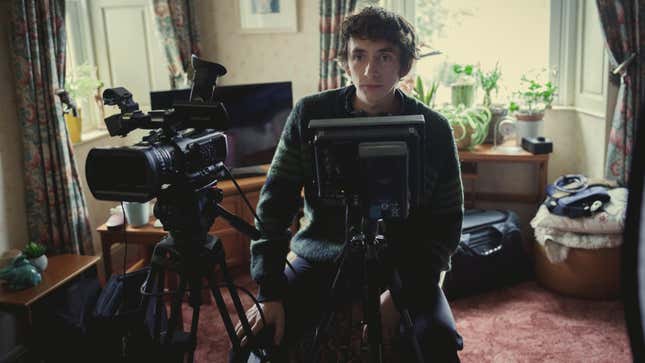 We are a society obsessed with murder most foul. From serial killers to kidnappers, mass murderers to family annihilators, true crime very much remains our genre du jour—so much so that a 2022 poll found that a whopping half of Americans enjoy blitzing through true-crime titles on streaming services, with another 13 percent going as far as to say it's their favorite genre. Their favorite. Suck on that, drama, comedy, sci-fi, fantasy, and romance.
The feud between Howard Stern and the world's smuggest man, Bill Maher, has come to a tentative ceasefire
Of course, it's not all that hard to see the appeal of the true-crime bandwagon: There are some truly excellent titles out there, with the likes of The Staircase, Making A Murderer, Abducted In Plain Sight, Murder On Middle Beach, The Jinx, and The Keepers all racking up rave reviews and word-of-mouth binges. But can we all just admit that there's something … well, a little grubby about our true-crime obsession? It gives us the same feeling we'd get from rifling through someone's literal dirty laundry, flipping through their personal journals, or reading their WhatsApp messages without permission. It's the same feeling we get from snooping through someone's bathroom cabinet (nothing quite like the thrill of peering at someone's medications and beauty products while you're powdering your nose, right?) when they're kind enough to invite us over for dinner. Except, instead of finding Finasteride and Viagra behind the mirrored door, there's a woman's severed head staring back at you. Go figure.
Much like Only Murders In The Building and and the new Based On A True Story, Black Mirror's "Loch Henry," the second chapter in the latest season of Charlie Brooker's dystopian anthology series, takes aim squarely at our love affair with true crime. And god, does it do some serious damage in the process.

The episode centers on a couple of bright young things: Davis (Samuel Blenkin) and his girlfriend Pia (Myha'la Herrold) have made the journey up to Davis' sleepy Scottish hometown to say hi to his old mum (Monica Dolan) and film a nature documentary about a vigilante who has made it his life's mission to protect the eggs of rare birds from poachers. Good lad, that one—and a good story, undoubtedly, even if Janet scathingly refers to him as "the egg man" from the moment she hears her son's pitch.

After a pint with Davis' mate Stuart (Daniel Portman), though, the plan changes. Because Pia is absolutely mesmerized by Stuart's recollections of Iain Adair, a local serial killer who a) kidnapped, tortured and murdered a couple of impossibly attractive honeymooners, b) fired the bullet that proved indirectly responsible for the death of Davis' police detective father, and c) has yet to have his story given the glamorous Netflix makeover that all juicy true crime stories deserve, damn it.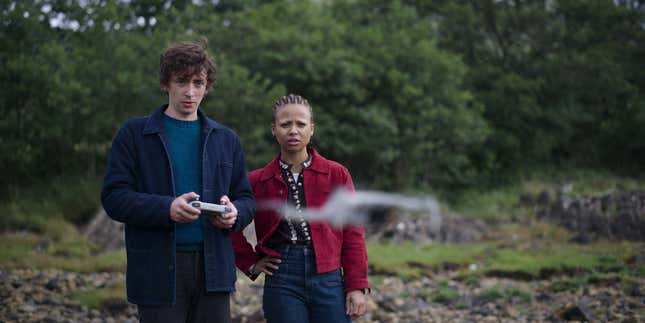 Davis isn't convinced. He wants to do the documentary about the man with the eggs. He wants to showcase his documentary at indie film festivals, make his name quietly and on his terms. And there's no mystery to the Iain Adair murders, he insists. Every detail has been uncovered, every last terrible act pored over by the media. Pia, however, disagrees.

"The mystery is, 'How could someone do that shit?'" she snaps. "It's, 'What the fuck?' It's, 'Give me the details!' And the details are so awful, it's irresistible."

Predictable, but genius, too
Stuart is mad for the plan, too, largely because his boozer is dying a slow death of its own, and he is convinced that a true-crime documentary would bring the crowds in. Half of the footage would be gorgeous fucking panoramas of the beautiful lakes and woodlands around the local area, he points out to Davis, almost like a travel video. A juicy true-crime story is the only way to draw the crowds back to Loch Henry. Hell, that's how people pick their holiday destinations nowadays! And besides, justice for Davis' dead dad! What's not to love about this plan, eh?

Well, while we aren't going to wander too far into spoiler territory, we will say this: There is more to Adair's crimes than meets the eye. Stuart's mostly off-screen dad (an aged-up John Hannah, which makes it all too clear this character will eventually have a larger role to play) seems to be hiding something, for starters. Plus, there are all sorts of clues scattered about the place that make it clear that Adair was by far from the only twisted fuck in the village. So much so, in fact, that some have labeled the episode's big finale as … well, as predictable, quite frankly.

The installment's predictability, however, is part of its genius. This is Black Mirror, remember? There is always more to an episode than expected; you have to go in ready to embrace all the Easter eggs and sink into all of that hardcore meta content like you're sliding into a bubble bath. Light a candle, pour yourself a drink, pop on a face mask—that sort of thing. Because anyone who does so will quickly realize that "Loch Henry" is mirroring the storytelling conventions of the true-crime genre.

Think about it: When you sit down to watch a true-crime docuseries, you know what you're getting before the ominous music and long-lens shots of forensics episodes even begins. There's a formula to these things: a structure wholly comprised of repetitive tropes—the overexposed grainy photos, the drone footage, the cassette tape whirring ominously—that needs to be ticked off. A true true crime, for instance, is nothing without a linear narrative and a third-act twist. And boy, does "Loch Henry" have a third-act twist.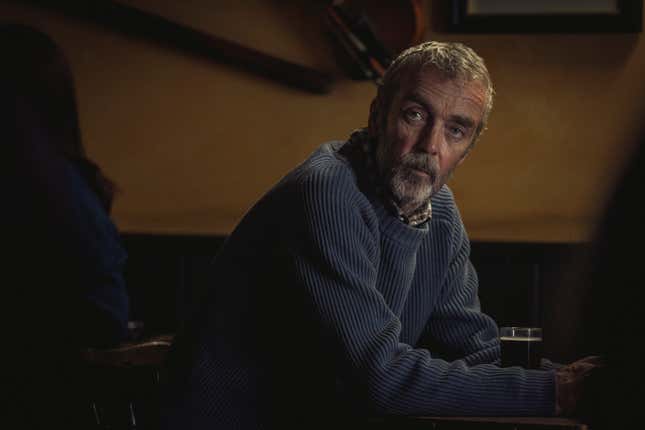 While Only Murders In The Building only ever lovingly pokes fun at fans of the genre, meanwhile, Black Mirror takes a wildly different approach. Because the intended audience of the Iain Adair documentary is those same people who dressed up as Jeffrey Dahmer for Halloween. They're there for the cheap thrills of a true-crime show: the salacious details, the horrendously evil villains, the drama. They're the ones who thrive on the sensationalism of it all, so much so that they often forget that, at the heart of this oh-so-bingeable and tweetable story, is at least one family that's been ripped apart by horrifying circumstances. At least.

Questions about the true-crime obsessed
The episode doesn't just shine a light on the ethical and moral implications of consuming media that entertains by glorifying the unspeakable horrors and evil deeds of twisted individuals: It also looks at what filmmakers lose when they succumb to the "easy win" nature of the genre. Yes, the Iain Adair documentary is an easy sell, but the tale of the egg-guarding vigilante was the story that Davis actually wanted to tell the world. His passion for that wildly weird and wonderful project had been palpable from the get-go: His unenthused paint-by-numbers approach to the true crime genre, on the other hand, is all too painfully apparent. And (again, skirting dangerously close to spoiler territory but without the need for hazmat suits just yet) he eventually discovers that filming a "successful" true-crime documentary might get his name on IMDb, but not for the reasons he'd hoped. (And that his taste of fame is every bit as sour as milk that's been left out in the sun for, ooh, let's say a full day and a half, too).

Of course, it's incredibly reductive to say that the entire point of this episode is "true crime bad." Give Brooker some credit, please. Instead, think of "Loch Henry" as the hilariously intense piracy warning at the front of an old DVD tape. (You wouldn't steal a CAR, you wouldn't steal a HANDBAG, so don't bloody steal a movie.) Think about what you're really getting out of the content you're consuming, and consider the lives of those affected by the awful crime you're about to eat popcorn in front of. Does it glorify the murderer, or does it center the story around their victims? Is it a reclamation of voices lost, or the further amplification of a twisted villain's celebrity? Can you name any of the dead pretty women at the center of the story, or are they just collateral damage in this queasy idolatry of murderers most foul? Is it tactful true crime, or tacky AF true crime?
Basically, to put it more bluntly: You wouldn't torture and murder a human being (or, at least, we hope you wouldn't). And you wouldn't happily sit down and watch a torture-murderer's home video of their crimes (again, we hope you wouldn't). So why would you want to watch endless reconstructions and intensely gory descriptions of these unspeakable deeds, hmm? Through the episode's story, Brooker wants us to confront the fact that our voyeuristic cravings are not a consequence-free form of entertainment. He wants us to become ethical consumers (and creators) of a genre that is so easy to get wrong—especially when you're making a story for ratings and ratings alone, as Davis and Pia (and Stuart) set out to do. And he unleashed the whole thing on arguably the biggest true-crime offender out there.