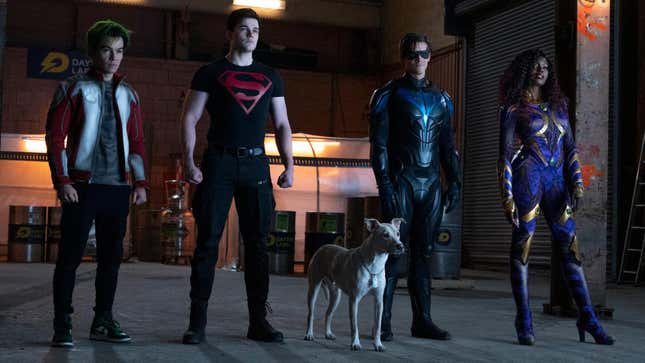 Three episodes into season three of the superhero drama Titans, Hank is in trouble. He's got a bomb hooked up to his heart that's counting down each beat, placed there by his ex-teammate (and ex-Robin) Jason Todd. But Hank's current teammate, Conner, is working on a deactivation device, and he's close, so close, to a 100 percent success rate. When he finishes, Conner's got less than 10 heartbeats to run from the Batcave to Hank's room somewhere above in Wayne Manor. But that's not a problem for Conner—he's Superboy, half Superman and half Lex Luthor. He's inherited Superman's speed and Lex's smarts, which makes him just about the ideal person for Hank to have on his side right now. And he's going to make it, there's no doubt about it; Conner's at Hank's door with roughly five beats to go. If he made it all the way across a mansion in five, he's going to be able to cross a room, hook up the deactivator, and save Hank in that same amount of time. You can feel it, the moment when the tension is just about to release, when everything is going to be okay. And then, with five beats still left on the timer, Hank explodes.

---
Titans, which first aired in 2018 on the now-defunct streaming service DC Universe, starts its fourth and final season April 13 on HBO Max. It was one of the flagship series for DC Universe—along with Doom Patrol, Swamp Thing, and Stargirl—at a time when DC was trying to create a home for shows that were too dark, violent, or crass for The CW, which had long been the studio's broadcast home for more conventional superhero fare like The Flash and Arrow.
Titans centers on a grown-up version of the Teen Titans superhero team as they take on a massive, potentially world-ending threat and band together to protect a teenage girl with immense powers. (In the comics, the team usually includes some combination of Robin, Wonder Girl, Superboy, Kid Flash, Aqualad, and various other sidekicks and young heroes.) And while the Teen Titans comics sometimes take on a more serious tone, it's still a far cry from the TV show's anguish.

From the start, Titans had an attitude problem. The first thing Dick Grayson (Batman's first Robin) says in the show is "Fuck Batman." With its inelegant teenage angst, it's a line that would suit a gritty take on the Teen Titans, which is what the show purports to be. But Dick's an adult here, and that mismatch in tone and story plagues the show's first two seasons. This isn't a dark take on the Teen Titans. The characters would have to be actual teenagers for that to work. This is a dark take on adults who are stuck in a state of arrested development, and Titans is not subtle about their baggage. The grimdark edgelord vibes make sense for a show about a bunch of teenagers who've been through some shit; it gets a little more trying when they're just adults with poor coping skills.
After Dick's outburst, it takes a little while for Titans to get the team together. Dick's a Detroit detective by day and Robin (sans Batman) by night. (The show makes it clear that he definitely does not want to talk about Batman.) In his younger days, he fought crime with Wonder Girl, a.k.a. Donna Troy, and Hawk and Dove, a.k.a. Hank Hall and Dawn Granger. When a teenager with superpowers named Rachel Roth seeks him out for protection, Dick goes to Donna, Hank, and Dawn for help. Kory, a woman who suffers from amnesia but seems inexplicably drawn to Rachel, also shows up.
Throughout the first two seasons, Dick also attracts a few more young hangers-on, including Conner Kent, a.k.a. Superboy, and Garfield Logan, a.k.a. Beast Boy, leading him to question whether he should re-form the Titans. From his implications, it didn't exactly go well the first time with Donna, Hank, and Dawn, and he's got performance anxiety about stepping into a leadership position. Questioning whether he should re-form the team when Something Bad clearly happened in the past to drive them apart, having anxiety over mentoring younger people when he never really had a positive adult role model himself (aside from Alfred)—these are realistic and understandable problems for Dick to be dealing with, but they're handled with all the subtlety of, well, "Fuck Batman."
The characters are all written in sweeping generalities because there's just no time to give them any nuance. In season two alone, there are mad scientists, a human trafficking ring that auctions off people with powers at a circus, Deathstroke, Deathstroke's children (both of whom take refuge with the Titans and one of whom is actually a spy; the other later turns into a sort of ghost thing that inhabits his father's, and then his sister's, body), Dick getting himself arrested as a way to deal with his angst, a prison break, the emergence of Dick's Nightwing persona, and Donna's truly bizarre and needless death. It's just too many plots to make anything feel meaningful.
But something changed for Titans season three. The third outing premiered as an HBO Max original after DC Universe shut down, and it seemed like the creative team had finally learned from their past mistakes. Season three unfolds slowly; it starts with Jason's death at the hands of the Joker, and the first episode focuses mostly on Dick and Bruce and the hole Jason left in their lives. By separating the team—Dick goes to Gotham while Kory, Conner, and Gar stay behind at Titans headquarters in San Francisco, Hank and Dawn go back to Washington, D.C., and Rachel takes Donna's body to Themyscira—they give everyone a little more room to breathe.
---
In the aftermath of Hank's death, Conner blames himself. If only he'd worked faster, gotten to Hank's side quicker, he could've saved him. But Dawn, rightly, points out that it wasn't a matter of time. The reason why Hank died with five beats left on the timer is that Dawn jumped the gun. After Dick realizes in episode two that Jason has somehow come back to life and is terrorizing Gotham as a villain called the Red Hood, the team has to reckon with what they owe Jason, and just how responsible they are for what happened to him. That's why Hank falls for it when Jason reaches out to him, begging for help, only to put a bomb in his chest.
Dawn, in her grief, falls for Jason's games again while trying to save Hank, even though Dick warns her not to engage with him. When Dawn tracks Jason down, he offers her a gun and tells her that if she kills him, Hank will live. But when Dawn pulls the trigger on Jason, the gun doesn't shoot. Instead, it triggers the explosive in Hank's chest.
This first arc of the season works because it gives each of the team members something to do while working on a common problem. And the rest of the season probably would have worked, too, if the show kept that tight focus. Now that Hank's dead, how do the Titans, as a team, decide what to do about Jason? And how do they figure out who's really at fault for everything that's happened so far?
Instead, the show moves past Hank's death pretty quickly; at the beginning of episode four, Dawn leaves for Paris, and that basically puts an end to any collective grieving process. Dick takes off on his own to interrogate Scarecrow about manipulating Jason, and Kory and Gar have to deal with the appearance of Kory's sister. Throughout the rest of season three, the team is spread thin. They're focusing on different problems while inhabiting the same space, leaving the characters orbiting each other without ever interacting in any meaningful way. And the plot, once again, suffers because there's not enough time to dive deep into any of the characters' motivations.
As Titans heads into its final batch of episodes, it's still got a massive amount of story threads to wrap up, and the conclusion is almost certainly going to feel rushed. That's how it's been with every other season finale; it'll probably hold true for the series finale, too. But for three beautiful episodes at the start of season three, we actually got to know these characters more deeply and see them work as a team. But, as Dawn learned when she pulled that trigger, when one of them goes off on their own, everything goes to hell.