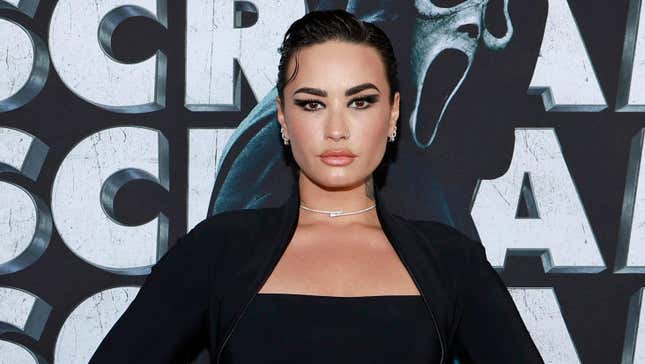 Who better to helm a project on the plight of the child star than a former Disney kid? Demi Lovato isn't the first ex-child star to tackle the subject, but she does bring a unique perspective to the topic coming from a generation of teen idols who grew up under the scrutiny of both the tabloids and the Internet. Now, she'll bring that perspective to her directorial debut, a new Hulu documentary aptly titled Child Star.
The doc, which Lovato will co-direct with Nicola Marsh (Stay On Board: The Leo Baker Story), will "deconstruct the highs and lows of growing up in the spotlight through the lens of some of the world's most famous former child stars, including Lovato. The film will explore how children are propelled to superstardom at a young age and how their rise to fame, fortune and power affects their futures," according to a synopsis (via The Hollywood Reporter). "Through intimate conversations led by Lovato, verité footage, and archival material from all subjects involved, the film will reach beyond the traditional narratives seen in op-eds and tabloids to consider the changing nature of growing up in an increasingly connected and public world," reads a press release for the film (via Variety).
"There is no better film or topic for my directorial debut than this story, which is close to home," Lovato said in a statement. "Our project sheds light on important messages about growing up in the public eye, learning to protect our boundaries, and becoming active advocates of our own destinies. I'm humbled to be able to learn from the individuals who have lived the unique experience of child stardom and share their stories in our film."
Lovato follows in the footsteps of Alex Winters, a fellow former child star who released his own doc Showbiz Kids in 2020. While the HBO feature interviewed many high-profile ex-child stars (Evan Rachel Wood, Wil Wheaton, Milla Jovovich, Jada Pinkett Smith, etc.) and even a young Disney Channel star (the late Cameron Boyce), it didn't cover the blockbuster tween dream era from which Lovato emerged. Her contemporaries include names that are still some of the biggest in the business, like Selena Gomez, Miley Cyrus, Ariana Grande, and the Jonas Brothers. Jenette McCurdy, whose recent memoir I'm Glad My Mom Died was another harrowing look at the life of a child star, also came up on Nickelodeon during the same time.
Lovato is familiar with being on the other side of the documentary lens; she's been the subject of three, most recently 2021's Demi Lovato: Dancing With The Devil. Michael D. Ratner's OBB Pictures and Scooter Braun's SB Projects, the production companies behind that docuseries, are also producing Child Star alongside Lovato's DLG banner, per THR. The doc is expected to land on Hulu in 2024.