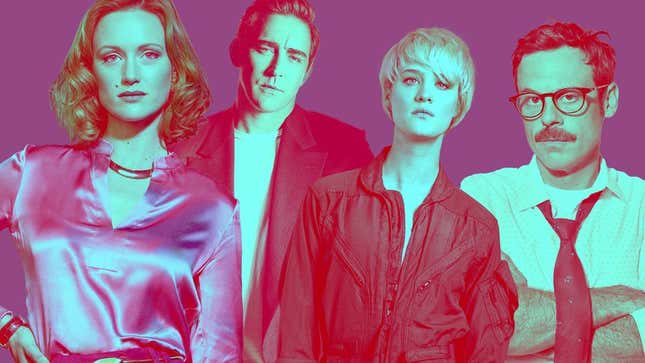 I regret sleeping on Halt And Catch Fire. I watched the pilot to AMC's drama about the personal-computing boom when it debuted in June of 2014, and I came away impressed by its final scene—in which a seemingly endless parade of IBM lawyers march into the offices of Cardiff Electric, the two-bit Silicon Prairie firm that has ripped off Big Blue's signature product—and its mid-episode deployment of the moody XTC album cut "Complicated Game." There was style aplenty, but the substance either wasn't there or felt, like the pilot's incendiary piece of tech, cloned from predecessors and competitors. At a time when there were so many other new shows to pay attention to in so many other new places, I moved on.
If Jesse Armstrong wanted Jeremy Strong to jump in a river, he would have put it in the script
But as Halt And Catch Fire has illustrated again and again, a little bit of time can make a whole world of difference. On the "so many other new shows" front alone: By one estimate, there were 389 scripted series in production in the United States the year Joe MacMillan leaned over Gordon Clark's cubicle wall and said "Reverse-engineer an IBM PC with me." Four years later, Halt And Catch Fire will come to its conclusion as one of 500-plus scripted television programs on American airwaves, cable channels, and streaming services.
If it was hard for a show to make its mark then, it's even harder to do so now. Yet Christopher Cantwell and Christopher C. Rogers' tale of the people working on the technological vanguard of the '80s and '90s managed that task, in a way TV shows have, with varying degrees of success, for years: Halt And Catch Fire started out as one thing, before evolving into something else.
"So much of this journey has been being surrounded with talent, and learning to hold on loosely, but not let go," Rogers told me on the eve of the show's final season premiere, his words echoing a song that could've easily fit into Halt And Catch Fire's diegetic mixtape of AOR, college rock, new wave, and '80s punk. "The pilot we wrote suggested one version of the show, and we could've held on to that very rigidly, and maybe you wouldn't be talking to us right now." If they were working at any other time in TV history, they might not have had a show in the first place.
The version of Halt And Catch Fire suggested by its pilot—which was only the second script Cantwell and Rogers (affectionately referred to as "The Chrises") ever wrote together—mirrored the giants of television's second golden age, whose male antiheroes included enigmatic slicksters like Joe (Lee Pace) and downtrodden coulda-beens like Gordon (Scoot McNairy). What Halt And Catch Fire became, and what it will finish as in the season that begins Saturday, August 19, is emblematic of our current era of TV, this age of so many choices and so little time. It was a show that flourished in a field crowded by hundreds of others, on a cable channel, AMC, whose prestigious, profitable expansion into original content has inspired similar efforts by dozens of outlets. Despite modest ratings and niche subject matter, Halt And Catch Fire made it to four seasons and 40 episodes, picking up positive word of mouth and critical accolades along the way.
Out of the glare of the spotlight, and with the future of the series uncertain from year to year, Cantwell, Rogers, and their team blazed forward. Their sense of pacing took its cues from the unyielding momentum of technological advancement, and their storytelling followed the connections that were being forged onscreen. Though Halt And Catch Fire was never solely about the tech, the show improved as its episodes and arcs pivoted toward clearer, more meaningful depictions of the people behind the tech. Though that's in the pilot, too, as stars Lee Pace and Kerry Bishé reminded me when we spoke in advance of season four. "The Chrises wrote this line in the first episode: 'Computers aren't the thing, they're the thing that get you to the thing,'" Pace said, reciting lines he'd previously spoke onscreen. "It's been this interesting riddle that we've discussed a lot."
"The machines are tools," Bishé said, offering her interpretation of the line. "They're not the end product. This idea gets repeated and changed over the course of the series."
And Halt And Catch Fire changed with it. One advantage the show had over its Peak TV contemporaries was the fact that it essentially rebooted every year. The oft-stated drawback of jumping into a new show—catching up with previous seasons—is less daunting when each season's setup is new to the characters, too. The creation of Cardiff's Giant PC in season one gave way to dabbling in the nascent fields of online gaming and social networking in season two, which led to the gang ditching its Texas digs for the Silicon Valley in season three. Because of this, Halt And Catch Fire was something you could jump into midstream without consulting multiple wikis or brushing up on recaps. You might miss some of the finer details, but the show had its own creative solutions for bringing viewers up to speed, like the kinetic long shot director Juan José Campanella used to establish the new status quo at the top of the second-season premiere, "SETI." (For what it's worth, the praise garnered by season two inspired me to skip directly to those episodes in the days leading up to the season-three premiere, after which I caught up with the remainder of season one.)
It all stems from decisions made during that first season, as the race to realize Joe and Gordon's pipe dream heated up. The producers were making unexpected discoveries, like the warmth that came out of scenes between shit-kicking Cardiff executive John Bosworth (Toby Huss) and Cameron Howe (Mackenzie Davis), the coding prodigy roped into the company's PC play. More importantly, scenes that put Cameron together with Bishé's character, Donna Clark, generated a compelling friction. Married Berkley grad, Donna, who did her job by-the-book at Texas Instruments by day and repaired her daughters' Speak & Spell by night ("I think of Donna as a real wonk," Bishé said), versus Cameron, the lone-wolf college dropout who types in time with vintage hardcore records, looking like Watts from Some Kind Of Wonderful traded in her drum kit for a keyboard. The characters' complementary ambitions and competing philosophies added up to a pairing that had just as much storytelling potential as Joe and Gordon's—enough for a full season, even. Said Cantwell:
It was fun to get to a place at the end of season one where it felt like Joe and Gordon were the establishment. We didn't want to lose that sense of rebellion and insurrection, and so it seemed to burst naturally out of Cameron and Donna. We said "We don't have anything to lose—let's follow this, let's see where this goes."

We did a crazy thing. We went in and razed all of our sets to the ground and rebuilt new ones. It felt like it fit well with the story of reinvention and the fast pace of technology that we had begun with. It was really owning that premise and that theme in a certain way, by letting things refocus and reshuffle so boldly.
Self-professed amateur science enthusiast Bishé sees similar parallels between what was being created by the characters of Halt And Catch Fire and the creation of Halt And Catch Fire itself. "It shows this not-often dramatized struggle between the compromises you have to make for a successful product that goes to market and the creative side that's pure imagination. That's what it feels like to make a TV show, too. You're wrestling with those two main factors."
Fortunately for Bishé and company, commercial success is no longer the only thing determining TV longevity. Compared to the monster audiences (and highly litigable revenue) drawn by its channelmate, The Walking Dead, Halt And Catch Fire is a loss leader. Its numbers increase within the seven-day delayed-viewing window that's becoming the industry standard for audience measurement, but even then, there are still less than a million people watching a given episode. And that's before you consider its Nielsen rating among the people advertisers are most keen to reach: As TV By The Numbers noted on the occasion of the show's fourth-season renewal,
If you added up the 18-49 rating for all 28 episodes of Halt And Catch Fire that have aired so far, you'd get a 5.1. No single episode of The Walking Dead has had an 18-49 rating that low since the first half of season three.
Yet Halt And Catch Fire carried on. Its perseverance can be attributed to any number of factors: Changing standards of success, wiggle room afforded by bona fide hits like The Walking Dead and Better Call Saul, the adulation of the TV press, or the fact that it was a production of AMC's in-house studio. What really matters is that the current TV climate made it possible for Halt And Catch Fire to stick around long enough to become its best self. Speaking from a personal and a professional standpoint, the great anxiety of Peak TV is wrapped up in the fear that a show I'm not watching, or not even paying attention to, has suddenly become essential viewing. That's exactly what happened with Halt And Catch Fire.
With that lack of wide-spread attention came a certain amount of inspiration. "I think uncertainty reinforced a hold-nothing-back mindset in the storytelling that got us to our best work quickly," said Rogers. "When you hold story back or try to draw it out, the audience can tell. Not knowing if there'd be a metaphorical 'tomorrow' really saved us from that mistake."
AMC was onboard with the mission to continually remake and remodel the show; when original showrunner Jonathan Lisco departed for TNT's adaptation of Animal Kingdom after season two, Cantwell and Rogers were promoted in his stead, overseeing the storyline that relocated Donna and Cameron's company, Mutiny, to California. (On the screen, at least; production of Halt And Catch Fire remained in the Atlanta area for the life of the series.) Scoot McNairy told me that he didn't think about ratings while making Halt And Catch Fire, but he could see the creative freedom that its performance in the Nielsens allowed.
"Our numbers weren't very high, which gave the Chrises the opportunity to do whatever they wanted," McNairy said. "There was no way to fail—our numbers were low, so they could only go up. AMC was very good to us, not overseeing and not trying to control the direction of the show—and the Chrises really ran with that."
Stare hard enough at Halt And Catch Fire, and all sorts of art-imitating-life examples leap out. Cantwell and Rogers, two "dream-deferred writers" who met at Disney and hatched their writing partnership over beers at a now-defunct L.A. bar, start to look like Joe and Gordon prodding circuit boards in the garage, or Donna and Cameron plotting the future of human interaction in the offices of Mutiny. ("That partnership stuff has always felt really close for us," said Rogers.) There's the rebel spirit of the whole piece, the underdogs challenging behemoths like IBM and AOL, like Halt And Catch Fire's human-scale take on prestige drama going up against Peak TV's fantasy epics and zombie apocalypses.
And, to take it back to Bishé's analogy, there's this group of people working toward the common goal of creating something new. Speaking with the creators and the cast after they've had some time away from the show, they each expressed an affection for the "honest collaboration," in Pace's words, that brought Halt And Catch Fire into being. In other words, the thing that gets you to the things.