In an effort to both serve our readers and help support The A.V. Club, we are going to post daily links to deals and interesting items that we find over on Amazon. If you use these links to click through and buy something—not just the thing you clicked—on Amazon, we will see a portion of that income. You don't have to do that if you don't want to, but if you do, know that we appreciate it.
Amazon's Deal Of The Day today is kids ride-on items, like trikes, wagons, and Power Wheels. In other words, if you've ever thought about getting your kid a sweet-looking tractor or pulling your dog along in a wagon, today's the day to make that dream come true.
G/O Media may get a commission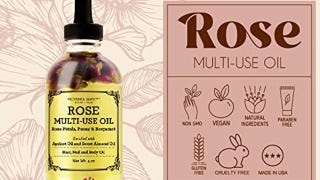 Provence Beauty Rose Multi-Use Oil
Now you'll never have an excuse for not working out.
Comic-Con might be over, but you can still pick up DVDs and Blu-Rays of various DC projects for reasonable prices over on Amazon. We're partial to this set, which packages The Flash, Gotham, and Arrow together, but there are tons of other gems available as well.
Time to stock up, doomsday preppers!
Sure, you could use this thing to make sure your house is safe or whatever, but you could also just use it to see what your dog does while you're away at work.
A number of movies are on sale right now on Amazon's streaming service. Some are duds, like the Keanu Reeves vehicle Chain Reaction, but others like The Full Monty are modern classics.
We called this game "an addictive and almost completely mindless way to trade hours of your time for a vague sense of accomplishment and brief moments of dopamine-inducing delight."
For 31 discs of Harry Potter goodness, 60-odd bucks seems like a pretty good deal.
Straight talk: Everyone needs at least two headlamps: One for home, and one for the car. You can use them for everything—fishing out something under the bed, taking out trash in the dark, messing with cables behind the TV, etc.—and you'll never regret buying one.