With Halloween looming, it's an appropriate time to think about what makes a monster. Few know the answer better than Sarina Brewer, Scott Bibus, and Robert Marbury, the three artists at the core of the Minnesota Association Of Rogue Taxidermists, a Twin Cities art collective specializing in gore-drenched, provocative, and defiantly postmodern takes on the hunting-lodge staple. The three share a mordant sense of humor and a strong desire to poke holes in the boundaries between life and death, monstrous and normal. Bibus has a day job making zombies for a company that sells props and equipment for haunted houses. His work, typified by a squirrel gnawing on a bloody human finger, is the most cheerfully gory of the trio's. Brewer's self-termed "carcass art" also has plenty of dark wit, and evokes a strong sense of the uncanny. And Marbury creates fabric animals that are like rabid, nightmare versions of Muppets. The three gained national attention (including a rave in the New York Times) for their first group show last year. Roguetaxidermy.com features galleries of their art as well as the popular Beast Blender. The A.V. Club sat down with Marbury and Bibus (Brewer's roof collapsed, forcing her to cancel).

Note: Some of the images below are not for the squeamish.


The A.V. Club: How do people react when they see your art for the first time?
Scott Bibus: We get a lot of people who are really upset initially, until you engage them. Part of our ethics charter says that one of our missions is to engage people who are offended about what we're doing and about the different issues that we're thinking about.
AVC: Your work can be so disturbing, it's probably important to note that you really do have an ethics charter.
SB: It's interesting. Me and Sarina, as the only two founding members who had to worry about ethics [because Marbury doesn't use taxidermy], our ethics charter is basically our practices from the beginning. We both are animal lovers. We don't want to hurt any animals. No animals that we use are killed for the purpose of mounting. That's like one of the biggest tenets: No animal must be killed because you want to make a piece of art. Like, "I want to make a possum. There's one! Bang! Now I got one!" The animals that are used in the art have to be procured through ethical means. Ethical for me includes buying them from a store, but that's only ethical because we as a society have decided to say this is a fine way to go about having an animal killed and then presented to you.
AVC: You have no way of knowing how the animal was treated.
SB: Well, you can almost guarantee yourself that it was treated very poorly.

AVC: Was your show at Creative Electric Studios last October your first one together as a group?
Robert Marbury: Originally, Dave [Salmela], who runs Creative Electric, wanted to do an Urban Beast show [Marbury's solo project]. And I had just met [Scott and Sarina] and I said, "Hey, why don't we think about doing this larger piece with the whole Rogue Taxidermy group." Dave's a vegetarian, and I think he thought, "Well, I don't know how I feel about that." But then he saw the work and got that gleam in his eye, like "I think this is gonna be great!"
SB: That was probably the busiest week of my life.
RM: [Laughs.] It was crazy!
AVC: Did you think the show would get such a large amount of attention, both positive and negative, as it did?
RM: Do other people consider it art? I think that we can say comfortably that as a concept it's worked. But at the time, we really had no idea how people were going to respond. As far as we were concerned that week, although we were putting a lot of work into it, we were the only ones that were going to appreciate it.

G/O Media may get a commission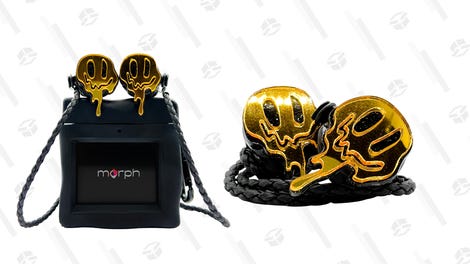 morph audio
Morph Earphones
AVC: How close-knit is the working relationship between the three of you?
RM: Sarina has been the busiest of us all, and she's got a reputation independent of us—we all do in our own ways—and so it's been pretty cool also to come together and be very separate entities, but when it comes down to it, we all know we're trying to take care of each other.
SB: I think of it as a trio of musicians, so it's like the Rogue Taxidermy Trio, and we all have our solo albums. Sarina is like the rock star—her solo albums sell the best, you know. But we all have our different roles when we play in the trio.
RM: But as a group, and for what we created as a trio, [the national press coverage of the Creative Electric show] really was an enormous validation. There's no way around it. And then we just started getting these awesome responses. We started getting a lot of e-mails from people who were doing similar things and we came up with the idea of becoming a membership-based group. We still get ones—I got one this week—that say, "You're not artists. You're not talented, you're sick!"
SB: I send myself those e-mails every day. [Laughs.]
RM: One of the more fun things for us was people starting to offer up donations. A lot of them, we'd say, "No, thank you." Owls! We got a frozen owl! Totally illegal, please don't send that to us. This one guy who was in Texas or something, he wanted to send us some armadillos. But armadillos carry leprosy—they're the only other animals that do besides humans. So, no, thank you! Someone offered us human digits, and I turned them down. And my partners were like, "What? You turned them down?"
SB: Maybe it was some guy with leprosy, and that's why he was giving them away. [Laughs.] Who else would have spare fingers?

RM: What else were we offered?
SB: Well, I think the greatest thing is not the stuff we were offered, but the stuff we actually got. On the gallery doorsteps, somebody left a dead cat in a McDonald's bag. [Laughs.] And the gallery owner called me up, and I live right down the street, so I ran over there to get it.
AVC: So this is sort of your version of fan mail?
RM: [Laughs.] Yeah, total fan mail. We had an incredible network of eyes on the street, people on the street. This one woman called, and said, "I feel really bad, I just hit a squirrel on the corner of Hiawatha and 35! You've got to go get it." No, I'm doing something, I'm watching TV! Sarina at one point said, "If I get one more call telling me where there's a dead squirrel— what am I supposed to do? Drive around all day? My freezer is already full of stuff."
AVC: Where did you get the idea for the squirrel game feed you did at the Creative Electric show?
SB: The idea came from Pine City, where I went to taxidermy school. Three-quarters of the way through the year, they have a game feed. You take all the animals that you have taxidermied and have saved the meat from in preparation for this big day, and you cook it up and eat it. And you serve it to the public. They come in and you have a big buffet—elk stew, buffalo burgers, you know, all the animals in big crock pots. It's $8 a plate. People come in from the surrounding countryside and chow down and they're eating the animal and it's right there, looking at them, like, "How does it taste?" It was such a bizarre experience for me. I was born and raised in the city by totally anti-hunter parents, but I suppose for people who were raised in a rural situation it's not so strange. But that was one of the things that really got me thinking about taxidermy differently—it was strange for me to be eating an animal that I had seen butchered, which had never happened to me before. I had never experienced that process of consumption from its beginning to its end. I've always been interested in how I'm able to violate my own ethics, like I would be a vegetarian, ethically I'm all for that. I hate the corporate farming industry. I think it's disgusting. But I'm not a vegetarian—I eat meat all the time. One of the reasons I can do that is because when I go to the store, I don't have to be like, "One pig, please," and they hand me this squealing pig and I shoot it in the head and like, gut it. I don't have to do that. It comes in this neat little package that says, "ham." Mmm, ham. That tastes good. It's from the ham tree, probably.
AVC: Which is interesting, because from your art it seems like if anyone would be able to look death right in the face, it would be you.
SB: I don't know if I would if it was actually happening. I'm very sheepish, and couldn't imagine killing an animal. When I was a kid, I was remorseful for killing insects. I've always been interested in dead animals, but have always shirked away from violence of any sort.

AVC: What do you find interesting about dead animals?
SB: I honestly don't know. I like to say sometimes that for art, I think there's reasons and excuses and I have a lot of excuses and I don't know the reasons. I have a lot of stuff that when I'm making what I make, I think about—you know, "this is it." But really, I don't know. I've always been interested in dead animals and sick animals. I'm not sure.
AVC: Let's clarify the word "interested." When you say you're interested in them, how do you mean that?
SB: Maybe all kids are, in a way. It's one of those powerful memories from my childhood, like finding a dead fish on the side of a creek, and the poking with the stick, for me it wasn't like a casual poke, poke and then we ran away. It was a big thing for me. Maybe it's because I'm so far removed from animals that the only time I ever get to see them is butchered in a display case or dead. I've always been interested in them; it was like amateur biology. Fish by the creek side, I would be arrested by them, I would sit there and study them. It is just—very potent, powerful memories of dead raccoons that would come washing up on pond shores, hairless and white, and maybe just because they were out of the norm. I've never enjoyed idyllic countryside scenes; I think that's kind of boring. But if you add in a bloated, dead dog I find it very interesting. [Laughs.]
RM: That's for me the quote of the night. "If you add in a bloated, dead dog, then …" [Laughs.] Your dad's also a birder.
AVC: Did that train you to observe animals?
SB: Yeah—I mean, we are not a hunting family, but a big naturalistic family. My dad used to take us on nature walks all the time. We would spend a lot of time outdoors, fascinated by nature. And for me it wasn't confined to living nature. [Laughs.]
RM: We all have very funny relationships with our families. We all have very, very supportive families, and at the exhibition, Scott's folks came several times, and they would say, "Scott used to destroy all of our cookware. Did he tell you about the time that he cooked the turtle and the whole house stunk, and we had to throw the pot away?" And then my folks, they just think it's all funny, and they continue to give me ideas. I was thinking about making these large stuffed-animal ostriches, and my mom wrote me, "Oh, I can make you leg warmers!" Because she knits. "I'd love to make some leg warmers! Big, pink leg warmers! I've always wanted to be a part of your work, and now I can!"

AVC: So your families are OK with the macabre aspects of your work?
SB: My parents have learned to deal with it. I'm just starting to realize that I might be the black sheep of the family. I'd never thought of that. This is all pure aesthetics to me. I wasn't a troubled kid and I didn't mutilate animals. This is just something I'm aesthetically interested in. But in correspondence with other people, my parents have called me "original." And I think my grandmother actually said, "There's still hope!" [Laughs.] They've never been anything but supportive, but I am starting to realize that my position in the family may be something other than Golden Boy.
AVC: If a pet of yours died, would you use it in your work? Have you before?
SB: Not yet, but I am going to. I have an albino channel catfish—I used to work at a pet store and I brought it home one day because I thought it would look good with some other fish in this 55-gallon tank I had, and it was about four inches long. I knew they get kind of big… By the time it died, it was about two and a half feet. I still have that fish frozen. But with a pet, you've got to do something really cool. Part of me wants to just mount it as a traditional mount, with a little plaque, but I've never really thought of that as a really effective way of preserving the memory of an animal. If you have a dog that you love and you get it taxidermied, it's never going to be that dog. I can understand not wanting to let go of an animal that you've known and love for a long period of time… It's strange, especially if people believe that animals have souls, which I think a lot of serious pet owners do—they would never do that to a relative, but they're often people that talk about their animals as if they were relatives.
AVC: Do you think animals have souls?
SB: I don't know. That's a good question. I don't know if we have souls.

AVC: Are you familiar with Gunther von Hagens' Body Worlds, where he exhibits preserved and dissected human cadavers in lifelike poses?
SB: I'm fascinated by that whole thing, because I'm interested in a lot of Renaissance-era anatomy illustrations, when they used to show the body doing things. There's this museum in Italy called La Specola, which has these amazing wax reproductions. They'll have a lady laying languidly back, but her belly is open and you can see all her internal organs. But I think it irritates people now because we've moved so far away from that presentation of anatomy, because we want to remove anatomy from human existence. Anatomy textbooks now, they don't show faces, they certainly don't show personality, and there's no arranging. It's just, "Here's a close-up of this artery." But the Body Worlds art challenges that: Here's a person's muscular structure playing basketball. It's totally amazing, and people are very offended by it. They don't want to see it. We think of ourselves now that the Renaissance was a long time ago and we're much more enlightened. They were crazy! What did they do that mattered? Nothing! Just all the great art in the world. But our ideas of the human body are in a lot of ways a lot more backwards.
AVC: Would this art have been controversial back then?
SB: I don't think it would have been.
RM: You had these traveling shows [then]. … It's an interesting thing, looking at it from a contemporary frame, that we get a lot of people upset at us, but we're all very aware that it comes from a long, long history, and I think we all try to be pretty conscious and pretty clear in our references. Scott did a series of squirrels for our last show which were pretty funny, and a lot of them pointed directly to this La Specola museum's anatomy ideal that he just mentioned. One has a squirrel leaning back with his guts splayed open, but he looks pretty casual except for the fact that he's eviscerated. A woman we know who works at the [University of Minnesota's] Bell Museum and runs the Touch And See Room, she said for the most part she finds Scott's work hard, because she deals with so much of the side that you want people to conserve and protect. "However," she said, "I will never forget seeing the muskrat consuming his own feet, because that might be the happiest piece of taxidermy I've ever seen in my life."
SB: [Laughs.] He's just so happy to be eating those feet!

AVC: One of the most controversial aspects of the Body Worlds exhibit is that Von Hagens uses real human remains. Scott, you have a piece with a squirrel chewing on a human finger—what did you use? Was it a real finger?
SB: No, that's all fabricated. Not that I would decline the opportunity to use a real human finger, but using human body parts in your art requires a lot of effort. [Laughs.] And if there's one thing I am, it's a little bit lazy. You know, I'm not going to be, like, a Joel-Peter Witkin, who's going to have the cojones to march into a Mexican morgue and be like, "Gimme what you've got! I'm going to take it home," or to just sneak an arm into a pant leg and walk out with it.

AVC: Where do you draw the ethical line?
SB: You know, that's one of the things I've wrestled with. I'm a big serial killer buff. Ed Gein in particular. I actually don't find most of what he did wrong. The killing people—pretty wrong. But the digging up of the graves, I can't get myself to think that that's wrong. A little bit weird, yeah, it's a little weird. It's a lot weird. I guess what I'm saying is like, once somebody dies, and maybe this stems from my own feelings of emptiness and hopelessness about the end of life, but that there's nothing left of that person, and there's no reason that those remains should be revered, other than a symbol to a memory for some other people. If you're working with pets, if they're someone else's pets, if you were to get a donation from a veterinary place and it was somebody's dog, they might be very upset at what you did, and there's no reason to go upsetting people by flaunting the remains of their relatives and animals. But if that's not an issue, if no living person is going to be irritated by what you're doing and you're not causing anybody any harm, dig some graves! [Laughs.]
AVC: How do you feel about that, Rob?
RM: That's fantastic. I hope that's quoted. I can't wait for the e-mails.
SB: I think Rob's frightened. [Laughs.]
RM: I have feelings about the concept of revering the vessel or the body. And I understand the sentimental bit to it. I think we're starting to have a bigger discussion about big death, the industry of our remains. People make a crapload of money figuring out how to deal with our remains. There's something in that that becomes really perverse. It seems to me that on the scale of what we do as humans, we do a lot of perverse things, and to me the ones that are the least forgivable are the ones we do in society and we all go, "It's all OK." That's the stuff that I think requires us to make challenging work. I don't particularly think my own stuff is challenging, but as a group, I think it's good that people feel challenged by us. Cremating bodies is one thing, but embalming them and filling up land with bodies which you may have to dig up because they're so full of stuff—what are you going to do with them? But it is pretty fascinating to me that we get so worked up about how you're going to display a dead animal when what we do day-to-day creates a much more difficult world. Again, I think Big Death is the thing—how can you feel comfortable taking up so much land for your corpse, which is going to do very little for anybody? I know we want to leave a marker of who we are, and maybe my thoughts will change when I get older, but right now it seems pretty ridiculous.
AVC: If a burial in a cemetery is supposed to last forever, one day all the available land everywhere will be cemetery plots.
RM: Well, we can always hope for zombies.
SB: I'm hoping! [Laughs.]

AVC: So going back to the idea of where the boundaries lie for you: If Rob died, would you do something with his body if he said it was OK?
SB: Probably not. Would I do something with a human body? Yeah. Not Robert's, though, that'd be a little weird.
RM: I also wouldn't.
SB: It's a hard question to answer. Part of me says that maybe I would, because I do feel, to whatever degree that when I'm doing taxidermy I'm communing a little bit with an animal, not spiritually, just getting to know it. It feels intimate to me, and so there's something about it that would be tempting with somebody like my mom or dad. First of all you never probably hopefully see these people naked, I don't really want to, but you could unwrap them. [Laughs.] But presented with the actuality, it would probably be a whole different thing. It's so much work. People are so big and heavy! [Laughs.]
RM: Just remember that you've got my cell phone, so when you get arrested, just give me a call, I'll see what I can do. "You can unwrap 'em!"
SB: it'd be like a present on Christmas! [Laughs.] What I would do is, I'd do it to myself. If I were to lose a limb, I would taxidermy that. Any part of my body. Or if I ever have to have a part removed that cannot be preserved by taxidermy, I would like to keep it.
RM: Isn't that illegal, though?
SB: I think it is, I asked for my gallbladder when I got it taken out, and they said no. It made me mad.
RM: It's like, "This is mine!"
SB: I grew it! Little Beanie!
RM: It's funny, because Scott does predominantly taxidermy. But Sarina also does mummification, so she will use the skin and then she'll mummify the interior. And that's probably more disturbing to people. Scott's muskrat-eating-its-own-feet potentially had the ability to be the grossest thing in that show, but Sarina's carcass art really made people have a hard time. My favorite thing people would say was, "It stinks in here." And you'd be hard pressed to smell the difference. But our minds are so linked with death smelling a certain way.
AVC: Are you familiar with the "uncanny valley" theory of perception? It's the idea that a zombie or a badly rendered CGI character strikes us as particularly wrong or false, because the zombie looks very human but not human-looking enough to seem real, whereas a more stylized cartoon character or mannequin gives us enough psychological distance for us to be comfortable with it. It has to do with what you do and don't recognize as human. MART's work, collectively, seems to run along similar lines, crossing the boundary between the monstrous and the cute.
RM: Clowns. [Laughs.] It's true, and I think that's what's so fascinating to me about feralizing something. My biggest fear has always been coming upon someone in the house, and seeing their eyes. When I was on malaria medication, I had lots of very violent dreams, and most of them revolved around someone looking at you, and giving you this look, you know by seeing them, that they are fully committed to your destruction. Zombies. If all these zombies were walking around wearing Burger King masks, it probably wouldn't be scary.

This interview was originally published in The Onion's October 27 Twin Cities print edition.