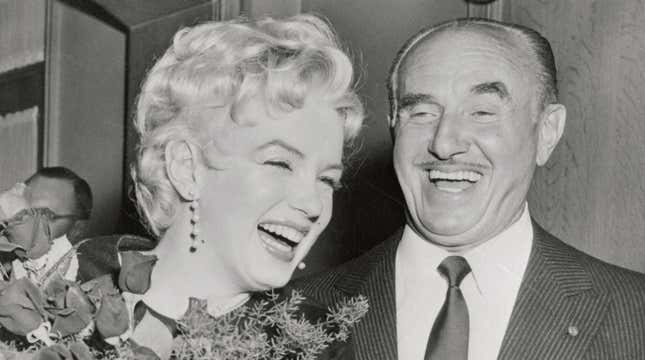 In a special series, The A.V. Club looks at the legacy of Warner Bros. 100 years after the studio was founded.
A.V. Club interviews: Judd Apatow and the cast of The Bubble
It's sad to see the once mighty Warner Bros. studio celebrate its 100th anniversary in a state of chaos and disarray. Sold to a succession of bad partners beginning in 1990 in a process that culminated with the disastrous AOL-Time Warner merger of 2000, Warner has spent the last 20 years shedding divisions and chasing the fool's gold of comic book movie dollars while the value of the whole enterprise tanked and tanked and tanked.
In 2018, AT&T paid $85.4 billion for what was then Time Warner. In 2022, they sold WarnerMedia to Discovery for just $43 billion. On March 16, the combined valuation for the blended entity that emerged as WarnerDiscovery was only $34.4 billion.
The Warner brothers wouldn't have stood for it.
Ah, the Warner brothers. They created a lasting enterprise that changed the course of world cinema by popularizing cinematic sound. Their list of tough-minded "golden era" classics includes White Heat, Casablanca, The Adventures Of Robin Hood, Now, Voyager, and Mildred Pierce. Their animators invented Bugs Bunny and Daffy Duck. For many historians, the Warners' brash motion pictures of the 1930s and '40s constitute commercial moviemaking's greatest run.

The brothers hated each other. And everyone especially hated Jack.
Three enterprising moguls and their womanizing brother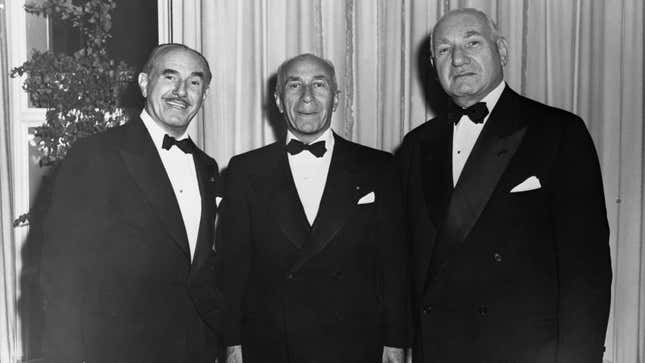 Jack was the youngest Warner, and he was the only one born in North America rather than the small Jewish village of Krasnosielc, Poland. His brothers built a burgeoning exhibition enterprise in the 1910s, and then invited Jack into it. Jack slowly infected the entire host organism, in a process that took 30-plus years to pull off. He ended up running the whole show, using business moves that were just short of mafia measures to edge out his siblings. But before that, Jack had already offended every brother in sight.

Where Harry, Albert, and Samuel Warner were characterized by moral conservatism and old world reserve, Jack was a chronic womanizer who fancied himself a song and dance man—a comedian who just happened to run a movie studio. He'd had a brief career in vaudeville, where he failed miserably. According to Jack's biographer Bob Thomas, his brother Sam told Jack to "Go out front where they pay the actors," because "that's where the money is."
It was advice Jack heeded to spectacular effect. When Sam died prematurely from a sinus infection at age 40 during post-production on the partial talkie and breakaway hit The Jazz Singer, Jack became the unchallenged head of Warner film production, making him an unstoppable Hollywood force. His career lasted longer than any of Hollywood's other founding moguls.
"He didn't die. Jack killed him."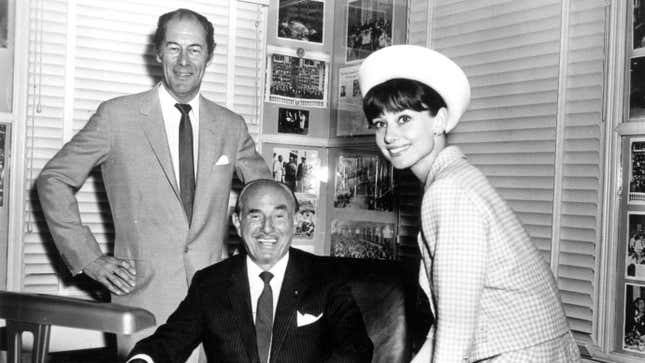 If you can see past the horrific addiction of lead actor Al Jolson to performing in blackface, The Jazz Singer is a fascinating artifact. The plot concerns a cantor's son named Jakie Rabinowitz, who shuns the old world values of tent and tabernacle for the bright lights of showbiz. It's the Jack Warner story, with Jolson as Jack, and the other brothers embodied by Jakie's old school rabbi father, slowly dying of apoplexy somewhere off camera, while Jakie lives it up on Broadway.

The analogy is imperfect of course, because there were other treacheries operating within the Warner clan. At the time of his death, Sam Warner had allegedly cut a deal to migrate Warner's proprietary sound technology, called Vitaphone, over to Paramount—primarily so he could get out from under Albert's thumb.
Warner artists like Bette Davis and Jimmy Cagney clashed with Jack for decades though—mostly about money, in battles that carved years off Cagney's career, and which were fought to what amounted to a draw. The Warner directors and artists had a universally low opinion of Jack's creative abilities, and an even lower opinion of his constant jokes. But Jack did get off a quip that has lasted. Informed by the press that his old contract star Ronald Reagan had just declared his intention to run for California's governorship, Warner reportedly said, "No, no. Jimmy Stewart for governor. Ronald Reagan for best friend."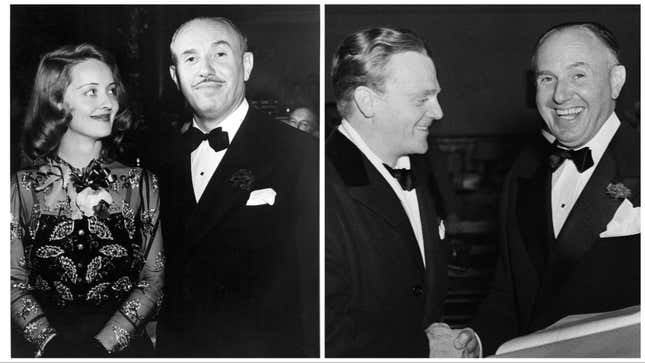 It's largely understood that producer Daryl F. Zanuck was the man most responsible for the gangsters, gun molls, and gams approach of Warner's golden era, a fertile crescent from which sprouted Cagney, Edward G. Robinson, Bette Davis, Paul Muni, and Humphrey Bogart, amongst very many others. Still, Jack was obviously simpatico with the punchy product coming out in a volcanic spew under the Warner Bros. name. Brash and sassy was Jack's whole approach to life—and as for gangsters, Jack notoriously bum-rushed the stage and accepted the 1942 Best Picture Oscar for Casablanca before Hal Wallis—the man who actually produced the movie—could even rise to his feet.

By far Jack's greatest Don Corleone moment came in 1955, when he convinced his aging brothers Albert and Harry to sell all their shares in the company, for a windfall of $22 million, or around $250 million today. The hate between the brothers was so hot that Harry added a stipulation: Jack had to sell out too. The Warner era at Warner Bros. would have to end for them all at once.
Jack blithely agreed, then bought the studio back as soon as the deal closed, by arranging a quick million-dollar profit for his partners in collusion. He immediately installed himself as Warner's president—Harry's old job. Harry had a heart attack when he read the news in Variety, followed by a stroke a day after that. When Harry passed on in 1958, his widow Rea expressed her opinion succinctly: "He didn't die," she said, "Jack killed him."
You must remember this...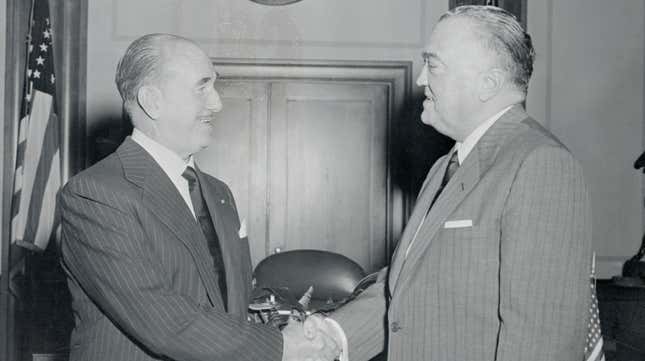 While brother Harry should be remembered for his pioneering role in establishing the Warner brand and all it contains, his enmity toward his siblings, especially Jack, was so great it has become his legacy. He seems to have never liked Jack, whose second marriage he refused to attend, sending a note instead about how glad he was that their parents weren't alive to see the day. An enduring image of corporate lore that could be apocryphal but embodies an inner truth anyway finds Harry chasing Jack around the Burbank lot, swinging a lead pipe at Jack's head.
But Jolly Jack ultimately got the last laugh, because he lived in public, cultivated the press, and consequently wears the primary face of the Brothers Warner in the history books today. He lasted long enough at the studio that bears his name to battle with director Mike Nichols over the profane content of the Elizabeth Taylor-Richard Burton classic, Who's Afraid Of Virginia Woolf? and with Warren Beatty over the release strategy for Bonnie And Clyde. He was the only Old Hollywood mogul who can lay a justifiable claim to importance as New Hollywood took over.
New Hollywood, of course, eventually morphed into Corporate Hollywood, something that Jack would have been the best equipped of all the brothers to handle. Because Jack Warner was a survivor, after all, a trait ably demonstrated in 1958 when he lost control of his Alfa-Romeo after an evening of gambling in Cannes and was hit by a truck and thrown 40 feet from the car. With Jack in a coma, his son, Jack Jr., who worked at the studio, told the media his father was too ill for photographs, leading to reports that Jack's death was imminent. When Jack recovered he fired his own son for suggesting to the press that he'd been near death. The episode was Jack in miniature: he was ruthless, reckless, and larger than life, and while he often left a burning wreck behind him, Jack Warner always lived to fight—with his brothers or his stars or other studio executives—another day.