Here's what's up in the world of TV for Tuesday, July 21. All times are Eastern.
Top pick
Humanity From Space (PBS, 8 p.m.): Look, we know we act all tough and junk, like the cool, rebellious non-conformists we so totally are. (Just look at the rest of these listings! So unabashedly unconstrained by conventional morality!) But then PBS airs a two-hour special that examines the entire sweep of human existence from our beginnings as isolated tribes of hunter-gatherers to our globe-spanning expansion to a technologically powerful species, all from the perspective of how those incredible changes altered how our planet looks to the rest of the universe … and we're just much too awestruck to remember to be sour jerks. Nothing like a little putting it all in cosmic perspective, you know?
Also noted
BoJack Horseman (Netflix, 1 p.m.): A bunch of the non-horseman characters help a genetically modified chicken cross the road, wherein we imagine a certain amount of wackiness ensues, even in the absence of said horseman. Or maybe it's less wackiness and more soul-crushing bleakness? Is that what this show is all about? Honestly, we have no idea—our lives have just been really busy, you know?—but we trust Caroline Framke when she says this show's second season is downright revelatory.
Scream: The TV Series (MTV, 10 p.m.): While we feel at least slightly bad about our BoJack Horseman ignorance, this is a show that we don't give two craps about not knowing the first thing about. It's a point of pride, even! Tonight, something happens! Or maybe it won't! Wouldn't put it past this show for literally nothing to happen, except for the fact that that feels like it would be a quantifiable improvement over the first few weeks! (Too mean? That felt like it was too mean, and the jaunty exclamation points can only do so much. Look, we're prepared to workshop this until we get it right.) Anyway, LaToya Ferguson's Tuesday night domination relies on her continued coverage of this show, along with…
Another Period (Comedy Central, 10:30 p.m.): …this show! Tonight's episode sees Frederick take a psychological evaluation to see if he's fit to run for senate. We imagine the first question anyone would ask here is, "Do you want to be a senator?", with anyone answering "yes" to that proving conclusively they're much too insane to do the job. (Pretty sure we just recycled an old Thin Blue Line joke there. It's that kind of night, apparently.)
G/O Media may get a commission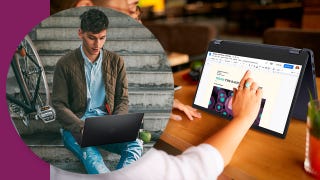 Ends August 15
Best Buy Anniversary Sale 2022
Ends August 15
Best Buy has a number of different promotions happening all for its Anniversary Sales Event. Laptops, tablets, TVs, you names it. Whether you're heading back to school or just trying to fill your home with some new tech, there is something here on sale that you've likely been waiting for.
What else is on?
NBA Players Association Awards (BET, 8 p.m.): Because all the end-of-season awards and the ESPYs telecast weren't enough—not to mention that actual championship thing the players compete for—the NBA Players Association has set up its own awards show. If any other league pulled this, we'd find this riotously narcissistic … which is totally, absolutely is, but the NBA is good at making this kind of thing endearingly narcissistic. (There damn well better be banana boat jokes, is all we're saying.) Anyway, if you want to know which players are considered by their peers to be hardest to guard, the most clutch performer, and the vaguely defined "man of the year," you need only to tune in.
Big Smo (A&E, 10 p.m.): The eponymous country rap musician—which, sure, we believe that's a thing, no, we don't need to hear any evidence, thanks—returns for the second season of his reality show, in which Sirius turns down him down for their country station and he organizes a drive-by concert to change some minds.
We're Moving In (FYI, 10 p.m.): "Two best friends find themselves in a battle when it comes to decorating their bachelor pad. While one fights for a contemporary hotel vibe, the other campaigns to live like the futuristic Jetsons." Yeah, something tells us that bachelor pad is in no danger of being inaccurately named anytime soon.
How To Be A Grown Up (truTV, 10 p.m.): Tonight's docket includes "online dating, getting brunch, dealing with bullies, making excuses, and going to a theme park." All right, this might be getting a bit too remedial, honestly.
25th Hour (MovieMax, 9 p.m.): This movie has Spike Lee, Edward Norton, and Philip Seymour Hoffman all at the top of their games, but we respect the hell out of TV Guide for reminding us which performance really matters here: "Ex-football star Tony Siragusa packs a punch as a Russian mobster in league with Norton." He certainly does, TV Guide, he certainly does.
Quigley Down Under (Encore, 10:05 p.m.): Whoa, whoa, whoa. Whoa. There was a Tom Selleck Australian cowboy movie out there in which said cowboy Tom Selleck is a sharpshooter who protects indigenous Australians from evil cattle baron Alan Rickman … and none of you thought to tell us about it? And no, we don't care that by all accounts this is a mediocre Tom Selleck Australian cowboy movie. This was something you ought to have told us about.
ESPNU Top 25 College Football Games: BYU vs. Memphis (ESPNU, 7 p.m.): It is slim pickings today in the world of sports—even the Tour de France is on a rest day, and we're not going to insult you by bringing up the Pan-American Games—so here's a replay of what ESPN apparently considers the 23rd best football game of the preceding football season. Which is kind of amazing, considering this game wasn't just a double-overtime 55-48 thriller, but it also ended with one of the gnarliest brawls in recent memory. We really hope ESPNU isn't going to tastefully cut around the fighting: It would rob the 2014 Miami Beach Bowl of all its poetry!
In case you missed it
WWE Monday Night Raw: As ever, wrestling is there for you, whether you want it to be or not.