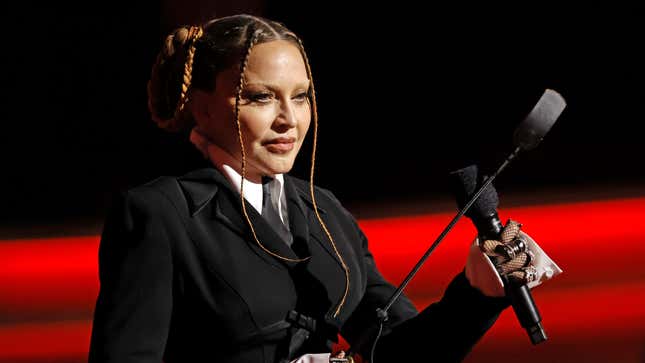 Famed material girl and ray of light Madonna is reportedly out of the hospital following a brief stint in the ICU for a viral infection. The singer's best friend and America's go-to source on all things Madge, Rosie O'Donnell, posted on Instagram that Madonna's "feeling good," adding a thumbs-up emoji with, bafflingly, a brown skin tone, which we simply can't get into right now because, wow, what a distraction. Confirming Rosie's story is People, which reported: "She's back home and feeling better."
Madonna takes on Tennessee's anti-drag laws
Madonna's manager Guy Oseary released a statement yesterday about her condition. The singer spent several days in intensive care, but "her health is improving," and is expected to make a full recovery—though not necessarily a quick one. Madonna's summer tour, which was to begin next month, has been postponed, with a new start date and rescheduled performances coming whenever Madonna is ready to go back on tour.
The reports of her condition are terrifying. Page Six reported that Madonna was putting in 12-hour days for her upcoming tour and was "found unresponsive" on Saturday, prompting her hospitalization. The Daily Mail was even direr, saying that some family was concerned that "we may lose her." While we can't verify those statements, we can confirm that a severe bacterial infection is no joke.
Madonna announced her 40-year career-spanning tour, "Celebration," earlier this year, going from her self-titled debut through 2019's Madame X. Demand for the 35-date tour was so high that 13 additional dates were added.
"I am excited to explore as many songs as possible in hopes to give my fans the show they have been waiting for," she said in a statement.
As one expects, news of Madonna's health scare has prompted quite a bit of ageism and misogyny, with some mocking the singer's appearance and condition, as comedian Kathy Griffin pointed out. "I don't like how people are already piling on and sort of making fun of her for being obviously quite ill or collapsed. I'm gonna be honest, I think a lot of it is ageism and misogyny," Griffin said on TikTok. "Sorry, but as a 62-year-old chick, I deal with it all the time, and she's freaking Madonna. I don't care about her fillers. They're going to go away if she feels like it—or not. I care about her health, and I'm glad she can go back on this tour."