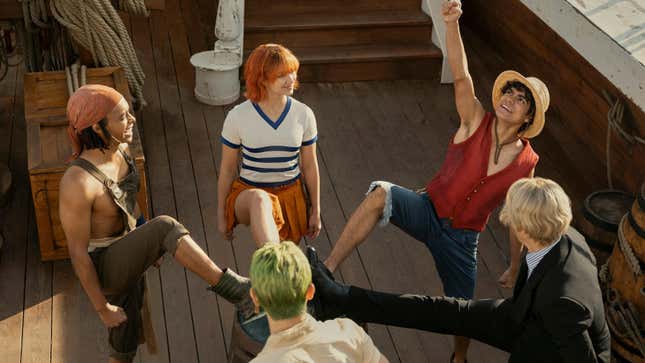 They said it couldn't be done, but they were somehow wrong: Netflix actually made a successful live-action adaptation of an anime/manga. Yes, the same company who brought us the crummy live-action Death Note and the execrable live-action Cowboy Bebop actually pulled it off with the live-action One Piece, and Netflix is celebrating by granting the series a speedy renewal for a second season.
Netflix plans to make you freeloaders finally cough up the dough
This comes from The Hollywood Reporter, which notes that enigmatic series executive producer (and original One Piece creator) Eiichiro Oda shared a video today announcing that the show will be getting a second season, and while it will "take a while to get the scripts ready," he did tease that the Straw Hat pirates "will need a great doctor"—presumably a reference to Chopper, the little reindeer guy from the original anime and manga, who may be difficult to properly capture in live-action. But we'll see! Netflix's One Piece has proven people wrong already, maybe little reindeer guys will be all the rage whenever season two comes around.
Netflix's One Piece stars Iñaki Godoy has Monkey D. Luffy, Emily Rudd as Nami, Mackenyu as Roronoa Zoro, Jacob Romero Gibson as Usopp, and Taz Skylar as Sanji. It just premiered at the end of August and has held a spot at the top of Netflix's Top 10 list since then. Now, with this renewal, we have to say that we hope Netflix doesn't eventually run out of One Piece stories to adapt! There are only so many! (This is a joke. The One Piece manga has been running for 26 years, and there are more than 1,000 episodes of the anime.) Now, who at Netflix has "live-action Naruto" on a whiteboard?