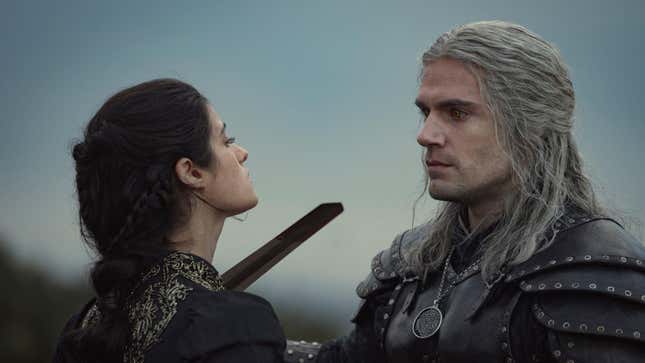 The future of Netflix's The Witcher might be a little weird, what with series star Henry Cavill quitting the show (ostensibly so he could free up his schedule to make another Superman movie, even though we now know he won't be playing Superman in James Gunn's new DC universe and it's a poorly kept secret that he had some creative issues with The Witcher). However, the people making the series—including Cavill, who will still be around for another season or so—are making it clear that they're all continuing on with the story they've wanted to tell from the beginning, implying (without necessarily saying it outright) that we shouldn't expect this big casting shakeup to reflect some kind of general behind-the-scenes turmoil.
AV Club Interviews Tom Kenny and Bill Fagerbakke
What Witcher fans should expect, according to some new statements from the cast and showrunner Lauren Schmidt Hissirch, is that the story in season three will be all about this newfound family—Cavill's Geralt, Freya Allan's Ciri, and Anya Chalotra's Yennefer—realizing just how important they all are to each other. Specifically, the "theme" for season three (or at least "volume one" of season three, since Netflix's gotta Netflix) will be "family is worth fighting for," and while that seems like it should be obvious to most people, those three characters mentioned above haven't historically been big on families.
Hissrich said that this season is "the culmination of what we've been building toward all along," with Geralt, Ciri, and Yennefer choosing to be together rather than simply surrendering to destiny, with Geralt and Yen specifically evolving beyond just having some sort of vaguely defined relationship into becoming proper "soulmates" with an "inescapable" connection. Cavill adds that, with full-scale war finally arriving, it's harder for his Geralt to keep putting on the too-cool-for-school attitude he always plays up, especially since everyone on every side of the war wants Ciri for one reason or another (the end of season two dropped a big reveal about this that the books dragged out for much, much longer) and it's up to him to protect her.
Speaking of the books, the show has always kind of danced around the original Andrzej Sapkowski saga, only dipping into the literal text when it serves the stories it wants to tell (which is a shame, because a lot of stuff in the books is incredible!), but—at the risk of spoiling the show—the time that Geralt, Ciri, and Yennefer have together is… limited in the books, to the point where the driving force behind the plot is often Geralt's basic need to get back together with Ciri and Yennefer.
If the show is hanging so much of season three on the idea that these three people want to be together and stay together, then they're setting up fans for some tragic twists in the future or Netflix's The Witcher will have to make some huge changes to what happens in the original books (which is saying something, because it has already made a lot of changes from the books). There's also the matter of whether or not they'll come up with a plot justification for why Geralt transforms from Henry Cavill to Liam Hemsworth, but that problem is still a ways off.
[Only read this if you've read the books: What happens to Ciri is obviously very grim and sad, but Geralt only assembles his fellowship after they're separated, so we need that to happen. We're going to be furious if we never get to see Geralt's hilariously goofy D&D party fucking shit up onscreen! That's what's worth fighting for, Netflix! Forget "family."]