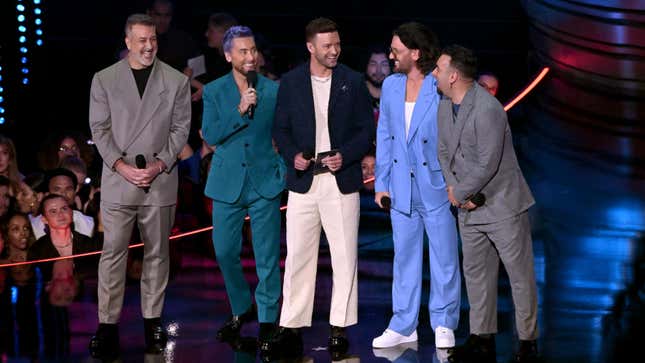 It looks like Taylor Swift didn't have to wait all that long to figure out if NSYNC is, indeed, gonna do something. What's gonna happen now, is that the fan-favorite boy band is finally making new music. That's the good news. The kind of whatever news is that it's for the Trolls Band Together soundtrack, confirming rumors that have been swirling for a while now. Still, for fans who just wanted them back, this announcement is sure to soothe a torn-up heart.
Why Robert Rodriguez still loves "Spy Kids"
The "It's Gonna Be Me" singers' participation in the film was finally confirmed in a new trailer released today. The clip also includes a snippet of "Better Place"—also uploaded to the band's YouTube page—which marks their first new material in two decades (per Entertainment Weekly). The full song will release on September 29.
While it may have been a shock to the system to see the full NSYNC lineup—that's Justin Timberlake, Lance Bass, JC Chasez, Joey Fatone, and Chris Kirkpatrick—together in one room in the year 2023, their participation in this particular film isn't totally out of left field. Justin Timberlake is reprising his role from both Trolls (2016) and Trolls World Tour (2020) as Branch, a "serious, gray, survivalist troll" who hates parties (according to Wikipedia, at least) but later, fittingly becomes a "pop troll." That's... a lot to take in so we'll just leave you with the new film's synopsis, per Universal, below:
After two films of true friendship and relentless flirting, Poppy (Anna Kendrick) and Branch (Justin Timberlake) are now officially, finally, a couple (#broppy)! As they grow closer, Poppy discovers that Branch has a secret past. He was once part of her favorite boyband phenomenon, BroZone, with his four brothers: Floyd (Golden Globe nominated electropop sensation Troye Sivan), John Dory (Eric André; Sing 2), Spruce (Grammy winner Daveed Diggs; Hamilton) and Clay (Grammy winner Kid Cudi; Don't Look Up). BroZone disbanded when Branch was still a baby, as did the family, and Branch hasn't seen his brothers since.
But when Branch's bro Floyd is kidnapped for his musical talents by a pair of nefarious pop-star villains—Velvet (Emmy winner Amy Schumer; Trainwreck) and Veneer (Grammy winner and Tony nominee Andrew Rannells; The Book of Mormon)—Branch and Poppy embark on a harrowing and emotional journey to reunite the other brothers and rescue Floyd from a fate even worse than pop-culture obscurity.
If you don't have time to read through the above, or are really just here for the music, this movie also somehow managed to score Anna Kendrick, Troye Sivan, Eric André, Daveed Diggs, Kid Cudi, Amy Schumer, and Andrew Rannells. Joining them are Zooey Deschanel, Christopher Mintz-Plasse, Kunal Nayyar, Zosia Mamet, RuPaul, Camila Cabello, Kenan Thompson and more.
Trolls Band Together is currently scheduled for a November 17 theatrical premiere.