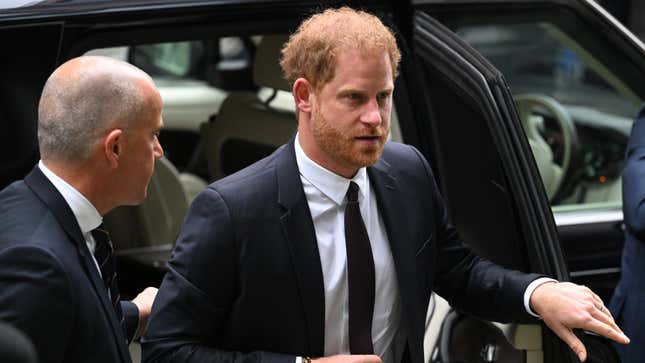 Leave it to Piers Morgan to prompt the first court testimony from a senior member of the British royal family in 130 years. Today, a highly-publicized phone hacking trial brought against Mirror Group Newspapers kicked off in London with a cross-examination of Prince Harry himself, whose testimony directly implicated (and denounced) Morgan, reports CNN.
Elon Musk ignores Jimmy Fallon death hoax
The Duke of Sussex took the stand after filing a witness statement citing 50 tabloid news articles published by Mirror Group publications that "caused him distress." Mirror Group owns The Daily Mirror, where Morgan served as an editor from 1995 to 2004; he has consistently denied having any knowledge of phone hacking at the Mirror, although testimony from other former Mirror employees hints at a different story.

In his statement, Prince Harry writes that the thought of Morgan and the Mirror spying on his mother Princess Diana leaves him feeling "physically sick." Prince Harry is one of more than 100 other plaintiffs (many of them public figures themselves) suing the Mirror Group for alleged unlawful activities.
"The thought of Piers Morgan and his band of journalists earwigging into my mother's private and sensitive messages (in the same way as they have me) and then having given her a 'nightmare time' three months prior to her death in Paris, makes me feel physically sick," Prince Harry states. He continues on to assert that he and his wife "have been subjected to a barrage of horrific personal attacks and intimidation from Piers Morgan" since bringing their claim against Mirror Group.
"I genuinely feel that in every relationship that I've ever had — be that with friends, girlfriends, with family or with the army, there's always been a third party involved, namely the tabloid press," Prince Harry writes in his statement. "Having seen me grow up from a baby (being born into this 'contractual relationship' without any choice) and scrutinised my every move, the tabloids have known the challenges and mental health struggles that I have had to deal with throughout my childhood and adult life and for them to then play on that and use it to their own advantage, I think is, well, criminal."
Tabloid phone hacking making it to the courtroom and royal wariness of the press are nothing new in Britain, but Prince Harry's appearance in court places a significantly sharper magnifying glass on the trial. Whether this legal action forces The Daily Mirror to go the same way as Rupert Murdoch's The News of the World remains to be seen.