I like being surprised. Maybe that's because I've got a long and self-fulfilling tendency to expect the worst. Or maybe because of the fact that, for the last several years, I've been reviewing 20-plus episodes a year of two shows whose names, when dropped in conversation, invariably return some variant of "Ugh, remember when that show was good?"

The thing is, when it comes to The Simpsons, a surprise is a present for a guy whose job entails detailing why there's no earthly reason why it can't be good again. And "Werking Mom" is like a checklist for anyone looking to prove that point—even if, to be frank, the description of the episode made even me sigh and ask, "Remember when you were confident that The Simpsons could pull off literally any storyline?"
The elephant in the room here is "Homer's Phobia," where the show—some 21 years ago—tackled, yes, homophobia (it's not just a clever title) with a deftness of sensibility so unexpected for the time that it even received a mostly effusive DVD commentary imprimatur from the episode's all-time all-star guest, filmmaker John Waters. "Werking Mom" is written by Carolyn Omine, who's been credited with some of the most grounded and surprising (in that good way) Simpsons episodes in recent years, including what I maintain is the best pure Simpsons episode since "the bad years" began. (Whenever you set the imaginary borderline.) Alongside first-time co-writer Robin Sayers, whose only other IMDb credit is for a Jerky Boys project unpromisingly enough, Omine has penned a spiritual sequel to "Homer's Phobia" that might not equal one of the show's most groundbreaking and enduringly funny episodes, but is still so locked onto the core of the show's heart that it provides a blueprint for the show going forward, should anyone in The Simpsons' hierarchy care to listen.
G/O Media may get a commission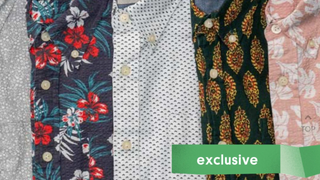 Grab three styles!
JACHS NY Summer Pack
Since 1997 when "Homer's Phobia" almost never aired because of Fox's cold feet, the world has changed—a bit. RuPaul (who co-stars alongside Sutan Raja) is the John Waters of "Werking Mom," the cultural icon of the LGBTQI community on hand to provide perspective, impeccable voice acting chops, and, perhaps, cover for an episode about Marge inadvertently becoming a drag icon in Springfield's robust LGBTQI community. RuPaul's RuPaul's Drag Race is a legit cultural phenomenon by this point, its ubiquity as pop cultural touchstone transcending niche status to become a reality genre standard. The country still sucks pretty heavily when it comes to homophobia and transphobia, and no doubt Fox will get a depressingly similar-sounding batch of letters (or emails today) to those that greeted the airing of "Homer's Phobia." But "Werking Mom" has transcended, too, as Omine and Sayers continue the show's admirable if checkered tradition of taking Springfield's LGBTQI community as a given (even adding to it, as the hetero Mel is shown participating in the cross-dressing fashion show Marge attends), and examining the characters' relationship to that community in greater depth.
Marge, finding herself unequal to the task of selling Tupperware (or "Tubberware," in the show's parlance) due to her lack of confidence, confides her frustration to her trusted and ever-ambitious hairdresser Julio. (Hank Azaria, channeling his Agador from The Birdcage. At least until Julio claims "This is so important, I'm gonna drop the accent.") So Julio, sussing out Marge's predicament with the pronouncement, "Like a doormat, the key is underneath," takes pity on his highest-haired client enough to hold a Tubberware party at his house, with the extra step of glamming Marge up to make her feel better about herself. That his friends all assume the heavily made-up Marge is a crossdresser (as are, the show asserts via onscreen legend—complete with URLs—all the actual country's most successful Tupperware salespeople), Julio goes with it, without telling Marge that her unintentional double entendres ("Let's put tops on bottoms!") are being heralded as peerless camp. ("If she were more camp, she'd be a Coleman lantern," exclaims the dapper Dewey, same-named boyfriend of Dewey Largo.)

Marge goes on to rake in the cash, alleviating the family's ever-present money worries, and even taking the delightedly gossipping Helen Lovejoy down a catty peg or two. ("All aboard—not Helen," Marge cackles after speculating why the Reverend spends more time with his model trains than his wife. Meow.) And while she feels some uneasiness at maintaining the fiction that she's a fabulous drag queen plastic food storage superstar, Marge is mostly content with the unprecedented confidence both her financial success and her disguise grant her. There's even a rousing musical number from RuPaul's Queen Chante that reinforces Marge's empowerment with boisterously booster-ific lines about being "stronger than you know," and how "women can have it all—even penises." For Marge, this new guise and new, glamorous peer group are wins all around.
So when the inevitable crash comes, experience might have taught us to expect that the show would fall back on the wacky (Homer does dress in very unconvincing drag in order to try and win back Marge's shattered trust), rather than examine the larger and more problematic implications of Marge's ruse. Marge is a tourist. Inadvertent at first, sure, but immediately all-in on taking everything she needs from her new friends' identities in order to shore up her own. So when Homer—spurred on by Moe's meddling—crashes Marge's next party and outs her as a woman, those lowered expectations lead us to think that the necessary rapprochement with simply be between the cis, hetero husband and wife, with the colorful, "fabulous" drag plotline being discarded as no longer necessary. But that's not what happens.
When the partygoers (including one voiced by The Kids In The Hall legend Scott Thompson) file out grumbling following Homer's revelation, it's not due to some stereotypical "Ew, straights" disgruntlement, but a genuine anger that a cis woman has been masquerading as a member of their community to take advantage of them, and their identity. They accuse Marge of "appropriating everything," and they're right. As much as Marge's gripe with Homer for undermining her success and newfound confidence is legitimate, so is, in Omine and Sayers' pitch-perfect script, that of the people she's used to get that success and confidence. Like "Homer's Phobia" provided Waylon Smithers (here seen taking part in the drag show as "The Mysterious Waylon") with perhaps his first moment of character integrity as something other than Springfield's walking closeted gay guy joke when he waved off the Simpsons to accuse then boyfriend John of blowing him off, here, the script makes the point that Springfield's LGBTQI community isn't just a comic prop in Marge's story.
That all sounds like more of a treatise on sitcom course-correction than a laugh riot, but "Werking Mom" is very funny. Marge, explaining the need for her new job, reveals that the family needs money since Homer's wages "are still being garnished after that garnish war you waged." Homer's response is some old school Homer twisted logic, as he pivots right in the middle of "No wife of mine is going to work—is what men used to say for some insane reason." Julio's enthusiasm for Marge's well-being is genuine, even as he clearly doesn't care much about the details. ("Now go out there and sell some thingies!") He also reveals that he was Mr. Burns' date to the Kennedy Center honors in his drag persona, Penelope Cruising, and that all Burns' dates have to transfuse him some of their blood. ("I was his type!," he beams, "You get it.") Homer's dissatisfaction with Marge's success sees him telling Moe, "I'm living off my wife like Mr. Meryl Streep. [Pause.] Don Gummer." And Homer's realization mid-rant that Marge's ongoing roleplay as "Marge" is something that he totally misunderstood is both funny and sweet, something that carries over all through the episode, especially considering Lisa's B-story.
"Werking Mom" isn't perfect, although, here, one of The Simpsons' most baffling ongoing faults actually works out much better than expected. The episode starts out with Lisa, having binge-watched "French films—in French!," deciding to play Amélie once she discovers Jasper's childhood "treasure box" secreted behind a wall in Springfield Elementary's crowded lunchroom. Embarking on a spree of whimsical do-goodery on behalf of Jasper, Gil, Kirk and Louann, and Agnes and Seymour (complete with impishly distractible narrator), Lisa's plot finds her, indeed, doing some little acts of goodness. And, as doomed as any of Lisa's grand, idealistic schemes usually are in this world of blinkered goofballs, her quest—fueled by twee French movies as it is—makes for a Lisa story so sweetly satisfying that it's a shame it wasn't given over to its own episode. Still, when Lisa, thwarted by dumb reality (Agnes figures out that lisa's forged, mom-praising diary is a phony since semicolons make Skinner queasy), is ready to give up, a secret message in her tater tots sends her up to the school's roof—where all her grateful charges have gathered to thank her. (There's even a delicious -looking veggie wrap.) When thanked for being "the only person in this town who thinks of someone other than herself," it's the best, most satisfying rooftop win for Lisa Simpson since she met the McCartneys.
It also underscores the gentle but biting humanity of "Werking Mom" in total, where Marge's confession to her new drag queen friends is both genuinely remorseful about her deceit (they knew), and genuinely heartbroken that Homer had so fundamentally misunderstood what she needs, again. When Marge tearfully tells her friends, "You all made me feel understood and important, and therefore made me understand nothing he can say or do" can make up for what Homer's done, it stings, even though we know Homer's going to make a big, dumb, but equally genuine gesture to show Marge that, as bad a husband as he is, he's still trying. The slapstick gag of Homer in drag falling into a truly painful looking split and his fake boobs falling out might be a cheap joke, but Marge's response comes across as more than just the traditional sitcom rush job. Not impressed that Homer would "degrade himself" or something stupid and offensive as that, Marge, once more, recognizes the misguided effort Homer's made to put himself in her high-heeled shoes. I love being surprised.
---
Stray observations
The tag, with Homer, still in drag, being hit on at Moe's by Barney, ends with the line "I guess these days now it's okay for everyone to be everything." Delivered as more of a rueful aging barfly's regret than any statement of acceptance, it's a sour note to end on, suggesting someone at The Simpsons needed to puncture the episode's balloon on the way out the door.

I do like how the narrator hops over to Marge's story midway through the episode, simply because, as he explains, "Drawn by the farcical premise, I started narrating her story, too."

Marge even imagines her Tubberware cheering her on, with the designated snack storage tub explaining that just because that's the label he was assigned, it doesn't mean people don't almost exclusively use him to store their weed.

The narrator explains that the drag club's bathrooms as refreshingly but confusingly open to all, as the shot shows them labeled with pictures of a wedge of cheese and a wristwatch, respectively.

Lisa's story doesn't shy away from how adorably insufferable she can be when she's determined to show off her superiority, as she wheels around after reuniting Jasper with his momentos crying in delight, "I don't mean to overstate this, but the sun is shining just a little bit lighter because of meeee!"

In my favorite joke of the episode, Lisa ruminates on how to sneak her fake diary into Skinner's house, only for Bart to sleepily pull out a key and floor plan to his nemesis' lair. Oh, and a can of tuna, because, as he explains, his latest prank is to make Skinner's cat very, very fat. (We see it later. It's, indeed, very, contentedly fat.)