Ron Perlman has some fairly iconic roles in his credits, on both the small and big screens. For years, he played the shaggier half of TV's Beauty And The Beast, as well as Clay Morrow, the Claudius-inspired character on Kurt Sutter's Sons Of Anarchy. The actor, who recently joined the cast of Crackle's StartUp, is also known for playing tough, wisecracking guys in Alien: Resurrection, Blade II, and Pacific Rim.
And speaking of Blade II, yes, he's done a fair amount of work with Guillermo Del Toro, which does indeed include leading the original Hellboy franchise. Those were good-to-great times, especially once Del Toro replaced the gloomier aesthetic of the first movie with the baroque fantasy of The Golden Army. And Perlman was pitch-perfect as the snarky, cigar-chomping, half-demon superhero, bringing more depth to the role as time went on. So naturally, it stung a bit (a lot) to learn that, rather than complete the trilogy Del Toro and Perlman have been stumping for over the years, Hellboy creator Mike Mignola is now hard at work on a script for a reboot, which stars David Harbour as ol' Red.

But though all the tweets and interviews championing Hellboy 3 turned out to be a huge waste of time, Perlman's not bitter. Not only is he mulling a run for office, he's also met up with nu-Hellboy Harbour. And after some wine and time with Patton Oswalt, it looks like all is well in Anung un Rama land. So quit asking Ron Perlman about the Hellboy reboot, or his thoughts on the defunct Hellboy 3, which Del Toro was polling Twitter about just eight months ago.
This comes straight from the de-horned source, as Perlman waved off Hellboy inquiries in a recent Reddit AMA. Channeling his inner Lucille Bluth, the actor put the kibosh on all Son of The Fallen One talk.
G/O Media may get a commission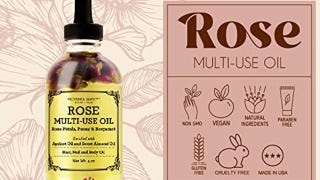 Provence Beauty Rose Multi-Use Oil
So, no, Ron Perlman isn't going to agree with you that the new Hellboy looks an awful lot like the old Hellboy, nor will he rehash his comments about there being no way in hell that he's going to appear in the Hellboy reboot in any capacity. He's got StartUp and a new season of Trollhunters on the way. Ron Perlman's interest in Hellboy has frozen over.