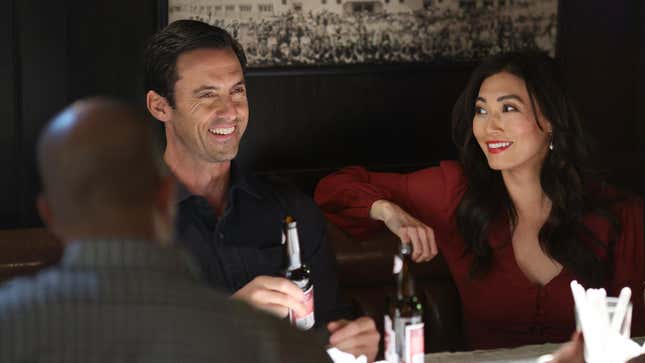 Sunday night has long been an embarrassment of riches on television, particularly if you're tuned into the premium cable networks. In the 2022-2023 season alone, HBO has deployed a murderer's row that includes The White Lotus, The Last Of Us, Succession, and soon Barry. Showtime is providing competition with its buzzy hit Yellowjackets, and AMC entices with the new Bob Odenkirk vehicle Lucky Hank. These are big, juicy, awards-contention series that are so thoroughly dominating the conversation you might not even be aware that one of the season's best new shows is airing the same night. That's The Company You Keep starring Milo Ventimiglia and Catherine Haena Kim, which runs Sundays on humble network TV over at ABC.
Jesse Palmer on vomiting, karaoke, and the burdens of hosting a reality show
The Company You Keep, which is based on the Korean series My Fellow Citizens, has a simple but rich premise. He's a high-level conman; she's a CIA officer. Can I make it any more obvious? The romance between Charlie Nicoletti (Ventimiglia) and Emma Hill (Kim) is complicated by the fact that they're both lying to each other about who they are, and even more complicated by the fact that a mutual enemy (Felisha Terrell) puts them at cross purposes. It's a perfectly crafted web of intrigue designed to ensnare the audience—and you'll be glad it did.
Seeing as how the series is predicated on this central romance, the show smartly invests a lot in developing the chemistry between the two leads, and it pays off in spades. Much of the pilot episode is devoted to portraying just how well-matched Charlie and Emma are, both intellectually and physically. And while network TV fare might be far less graphic than what you can get in the Game Of Thrones universe (another Sunday staple), this is nevertheless one of the sexiest relationships on current television, marked by passionate embraces in hotel rendezvous and parked-car hookups. The fact that the couple is shadowed by deception gives their intimacy a delicious edge. Charlie and Emma may fall fast, but the viewer is right there with them.
The allure of romance, while a main facet of the show, is not the only thing The Company You Keep has to offer. Another core theme weaved deftly into the narrative is reckoning with family legacy. Emma, Charlie, and Daphne (Terrell) are all engaged to various degrees in the family business. Emma feels ostracized for rejecting her family's political dynasty; Charlie is burdened by the responsibility of leading the family's heists even as he contemplates life on the right side of the law; and Daphne is fighting tooth and nail to earn her spot within a criminal family enterprise, constantly underestimated and undervalued by those around her. These characters are operating in parallel as much as they are in opposition, which makes their dynamics—fighting, flirting, scheming, and teaming up—all the more appealing.
Then there's the pure fun of a great con artist show. Charlie and his family (a winning troupe that includes Sarah Wayne Callies, Polly Draper, and William Fichtner) typically pull off one fabulous heist per episode, with a Robin Hood-esque mission to steal only from the kind of bad actors that deserve it. These shenanigans provide a lot of the series' thrills, especially when the Nicolettis' plans brush up against Emma's CIA investigation (something that happens with increasing frequency as the season goes on).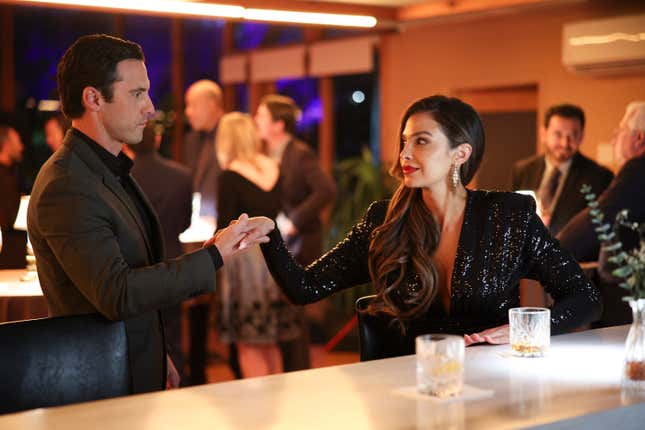 It should also be said that The Company You Keep has been, so far, a masterclass of pacing. The show mines the toe-curling tension of all the lies, deception, and betrayal, but never pushes it past its breaking point. Viewers are rewarded for their investment with actual confrontation, shifting alliances, and evolving relationships. This series knows what it's up against: not just a powerhouse Sunday-night lineup, but also the fragile position network shows are in. Today's fractured television audiences provide no guarantee of a renewal. (The show, as of publishing this piece, hasn't gotten the green light for a second season.) As such, The Company You Keep is leaving it all on the table in its first season, telling a full, rich, satisfying story that doesn't feel like it's saving its best tricks for the future. All the same, one hopes there is a future for a show this enjoyable.

The Company You Keep is not bestowed with the same prestige TV seriousness as its Sunday bedfellows. This is network television at its best—sexy, soapy, and sometimes downright silly. (Ventimiglia and the rest of the Nicolettis have a lot of fun with the various ridiculous characters their heists require.) That's what makes the show stand out amongst Sunday's many competing antiheroes; the feeling of watching something so classically, traditionally TV has somehow become a breath of fresh air. Even beyond the realm of comparison, the series is a solidly written and perfectly cast bit of television that has a little something for everyone within its twisty romance. And with the season finale set for May 7, there's still time to catch up and tune in. Trust us: You won't regret adding this to your weekly roster.