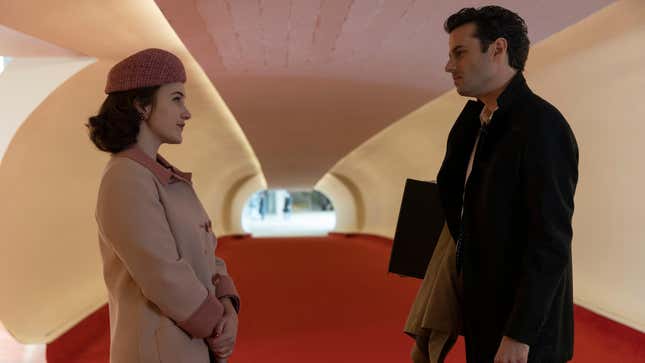 No more Mrs. Maisel: The final season for Prime Video's acclaimed comedy series The Marvelous Mrs. Maisel is almost upon us. It'll be the last hurrah for Rachel Brosnahan's Emmy-winning performance as the titular comedienne, and Midge's last chance to make it big as a stand-up. To do so, she'll have to learn how to stay out of her own way, no small feat when it comes to Midge's misadventures.
Why Christian Bale just can't quit David O. Rusell
"In the fifth and final season, Midge finds herself closer than ever to the success she's dreamed of, only to discover that closer than ever is still so far away," reads the logline for the upcoming season. And indeed, the trailer seems to contain high highs—Midge in a writer's room, possibly at The Gordon Ford Show—and low lows, or, as her father Abe (fellow Emmy-winner Tony Shalhoub) characterizes it, "very bad luck."
"Not one person who's ever accomplished anything of worth in life has ever been happy," Abe pessimistically declares. But if one can't be happy, at least one can be fabulous. The trailer sees Midge and her fantastic outfits dazzling across New York City, from Rockefeller Plaza to Grand Central Station. Just as typical for Midge, she's got time for romantic drama in between her comedy career, be that running away from her one-night stand (Milo Ventimiglia) or co-parenting with her ex, Joel (Michael Zegen).
Not present in the trailer is Lenny Bruce (Luke Kirby, another Maisel Emmy winner), with whom Midge finally consummated her will-they-won't-they relationship at the end of the fourth season. But Kirby isn't returning as a series regular for the final season, and actual history suggests an unhappy end for the fan-favorite couple. Luckily, a first look image from the series (above) confirms Kirby's return, so we won't be completely deprived of Midge and Lenny's electric chemistry this season.
The final season of The Marvelous Mrs. Maisel also stars Emmy-winner Alex Borstein, Marin Hinkle, Kevin Pollak, Caroline Aaron, Reid Scott, Alfie Fuller, and Brosnahan's real-life partner Jason Ralph. The series returns to Prime Video on April 14.