"You've really been busy since I saw you last."—Julie Andrews, The Muppet Show, Episode 217
Many of The Muppet Show's early guests worked with Jim Henson and company before coming to Elstree Studios—previous collaborations with the likes of Ruth Buzzi, Lena Horne, and Jim Nabors helped assure those stars would appear on The Muppet Show. But few could claim to have a legitimate history with The Muppets like Dame Julie Andrews. While Henson was still struggling to find a primetime home for his creations, Andrews gave him a tremendous leg up, featuring Kermit The Frog, Bert, Ernie, The Electric Mayhem, and others in a string of variety-show appearances in the early and mid-1970s. Some, like 1973's Julie On Sesame Street, even provided an early preview of Muppet Show antics; or, in the case of Episode 109's version of "I Feel Pretty," an onscreen dress rehearsal.
Andrews was obviously a crucial champion of The Muppets, and she saw the characters' potential to be more than colorful distractions between big variety-show setpieces; the Andrews-hosted special One To One finds Kermit, Brewster, and others spreading a warm-and-fuzzy message of global unity that'd make Sam The Eagle shed a few feathers.
Yet for the additional facets Andrews helped expose, it's hard not to feel like she only successfully engages The Muppets' most heartwarming sides. That notion gains traction when viewing Episodes 217 and 218 of The Muppet Show back to back, with Andrews' bright, cheery song-and-dance numbers bumping up against the live-wire anarchy of Jaye P. Morgan's guest shot.
Then again, maybe that just speaks to The Muppet Show's ability to mold and reshape itself to fit its guests. After all, it managed to build winning, equally entertaining episodes around an Oscar-winning icon of stage and screen and a vocalist/actress whose most consistent gigs at the time came from the game-show circuit. For all she'd done for The Muppets, the least they could do for Andrews is not blow her up.
G/O Media may get a commission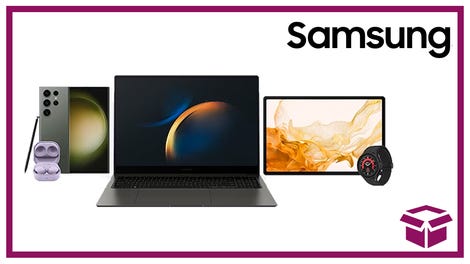 24 hour deals
Discover Samsung - Daily Deal
Episode 217: Julie Andrews
"With our special guest star": It's surprising that Andrews doesn't get the full Rudolf Nureyev, tuxedoes-and-backstage-floral-arrangements treatment—but at this point in their relationship, The Muppets need not impress the actress. Andrews herself was well-entrenched in the world of variety shows by the mid-'70s—a suitable outlet for her talents during a period when Hollywood wasn't taking much inspiration from the West End or The Great White Way—and her opening and closing numbers have the feel of excerpts from studio musicals shrunk down to TV size. Besides, if there wasn't that implied level of closeness between the guest and her hosts, "When You Were A Tadpole" wouldn't be nearly as affecting.
"The most sensational, inspirational, celebrational": That familiarity also helps Andrews lock in during the few topsy-turvy moments of Episode 217—for instance, the brilliantly paced Talk Spot. What starts as a conversation between Kermit and Andrews builds into a symphony of visual gags and sound effects, a cartoonish sequence that wastes no time in finding its rhythm. The zippiness of the scene is in step with the vaudevillian exchanges that spring up around the episode's other guest star—a live cow—whose eventual induction into The Flying Zucchini Brothers' act is foreshadowed here.
"It's like a kind of torture to have to watch the show": Visit To The Minor Complaint Department: The Rodgers And Hammerstein compositions that bookend the episode—The Sound Of Music's "The Lonely Goatherd" and The King And I's "I Whistle A Happy Tune" ought to have traded slots in the running order. It's The Muppet Show's wont to put its biggest production number at the top of the show (all the better to snare viewers scanning the dial at the beginning of a half-hour), but "I Whistle A Happy Tune" closes Episode 217 on a slight note. (A note Grover and Cookie Monster hit seven years prior.) It's wonderfully choreographed, but nowhere near the visual marvel of "The Lonely Goatherd."
"It's time to play the music": Two immediately recognizable pieces of classical music are used for comedic purposes: First, The Great Gonzo is too distracted by his bagpipe version of Mozart's "Eine Kleine Nachtmusik" to notice a beaver chewing away at his one-man bandstand/flagpole; later, Rowlf discovers the haunting melody of Beethoven's "Moonlight Sonata" has the power to raise the moon. Let it never be said The Muppets only fostered appreciation for novelty tunes like "Borneo," rendered here by Lubbock Lou And His Jughuggers.
"It's time to raise the curtain": Bil and Cora Baird's marionette work in the film version of The Sound Of Music receives a sly not from The Muppet Show's take on "The Lonely Goatherd," the film's puppet theater expanded to encompass an entire soundstage. The sequence showcases some impressive set design, particularly the Alpine inn that houses the song's "men drinking beer with a foam afloat." It's such a tremendous undertaking that even Kermit joins in on the festivities, a rarity for an opening number ("Happy Feet" and last week's limbo party excepted).
"It's time to meet The Muppets": Gonzo's dancing-chicken act in Episode 204 established his romantic interest in barnyard animals—and though he's swept up in the arms of an anonymous chicken at the end of "Won't Somebody Dance With Me?," he still can't resist the urge to put the moves on Andrews' cow. I wonder if this was part of an attempt to broaden Gonzo's romantic interests—he's already thrown himself at a pig—before it was decided that the character was better suited for a chicken fixation. Either way, Dave Goelz is fantastic at interacting with scene partners that will never talk back. It's a bummer Henson and Frank Oz didn't take Goelz with them when they filmed those hilarious screen tests for The Muppet Movie.
"It all ends in one of two ways": The Zucchinis bring the bang, but the noise they make is drowned out by what happens in the next episode.
Episode 218: Jaye P. Morgan
"With our special guest star": I don't know much about Jaye P. Morgan, but from what I've gathered from the Internet and Episode 218 of The Muppet Show, she has a great voice for jazz and the perfect personality for riffing off of/ripping on the contestants and panelists of game shows like Match Game and The Gong Show. Her tirades against cuteness in this episode occasionally feel like Jim Henson speaking directly through the script, but they're also a fascinating contrast to Julie Andrews' appearance, which, as previously stated, draws almost nothing but cuteness out of The Muppets. Her crankiness wears thin, but it's a welcome bit of foreshadowing for the ultimate "belligerent" Muppet Show guest: John Cleese.
"The most sensational, inspirational, celebrational": Fozzie and Rowlf's piano duet on "English Country Garden" is a U.K. Spot so nice, the DVD release of season two shows it twice! (This episode is where the segment originated.) In a great, simple, character-based bit, the bear and the dog run through a rollicking rendition of a traditional tune, Fozzie showing a heretofore untapped skill on the ivories. The proceedings ascend into greatness in the final 30 seconds, when a modulation in key causes Fozzie to lose his hat, prompting an all-time great exchange between the characters:
Fozzie: Oh, my hat! What do I do?

Rowlf: Can you play hatless?

Fozzie: What?

Rowlf: I said can you play hatless?

Fozzie: I don't know—who wrote it?
The loss of Fozzie's hat appears spontaneous, but the "Can you play hatless?" joke is too good to be improvised. Such is the magic of the Henson-Oz connection: Their energy and innate bond make a scripted scene appear effortless and off-the-cuff.
"It's like a kind of torture to have to watch the show": What if every scene of a Muppet Show episode ended with an explosion? The beginning of Episode 218 poses that question, before leaving it behind for the brief "Jaye P."/"J.P." runner. It makes for a schizophrenic episode—though I certainly wouldn't have complained if both runners came together in a climactic explosion that did away with J.P. Grosse for good.
"It's time to play the music": In a necessary moment of quiet, Nigel and Floyd give a reading to the ironically titled jazz standard "Big Noise From Winnetka." It's a good use of Nigel, whose typical sniveling is replaced by whistling, a talent displayed by some fascinating handiwork on the part of Jim Henson.
"It's time to raise the curtain": There are a couple of crummy chroma-key effects in Episode 218—Morgan's bird costume in "Tweedle Dee"; the bee that prompts Animal's violent accompaniment to "The Flight Of The Bumblebee"—but the simple, practical effects are on point. The half-hour's ninth explosion comes, unexpectedly (so unexpectedly, you can see Morgan tensing up at the thought that it might go off at any second), from the guest's hat. And it's clear that it was a real explosion, because the hat's still on fire at the end of the scene.
"It's time to meet The Muppets": After Julie Andrews gives the frog a moment to unwind, Kermit is expertly wound up by J.P.s Morgan and Grosse. The "don't look now" gag is so overdone in 2012 that even dramas like Mad Men are deploying it, but it retained a degree of freshness in 1977—and few characters could pull it off like Kermit. The key to the joke's success is in his desire to put on a good show and keep all parties involved happy—a desire that Henson used to explore the frayed edges of the character's confidence. Maybe it's for the best that the pyrotechnics calm down as the episode goes on—just when Kermit thinks he doesn't have to be on his toes, he ends up, to paraphrase the frazzled emcee, with both feet in his mouth.
"It all ends in one of two ways": Hey, kids, let's count the explosions:
Bomb in the cold open
Gonzo's exploding trumpet
The Swedish Chef's coconut bomb
Waldorf's "three's a charm" rebuttal (three bombs, four explosions)
Crazy Harry's exploding cake
"You refuse to change." "Wanna bet?"
Talk Spot ("Anything can blow up!")
Talk Spot ("It was really quite simple.")
Talk Spot ("I guess you could say I blew my top!")
Talk Spot (Morgan's exit)
Talk Spot (Kermit's exit)
11! 11 explosions! Ah ha ha!