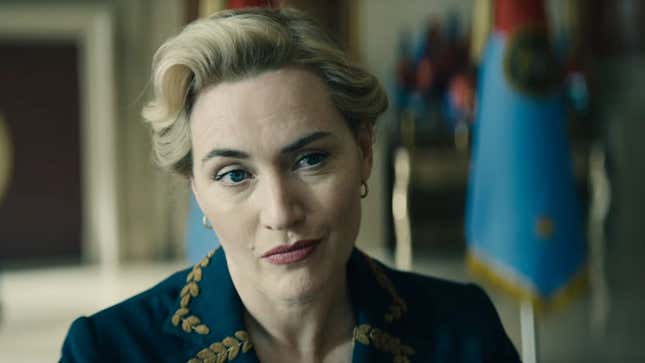 Welcome back to HBO, Kate Winslet, even if it's not as Mare Sheehan. The actor, who won an Emmy for her role in 2021's Mare Of Easttown, teams up with the cable network for her new drama. She'll star in The Regime, created by showrunner and producer Will Tracy. Winslet is trading in her Pennslyvania accent for a posh—well, posher than her usual—British accent in this one.
"National Treasure" star Lisette Olivera on Ed Harris, Catherine Zeta-Jones, and Dreamers
The Regime tells the story of one year within the palace walls of a fictional modern European regime as it unravels. Winslet will play the Chancellor of this made-up country. The first teaser of the miniseries reveals that Winslet's character gives absolutely no fucks while dealing with fellow political associates, including an American aide (played by Martha Plimpton) who asks the Chancellor to demonstrate trust between the countries.
The footage also shows that Winslet is making the most of her haughty role—at one point, she's being smacked in the chest as a form of self-care; in another, she slaps a man and calls him a "stinking cunt." Maybe the moral of The Regime is that more projects need to let Winslet have fun on-screen.
HBO's show promises to be a mix of genres: tense politics, dark comedy, satire, and even an action mystery. Stephen Frears and Jessica Hobbs will direct the episodes. The Regime's cast includes this year's polarizing Oscar nominee, Andrea Riseborough, and also stars Hugh Grant, Matthias Schoenaerts, Guillaume Gallienne, Danny Webb, David Bamber, Henry Goodman, Stanley Townsend, Louie Mynett, Rory Keenan, Karl Markovics, and Pippa Haywood.
The Regime will premiere in 2024, and hopefully, Max's (We mean HBO Max) state will be more distinctive by then.