Watch This offers movie recommendations inspired by new releases or premieres, or occasionally our own inscrutable whims. This week, we're looking back on films that feature great comedic performances that the Academy didn't nominate for Best Actor or Best Actress.
---
A New Leaf (1971)
The directing career of Elaine May, the godmother of improv and queen of the script doctors, ended twice—first with Mikey And Nicky, one of the great offbeat buddy movies, and then, more than a decade later, with Ishtar, her oddly prescient (but over-budgeted) satire of blundering American intervention in the Middle East. Lesser talents had bounced back from much bigger flops; the fact that she was a woman in what was (and is) still a male-dominated industry probably had something to do with it. But her tiny filmography is really the story of two careers cut short. The most gifted female performer of the generation that basically invented American live comedy as we know it, May only ever got one real showcase role, starring as Henrietta Lowell, a clueless botanist with a big inheritance, in her hilariously dark directorial debut, A New Leaf.
May first found fame as one half of a comedy duo (with Mike Nichols, who also became a film director), which probably explains why most of her movies center on pairs—in this case, Henrietta and Henry (Walter Matthau, cast wildly against type), the curmudgeonly playboy who marries her for the money, plotting to kill his new bride so he can go back a luxurious bachelor lifestyle. Both are fantastic comic performances with an unsentimental edge: Matthau plays Henry as an unlikely mix of W.C. Fields and Cary Grant, while May never lets Henrietta's ugly-duckling obliviousness curdle into something sweet.
Her character is annoying, and some of the funniest moments in the film seem to find the writer-director-star siding with Henry against his unwitting victim. But May's gift for the fine details of social awkwardly behavior continues to humanize the character, even when she seems to be dangling on the edge of caricature. She doesn't want the audience to sympathize with Henrietta because she's being exploited; though notes of real embarrassment, one ends up empathizing with her as a person.
G/O Media may get a commission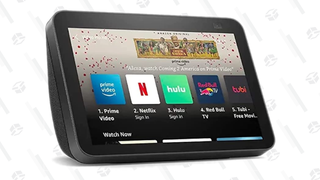 As in many great self-directed roles, it can be hard to tell where the filmmaking ends and the acting begins. But it's not like A New Leaf went unrecognized at the time. Though it did only modest business at the box office, the film was a major critical success, and even netted May a Golden Globe nomination for her performance. Had there been an Oscar nod in there, too, perhaps her career would have turned out differently. May never directed herself again, and has only played a leading role once in the 47 years since, in the forgotten 1990 comedy In The Spirit.
Here, it should be noted that no woman has ever gotten an Oscar nomination for directing herself, though many men have—several times, in some cases. Laurence Olivier pulled it off three times. Clint Eastwood did it twice. So did Warren Beatty, though ironically, it was in films in which May had significant input: the Ernst Lubtisch remake Heaven Can Wait and the political epic Reds. Though uncredited, May significantly rewrote the latter's script and played a major role in the editing process. What did she get in return? Ishtar. Funny how that goes.
Availability: A New Leaf is available to rent or purchase through the major digital services. It can also be acquired on DVD and Blu-Ray from Amazon, Netflix, or your local video store/library.