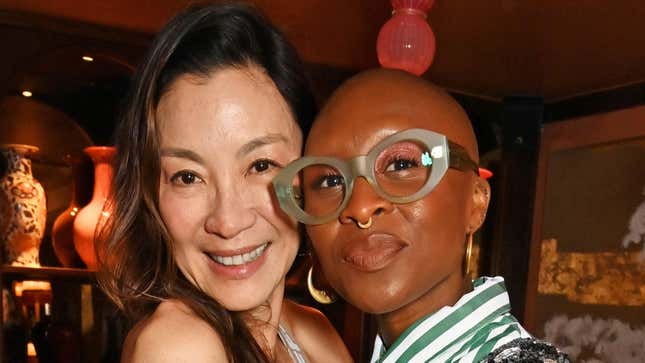 Although Universal Pictures showed off a ton of movies at its big CinemaCon panel tonight—and also, no-fooling, some dirt bike and go-kart stunts, courtesy of Ryan Gosling's upcoming The Fall Guy—it reserved pride of place for what might seem to be an unlikely movie: The first part of John M. Chu's movie musical adaptation of Wicked.
"Glass Onion" director Rian Johnson talks Agatha Christie
And maybe the studio was just trying to dispel some of the negative press surrounding the first, dark and teensy images of the Wizard Of Oz-based film, because the "very rough" trailer for the film that Chu showed off (via pre-recorded comments) tonight was by no means small: A vibrant, massively scaled-up trip to the less savory side of Oz, including a whole lot of footage of a very green Cynthia Erivo. Talking about the film , Chu made it clear that an enormous amount of practical effects work is going into the adaptation of the hit musical (based on Gregory Maguire's novel), including the reveal that one field of flowers necessitated the planting of two million tulips. Also, the reveal of an equally real Michelle Yeoh, who's playing sinister school headmistress Miss Morrible, who helps induct a young Elphaba (Erivo) into the worlds of both witchcraft and wickedness.
The trailer didn't neglect the pink-er side of the film's central duo either, though, with shots of Ariana Grande as Glinda The Eventually Good Witch. (Grande is "going to break your heart," Chu declared.) Plus: Shots of Dorothy and the Tin Woodsman, the birth of those infamous flying monkeys, and, of course, the most magical presence of all: Jeff Goldblum as The Wizard Of Oz, that old humbug himself.
Rough trailer or no, it's still enough to move Wicked from "Why are they doing this?" to "Oh, hey, this actually looks pretty cool"; obviously, we'll get more chances to evaluate as the movie's (very distant) November 2024 release date approaches.