A.V. Club head writer and hip-hop specialist Nathan Rabin recently decided to spend a year or two immersing himself in the canon of country music, a genre he knew little about, but was keen to explore. The result: "Nashville Or Bust," a series of essays about seminal country artists. After 52 entries, Rabin plans to travel south and explore some of country music's most hallowed landmarks and institutions.
Elvis Costello & The Attractions' 1981 album Almost Blue originally came with a tongue-in-cheek sticker screaming, "WARNING: This album contains country & western music and may offend narrow-minded listeners." The sticker was a cheeky, if self-righteous and self-congratulatory, acknowledgment that the mere mention of country music was enough to induce derisive snickers and condescending groans in much of the general public, Costello's audience included.
A lot of people hate country on principle, deriding it as the soulless music of pick-up-truck-driving, gun-waving, gay-hating, Palin-loving, tobacco-chewing cultural Neanderthals still sore that the Confederacy lost the Civil War. Yet that hasn't kept a number of artists from embracing the genre for an album or two. In this entry of Nashville Or Bust, we will explore the albums of five artists who moonlighted as country singers—prankish smartasses Ween, post-modern stand-up comic Neil Hamburger, eccentric comic genius Rick Moranis, Elvis Costello, and Ray Charles. We'll travel from the ridiculous to the sublime, from Ween hollering, "On your knees you big-booty bitch, start sucking" to Ray Charles changing music forever with a timeless masterpiece.
Like The Byrds did with Sweetheart Of The Rodeo, the brothers Ween recruited an all-star team of session musicians to give their smartass foray into country an authentic sheen on 12 Golden Country Greats (true to form, the album is only ten songs long; the album title refers to the session musicians). That's the album's most inspired joke: having country legends like Hargus "Pig" Robbins, Elvis' longtime back-up singers The Jordanaires, and Buddy Harman dress up Ween's puerile humor in a sparkling, rhinestone-studded Nudie suit.
G/O Media may get a commission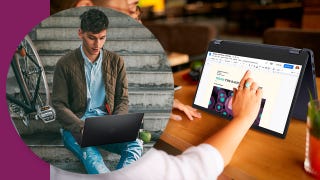 Ends August 15
Best Buy Anniversary Sale 2022
Ends August 15
Best Buy has a number of different promotions happening all for its Anniversary Sales Event. Laptops, tablets, TVs, you names it. Whether you're heading back to school or just trying to fill your home with some new tech, there is something here on sale that you've likely been waiting for.
The brothers may be goofing on hillbilly music, but the album's best songs could pass for genuine honky-tonk laments, albeit of the warped variety, like the melancholy, wistful "I Don't Want To Leave You On The Farm" and "Help Me Scrape The Mucus Off My Brain," the latter the duo's warped take on the hangover song, a meditation on those agonizing next days "when morning hurts" and the hair of the dog is the only thing that'll ease the pain. In an oblique, Captain Beefheart sort of way, the song title captures the essence of a punishing hangover: Who hasn't woken up one morning after a long night of drinking and discovered large sections of their body and mind no longer work?
"Piss Up A Rope" takes the shitkicking aggression of a kiss-off to comic extremes while other songs limply recycle the same joke over and over, like "Mister Richard Smoker," a jaunty Tin Pan Alley-style ditty that's a long list of crude double entendres and the album-closing "Fluffy," which finds Dean Ween moaning sorrowfully about a mundane situation—sitting on the porch with his dog and girlfriend—as if it were the most harrowing trauma in the history of country music. I wasn't a Ween fan going into 12 Golden Country Greats, but there were moments throughout that brought me to the verge of laughter.
I am, however, a big fan of Neil Hamburger, the hapless comedian alter ego of musician and label-owner Gregg Turkington. Turkington practices a tricky form of anti-comedy that gleans big laughs out of the desperation, neediness, and crass commercial calculation of stand-up comedy. Turkington has kept a joke with a seemingly limited life span fresh with a series of ambitious concept albums like Left For Dead In Malaysia, which finds Hamburger having an extended nervous breakdown of a set in a Malaysian club where no one speaks English, and Great Moments At Di Presa's Pizza House, a faux-oral history of a crappy Italian restaurant where Hamburger plied his trade.
In 2008, Turkington decided the world's worst stand-up comedian should go country on Sings Country Winners. Hamburger is the ultimate sad sack, and Winners riffs extensively on the miserablism endemic to country, whether he's deciding if suicide is the right choice ("Thinkin' It Over"), bemoaning the myriad bummers of the road ("Three Piece Chicken Dinner," "At Least I Was Paid," "Garden Party II"), paying homage to the liquor store that kept his father from giving up completely ("Jug Town"), or enduring the world's saddest children's party ("Please Ask That Clown To Stop Crying"). Hamburger has two primary modes: self-pitying and enraged. Hamburger rouses himself from suicidal despair just long enough to turn his anger outward on "How Can I Be Patriotic (When They've Taken Away My Right To Cry)," a smart parody of maudlin flag-waving bullshit, and "The Recycle Bin," where he rants profanely about the random, unrecyclable crap that ends up in the title container. On Sings Country Winners, Hamburger and the music of depressed, heartbroken alcoholics everywhere proves an unlikely but inspired pairing.
In 1997, Rick Moranis capped off a distinguished career studded with highlights (SCTV, Ghostbusters, Little Shop Of Horrors) with a towering performance opposite Tom Arnold in Big Bully. He'd reached the pinnacle. He was sharing top billing with Tom Arnold, for fuck's sake. There was nowhere to go but down, so Moranis decided to quit while at the top of his game and devote the rest of his life to voiceover work, raising his children, and swimming around in a giant vault of hundred-dollar bills, Scrooge McDuck-style.
Moranis was rich enough that he didn't need to work anymore, yet in 2005 he made a curious return to the limelight by releasing, of all things, a country album, 2005's Grammy-nominated The Agoraphobic Cowboy. It's a strange project that finds Moranis singing about traditional country fare from a unique vantage point: the perspective of a milquetoast, wealthy, middle-aged man who'd love to hop trains, drink moonshine, and ride horses but can't quite bring himself to leave the loving perch of his sofa. In a genre of badasses and cowboys he's an inveterate daydreamer. On "I Ain't Goin' Nowhere" he parodies Hank Snow's wanderlust anthem "I've Been Everywhere" by rattling off, at a rapid-fire clip, all the places he hasn't been.
The humor here is of the gentle, goofy, and self-deprecating variety, with an emphasis on sly wordplay. On "Nine More Gallons," for example, Moranis laments, "I work all day to pay the rent / Before the money's earned it's all been allocated," a song that sets audiences up to expect rhymes before veering in a different direction at the last moment. It's a strange return for one of comedy's most distinctive comic minds, but Moranis' innate likeability and tuneful songs performed by seasoned pros make it a most enjoyable ramble through the softer, sillier side of country.
Elvis Costello is one of the funniest, most slashingly witty songwriters in existence, but on 1981's Almost Blue he approached country from a place of deep reverence. What might have looked like a sharp left turn in the early '80s now looks like a crucial transitional album as Costello moved out of the angry-young-man phase of his career and began what would become a decades-long exploration of just about every form of music imaginable. He's released a classical album (2004's Il Sogno) and collaborative projects with artists from across the musical spectrum: The Brodsky Quartet, jazz guitarist Bill Frisell, Burt Bacharach, opera singer Anne Sofie Von Otter, and New Orleans godfather Allen Toussaint.
Costello has long since evolved into a genial raconteur and musical ambassador, but when he recorded Almost Blue, the idea of a country album from one of the figureheads of punk and new wave must have seemed fairly radical. Equally daring: a peerless lyricist recording an album of covers. Almost Blue taps into Costello's gifts as an interpreter of the great American hillbilly songbook. On an appropriately mournful "It Was A Good Year For The Roses," he lingers over the telltale symptoms of a love that has died and expresses jealousy over inanimate objects of infinitely more use to a bored lover than himself, like a lipstick-stained cigarette in an ashtray and a half-drunk cup of coffee.
Costello eschews ironic detachment. He's unafraid of channeling emotions ranging from witty, vitriolic anger—always a Costello specialty ("Honey Hush," "Why Don't You Love Me (Like You Used To Do)?") or boozy sadness ("Tonight The Bottle Let Me Down," "Sittin' And Thinkin'"). "Psycho," a Leon Payne-penned bonus track from the 1994 reissue, easily could have veered into haunted-house camp: It's an "Excitable Boy"-style chronicle of a maniac's rapidly escalating crimes and free-floating lunacy delivered in a chilling first person like Jim Thompson's The Killer Inside Me or Pop. 1280. But Costello finds the perfect tone of creepy innocence, breathily intoning each line in a way that's both haunting and darkly comic.
Costello designed the album as a gateway drug that would confidently steer sneering hipsters in the direction of George Jones, Merle Haggard, or Gram Parsons, who Costello covers twice with exquisite results: "I'm Your Toy" and "How Much I Lied." Almost Blue is at times almost too reverent, but it nevertheless does justice to Costello's unlikely influences while anticipating the ragingly eclectic, genre-hopping albums and collaborations to come.
If Almost Blue was a minor statement about the artistic viability and worth of country from an unlikely source, Ray Charles' Modern Sounds In Country And Western Music was a major statement at a crucial period in America's racial history. (Incidentally, Costello once drunkenly called Charles a "blind, ignorant nigger," a terrible mistake he has spent the last three decades trying to live down, somewhat successfully.) In April 1962, when the album was released, our country still lingered under the shadow of Jim Crow. Martin Luther King was a year away from making his "I Have A Dream" speech. A nation wrestled with the growing pains of integration and a black, blind, womanizing, heroin-addicted genius decided it was the perfect time to release a country album.
Charles' motives weren't entirely political or social: His label had promised him complete control, and a country album from a black music legend was destined to test the testicular fortitude of the executives over at his ABC label. Charles was playing a complicated game of chess; the stakes couldn't have been higher. Though its soaring strings wouldn't sound out of place on a slick countrypolitan album by someone like Eddy Arnold (who, perhaps not coincidentally, co-wrote my favorite song here, "You Don't Know Me"), Modern Sounds doesn't particularly sound like traditional country. There are no frisky banjos, no pretty mandolins, no bluegrass breakdowns or lonesome slide guitar.
This invites the question: What makes a song country? Is it, as David Allan Coe might contend, merely a question of lyrics about momma, or trains, or trucks, or prison, or getting drunk? Is it a sound? A lifestyle? The perfect combination of Stetson hat and freshly starched blue jeans? Modern Sounds In Country And Western Music suggests that the essence of country lies not in music or image but in emotions and words.
Modern Sounds sounds fucking huge. It's an album of glorious excess. No expense was spared. Strings, an orchestra, a battalion of back-up singers, and the biggest of big bands are all deployed in service of Charles' epic musical vision. Modern is liberated rather than inhibited by its bigness. Charles has found a sound as mammoth and devastating as the heartbreak of "You Don't Know Me," "It Makes No Difference Now," "I Can't Stop Loving You," and "Worried Mind."
Charles lovingly caresses the words of country's most esteemed bards, diligently gleaning every last drop of sadness from them. Musically and emotionally, Charles connects the dots between country, big-band pop, jazz, soul, and blues. Like Bob Wills before him, he's a one-man musical melting pot, the living embodiment of musical miscegenation. He proved that the emotional directness of Hank Williams could happily co-exist with the decadent lushness of a Nelson Riddle production.
Like Willie Nelson when he recorded his strangely simpatico standards collection Stardust, Charles took a crazy, almost suicidal chance with his career and reaped unimaginable rewards. Creatively and commercially, Modern Sounds proved a giant, vastly influential, and timeless hit that played a big role in exposing country to unfamiliar audiences. It took a black, blind genius to take a genre sometimes known as the white man's blues and transform it into something truly universal.
Up Next on Nashville or Bust:
Waylon Jennings
Loretta Lynn
Townes Van Zandt
Buck Owens
Shania Twain
Johnny Paycheck