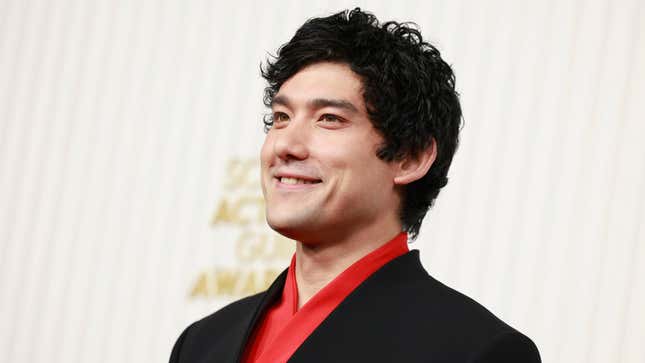 Nearly two years after the project was first announced, the film adaptation of Michelle Zauner's memoir Crying In H Mart has found its director. Will Sharpe, the actor and director most recently known for his turn on the second season of The White Lotus, has boarded the Orion Pictures production.
Tom Hanks knows he's made some bad movies
"There were lots of things that resonated with me as somebody who is half-Japanese, half-British, spent my childhood in Tokyo," Sharpe says of Crying In H Mart, per PEOPLE. "Some of the descriptions of being jet-lagged in your family's kitchen felt very familiar to me."
The Japanese Breakfast lead singer's 2021 memoir details her relationship with her mother, who died of cancer in 2014, and her comforting ties to Korean cuisine in times of grief. The film adaptation is a "coming-of age story about a half-Korean daughter who returns to small town Oregon to care for her Korean mother."
"I found that it felt universal in its specificity," Sharpe says. "In that it's so lovingly detailed about the experience of growing up around Korean food and the cooking of Korean food."
He continues, "For me, it would be Japanese food and remembering growing up going to the 7-Elevens and the convenience stores in Tokyo and the dumplings that my mother would make when I was unwell. I felt like I could recognize that in the descriptions of the Korean porridge or the kimchi and how important that still is to Michelle and how food can carry certain other things within it about your life."
In a statement to PEOPLE, Zauner says Sharpe's "sensitivity as a director and an actor, his ability to find humor and grace within the tragedy of the everyday, and his own personal experience, having grown up between two cultures, make[s] him the perfect director for this film."
In March 2022, Zauner shared that she finished the first draft of the screenplay between touring on her album Jubilee. The musician will also work on the film's musical score. Prior to his appearance as Ethan on The White Lotus, the Giri/Haji lead wrote and directed the series Flowers as well as episodes of the HBO miniseries Landscapers.