In the lead-up to Batman V Superman: Dawn Of Justice, Zack Snyder posted a dimly lit teaser photo on Twitter that gave fans their first good-ish glimpse of Ben Affleck in his Batman suit (or "Batsuit"). Now, with filming on Snyder's Justice League movie about to wrap up, he has shared another dimly lit photo of Ben Affleck wearing an all-new crimefighting costume. Snyder refers to the new threads as the "Tactical Batsuit," but the picture is a little too dark to really make out what might make these duds more tactical than his other Batsuit.
Thanks to photo-editing software, though, we were able to ratchet up the brightness and make some of the details in this photo easier to see:
Hmm, that's better, but it's still not quite bright enough. Let's go one step further:
G/O Media may get a commission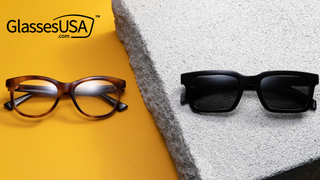 60% off frames
GlassesUSA.com Back to School Sales
Ah, there we go. Now we can clearly see that this Tactical Batsuit is a stylish brown and features a pair of angular goggles that will probably help keep debris out of Batman's eyes. The ears on the cowl also seem to be a swept back or smoothed over, probably to make him more aerodynamic while swooping through the air and—oh, wait. That's actually the Nite Owl costume from Zack Snyder's Watchmen movie. It's so weird that we got those mixed up, especially since they only share three or four similar design elements. Frankly, we're pretty embarrassed that we made that mistake, so we're just going to try again. Here's a photo of the Tactical Batsuit in action:
Wow, check out that cape action. It looks like—oh, damn. That's Nite Owl again. What a strange mistake for us to make again! Let's try this one more time:
There's Batman, and he's looking more tactical than ever. Wait…
Justice League will debut in theaters in November of 2017.