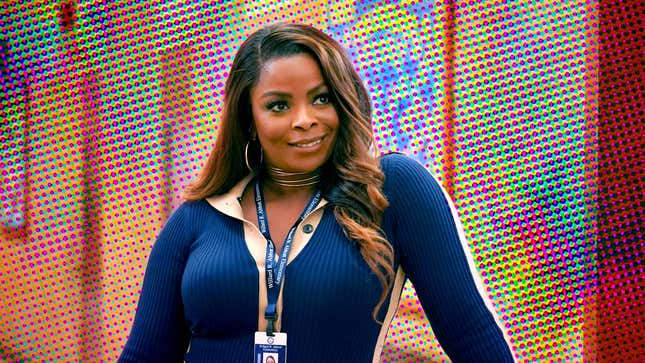 There's no joke cracked by Abbott Elementary's principal Ava Coleman (Janelle James) that doesn't land. Each audacious one-liner, every understandably scathing remark about Janine's (Quinta Brunson) fashion, and every moment of self-grandiosity is pitch-perfect. The writers' room captures a specificity in Ava's eccentricity that James then brings to life in all her hilarious glory. It's impossible not to cackle at her intonation of a single word ("Black!"), her physical comedy (pulling up a chair to purposely laugh and fall from it), or her assortment of facial expressions directed at the camera.

William Stanford Davis on his favorite "Abbott Elementary" episode, "Ray Donovan," and the Emmys
ABC's mockumentary has a murderer's row of talent, each incredibly well cast for their role. No wonder AE has become an awards magnet and an audience favorite over such a short period. So it's almost a fool's errand to try and pick a single MVP amid Emmy winners Sheryl Lee Ralph and Brunson, Tyler James Williams' swoon-worthy performance, a perfectly brazen Lisa Ann Walter, and breakouts Chris Perfetti and William Stanford Davis. But James has proven over two seasons that she is the show's stealth comedic MVP, relentlessly navigating Abbott Elementary's hallowed halls. And it's only her first series regular role; Ava Coleman would be proud.
James, a standup comic, had often said she didn't want to act on camera. Thankfully, she didn't listen to herself. James appeared in episodes of Crashing, Corporate, and Black Monday before nabbing Abbott, a role that lets her showcase her range as she evolves Ava. She recently told Vanity Fair, "The writers always tell me that they love writing for me because they can make [Ava] say anything, and I'll make it funny." She's right.
On paper, Ava appears obnoxious and unlikable. She's a leader who doesn't like the work or care about its basics, such as what time the kids come to school every damn day. She runs a secondary business—hustling into influencer mode, among other things—while barely doing her day job. Instead of helping, Ava is usually the cause of mayhem, running away from a problem as soon as she spots it. (It's an "every tasty-ass woman for herself" kinda world, after all.) Yet James transforms the character by lacing her acerbic dialogue delivery with the right amount of jest. She achieves what she set out to: Ava is weirdly charming.
At first glance, Ava might be reminiscent of The Office's branch manager, Michael Scott (Steve Carell), who was also often inappropriate, selfish, and outright cringeworthy. Or maybe Brooklyn Nine-Nine's innovative, bombastic Gina Linetti (Chelsea Peretti). But in comparison, Ava is crafted with a certain precision: She doesn't get better at her job or have a desire to. Over the 35 episodes aired so far, Ava's disdain for being a principal hasn't diminished. She's still not great at it but has somewhat learned to embrace her colleagues' attitudes.
James easily enforces Ava's dynamics with those around her, whether bonding with Barbara and Melissa (already BFFs), showing respect to Mr. Johnson, or oddly rooting for Gregory and Janine's relationship. (More on that in a minute.) She's still highly distinctive and a lone figure in an ensemble setting. She wouldn't dare talk to Janine outside work, as seen in season two's 10th outing, when she bumps into Janine and Gregory at a club. But that doesn't mean she's averse to them—or vice versa—anymore. Not after she fought for the school's budget, displayed a genuine affection for her students, and (once again) surprisingly championed Gregory and Janine's relationship.
The latter is the most shocking, because Ava's only discernible blemish is the volley of flirtatious comments toward Gregory throughout the show's run. We've come a long way from Ava essentially calling him a stripper in the pilot to Ava's effort to pair him up with Janine in the season-two finale, which aired on April 18. (ABC has already renewed the show for a third season.) The episode features the Abbott staff taking the children on an overnight trip to Philadelphia's Franklin Institute. Ava teams Gregory with Janine, knowing they're into each other. (She did see them sexily grind on each other at that club!). After Jacob (Perfetti), it's safe to say Ava is their biggest shipper. Who would've thought?
While most of "Franklin Institute" follows the ebb and flow of Gregory and Janine's relationship, Ava finds her moment to shine by scaring the kids and teaching them about aliens. But like we said, she's come to appreciate the people around her, so she eventually manages to calm them down with Barbara's help. In faithful Abbott and Ava fashion, season two ends with a humorous tag when Mr. Johnson temporarily (?) quits, relaying the information to Ava in her office as she's busy filing and painting her nails. The actor uses her brief screen time in this scene to waddle away while staring directly at us. Or rather, at the documentary crew, but it superbly displays James' comedic abilities. Never change, Principal Ava (or Janelle James). Never change.