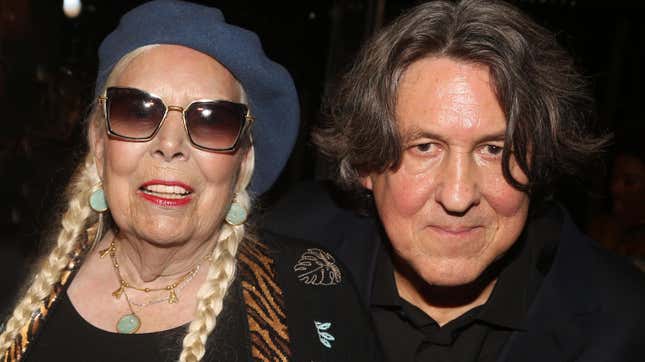 Although Joni Mitchell's theoretical biopic has been a point of debate for years, it turns out she's been working on her own with longtime friend and screenwriter Cameron Crowe over the last two years.
Danny and Lucy Devito on Little Demon, The Penguin, and more
According to a write-up at Above The Line—which Mitchell seemingly confirmed by sharing on her website—the project lies somewhere between the realm of biopic and documentary with its untraditional take. Crowe is as close to a perfect fit as one could get for the project, as he's been interviewing Mitchell over the course of both of their lives. The legendary singer-songwriter has entrusted Crowe to pen the script with her input when necessary, giving it more of an autobiography feel. The approach is complementary to the longtime music journalist's work, who dramatized his own experience as a teenage writer at Rolling Stone in his Oscar-winning film, Almost Famous.
Crowe and Mitchell have remained close friends over the years, and in 2017 accompanied her to her first public appearance after suffering a brain aneurysm two years earlier. Recently, Mitchell joined Crowe at the premiere of Almost Famous' short-lived Broadway show.
"Every journalist has their dream list of interview subjects," Crowe wrote in 1979. "Mine was Marvin Gaye, Neil Young, and Joni Mitchell. I never got to Marvin Gaye, but Joni Mitchell more than made up for it. My last cover story for the magazine, and still my favorite."
The Mitchell feature will be Crowe's first film project since 2015's Aloha, which failed to hit the critical and box office markers seen with Almost Famous, Jerry Maguire, Vanilla Sky, and Say Anything. The next year, Crowe created the Showtime series Roadies, which was canned after one season. The movie marks a bit of a comeback for both of the artists, as Mitchell has set her first concert date in over 20 years for this summer.