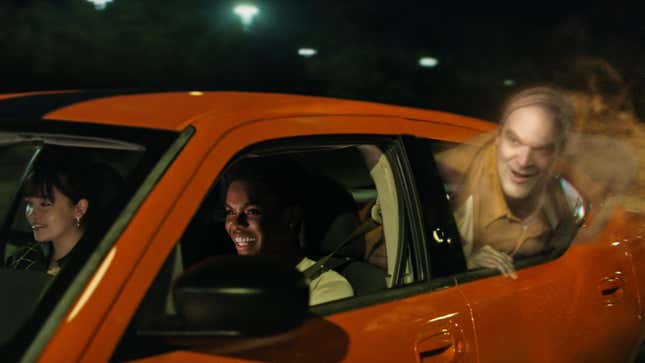 Netflix's haunted house comedy We Have A Ghost has a tall order. Horror comedies are almost always a risk, splitting the difference between two of the hardest things to accomplish: Making audiences scream and laugh. To its credit, the trailer for We Have A Ghost aims for laughs almost exclusively. Thankfully, it's also got a cast for that.
Jennifer Coolidge and Jon Gries on returning to "The White Lotus"
Ernest (David Harbour) is a balding ghost enjoying a peaceful afterlife in a small town's charming "House of Death" that "everyone says is haunted." However, when Anthony Mackie and his family move in and notice what a laughably pathetic specter they have on his hands, they attempt to turn their paranormal sighting into a viral video to the tune of 3 million views in six minutes. "That's money" alright. Add Jennifer Coolidge as a very Coolidgesque TV psychic, and we've got a recipe for some moderately amusing hi-jinx.
The trailer indicates that this is more of a movie about the ethics of using unsuspecting entities for memes than anything else. Sure, that guy eating his boogers on the subway might make for a great TikTok, but doesn't he deserve a little dignity too? That's the journey that Ernest the ghost and his new human BFF Kevin (Jahi Winston) will discover as Ernest comes under the purview of CIA agent/ghostbuster Tig Notaro. It's the story of our time.

We Have A Ghost comes from Freaky director Christopher Landon. But, more importantly, Landon is the writer and director of two of the best horror comedies in recent years, Happy Death Day and Happy Death Day 2U—both of which are funnier, smarter, and more original than the marketing lets on.

Will We Have A Ghost continue Landon's knack for overdelivering on iffy premises? We'll find out when the film hits Netflix on February 24.