Well, call my name through the cream, the first-ever image of a black hole has been revealed. The result of an international effort by the Event Horizon Telescope (EHT), the astonishing image, as described by NBC MACH's David Freeman, "shows the supermassive black hole at the center of a neighboring galaxy known as Messier 87," roughly "55 million light-years from Earth." It's "billions of times more massive than the sun" and a groundbreaking discovery that an EHT scientist calls "so precious, so beautiful, because it is real."
Predictably, the internet, faced with such an historic moment for our species, is asking it to eat them.

G/O Media may get a commission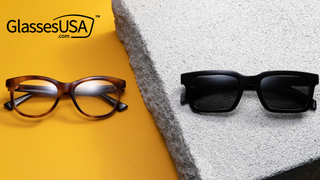 60% off frames
GlassesUSA.com Back to School Sales
Of course, this is business as usual for the internet. An image that forces us to reflect on the enormity of our universe, the sheer scale of nothingness represented, and what that might mean for each one of us as thinking, feeling, frightfully mortal shaved apes, can only be contained with jokes about wanting to be annihilated by the black hole or reassuring observations that it kinda looks like a lonely SpaghettiO staring out from the inky depths of the deep sea.

Still, as many have pointed out, it might be better to sit with whatever intellectual and emotional reactions the image elicits than, like, quote tweet it with a dismissive "big mood" or "mondays mirite."

Life is short and the wonder of the cosmos so infinitely entrancing that it seems like maybe, yeah, we should take a day off from reflexive tweeting to ponder the soul-shaking grandeur of this discovery. Allowing ourselves to look back at whatever stares out at us when considering the image—the limits of our consciousness, the futility of our individual desires, the simple value of trying to improve life for the few fleeting years we're on this ultimately insignificant planet—seems like a good way to mark today.

Or, actually, wait, that sounds terrifying: here's a crude Photoshop that makes it look like the black hole is a horrifically distended anus instead.

Send Great Job, Internet tips to gji@theonion.com