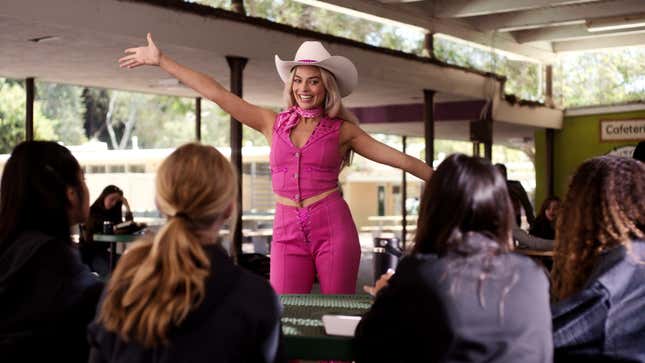 Finding the right Barbie for Greta Gerwig's hotly-anticipated, long-overdo adaptation of Mattel's assortment of entertaining products isn't easy. Barbie, after all, needs to be the most conventionally beautiful person on planet Earth while also living a life in plastic that is fantastic. Who is she going to cast? Herself? No, the twisted mind of Margot Robbie had other plans. Initially, she envisioned—get this—a Gal Gadot-type for Barbie.
The A.V. Club's weekly film round up
In the estimation of Robbie—who produced and helped cast the film—the once and future Wonder Woman has "Barbie energy," which she defines as being "so impossibly beautiful," but we "don't hate her for being that beautiful." Clearly forgetting the time Gadot invited her most famous and wealthiest friends to sing "Imagine" from their palatial homes to cheer up plebs living in apartments, Robbie concludes that this is because "she's so genuinely sincere" and "enthusiastically kind."
"It's almost dorky," Robbie tells Vogue. "It's like right before being a dork."
Ultimately, Gadot was unavailable for the film, saving her from the indignity of Margot Robbie calling her "almost dorky" on set. Even stranger is the qualifier, because, after the "Imagine" video, the running take on Gadot is that she is, in fact, a huge dork. Not to dredge up the past, but only the world's biggest dork would think John Lennon's "Imagine," sung by Jimmy Fallon and Natalie Portman from their mansions, would cheer people up at the start of the most traumatic, deadly, and horrifying global catastrophe in recent memory. Watching the video, it's clear, Gadot isn't "almost dorky." She's a dork. And that's fine. People can be dorks. Robbie doesn't have to soften the insult because she already went with her next choice: Margot Robbie.

Barbie and her "almost dorky" self open on July 20.