Garrison Keillor is suddenly relevant again, and not in a good way. The former host of A Prairie Home Companion has been fired from Minnesota Public Radio over "allegations of his inappropriate behavior with an individual who worked with him," as the network put it in a statement released earlier today. That statement doesn't elaborate on exactly what those allegations involve, but it does say they stem from Keillor's conduct when he was hosting A Prairie Home Companion and that the firing followed an independent investigation by outside legal council.
Oddly, Keillor broke the news to the Associated Press himself, in an email in which he said he was fired over "a story that I think is more interesting and more complicated than the version MPR heard." He also sent a self-pitying email to the Minneapolis Star-Tribune in which he makes an attempt at humor, writing, "getting fired is a real distinction in broadcasting and I've waited 50 years for the honor." He claims that his particular firing is "poetic irony," because "if I had a dollar for every woman who asked to take a selfie with me and who slipped an arm around me and let it drift down below the belt line, I'd have at least a hundred dollars." He's not even a big hugger, he moans, saying that during tapings of A Prairie Home Companion, "people were embracing every Saturday night left and right, and I stood off in the corner like a stone statue."
According to Keillor, this is all a big misunderstanding, stemming from an incident where he "meant to pat" a woman's back "after she told me about her unhappiness" and his hand went up the back of her shirt. "She recoiled. I apologized. I sent her an email of apology later and she replied that she had forgiven me and not to think about it. We were friends. We continued to be friendly right up until her lawyer called," he claims in the aforementioned email.
This is also as good of a time as any to mention that yesterday, The Washington Post ran a typically folksy comedic op-ed written by none other than Garrison Keillor titled, "Al Franken Should Resign? That's Absurd." In it, he wrote:
On the flight home, in a spirit of low comedy, Al ogled Miss Tweeden and pretended to grab her and a picture was taken. Eleven years later, a talk show host in LA, she goes public, and there is talk of resignation. This is pure absurdity, and the atrocity it leads to is a code of public deadliness. No kidding.
G/O Media may get a commission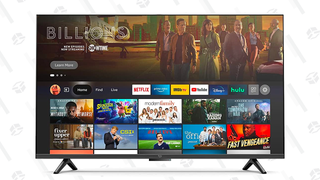 22% off
Amazon Fire TV - 50" Omni Series 4K - Early Access Deal
Now, it seems, this so-called "code of public deadliness" has come to bite Keillor in the homespun seat of his Midwestern trousers. Speaking to The New York Times, MPR stands by its decision to fire Keillor, saying through a spokesperson, "we believe this decision is the right thing to do and is necessary to continue to earn the trust of our audiences, employees, and supporters of our public service."
The network is terminating all of its business ties to Keillor's media company, which includes: ending its distribution of Keillor's show The Writer's Almanac as well as The Best Of A Prairie Home Companion Hosted By Garrison Keillor; separating itself from Keillor's Pretty Good Goods merch site and PrairieHome.org; and renaming the show formerly known as A Prairie Home Companion, which is currently hosted by Chris Thile.