Here's what's up in the world of TV for Thursday, March 26. All times are Eastern.
Top pick
Bones (Fox, 8 p.m.): It's the 10th season spring premiere of Bones—that show you always forget is still on. Tonight the body of a psychic is found rotting in a tree trunk (looks like he didn't see that one coming), and the team honor a fallen comrade on his birthday. Elsewhere, Dr. Temperance "Bones" Brennan (Emily Deschanel) and Special Agent Seeley Booth (David Boreanaz) engage in the bubbly banter that's kept this show on the air for a full decade. Plus Cyndi Lauper guest stars, Bones gets a Twitter, and the gang plays mini-golf! Oh and Booth's gambling problem might be resurfacing. And Bones is apparently pregnant again! Really, it just sounds like a lot is going on in the Bones cinematic universe, and this is probably as good a time as any to jump in.
Also noted
Steven Universe (Cartoon Network, 5 p.m.): Eric Thurm considers Steven Universe one of his favorite TV shows, which should be recommendation enough to tune in. But just in case it's not, you should know that in tonight's episode the Cool Kids invite Steven to "chill in a parking lot and freak out some squares." And after all, if the Cool Kids are doing it…
G/O Media may get a commission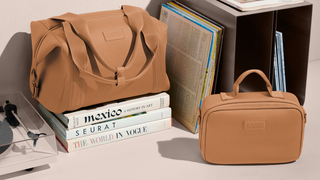 15% off
Dagne Dover Travel Kits
Archer (FX, 10 p.m.): Archer kicks off its two-part Fantastic Voyage parody with the first half of "Drastic Voyage." The gang are miniaturized to the size of bacteria for an "incredible adventure." Caroline Framke hopes that in their smaller form they can finally figure out the ins-and-outs of how you get ants.
Vikings (History, 10 p.m.): The Viking fleet plans to sail up the Seine for Paris. Dennis Perkins knows a great little bistro they should check out. And while the French have a reputation for being snooty, Dennis thinks that as long as the Vikings at least attempt a little French they'll be welcomed. Or axes. Axes work too.
Regular Coverage
Scandal (ABC, 9 p.m.)
Fortitude (Pivot, 10 p.m.)
American Crime (ABC, 10 p.m.)
TV Club Classic
Futurama (10 a.m.): In a coincidental bit of timing, we've got two animated Fantastic Voyage parodies on this What's On Tonight. As on Archer, the Futurama gang gets miniaturized in "Parasites Lost," although sadly they don't learn anything about ants in the process. Also Bea Arthur voices a giant computer that rules an Amazonian society in "Amazon Woman In The Mood." Personally, Zack Handlen would prefer if all talking computers sounded like Bea Arthur.
Elsewhere in TV Club
With TV Club a little quiet today, why not check out our interview with Spring directors Justin Benson and Aaron Moorhead, and/or A.A. Dowd's latest Palme Thursday, which takes a look at 1954's Palme D'Or winner Gate Of Hell?
What else is on?
Regular Show (Cartoon Network, 7:30 p.m.): The gang have one week to increase attendance or Mr. Maellard will shut down The Park. Considering this isn't the Regular Show series finale, we're betting everything works out okay.
It Takes A Church (GSN, 8 p.m.): Love awkward dating shows and religious institutions? Then boy, do we have a series for you! The second season of this GSN reality show asks church congregations to suggest eligible bachelors to pair with single members of the flock. It's essentially Christian Mingle: The TV Show, which mostly makes us realize we never, ever want to see Tinder: The TV Show. Now Tinder: The Musical on the other hand…
Bringing Up Bates (UP, 9 p.m.): We've long assumed this was a Downton Abbey spin-off series about everyone's least favorite creepy butler, but it turns out it's actually a docu-series about a Duggar-style "mega-family" who also have 19 kids. To prepare for the first season finale of Bringing Up Bates, why not read this article written by a woman who escaped the abusive mega-family lifestyle?
Dig (USA, 10 p.m.): We're dropping regular coverage of Dig, but USA has bravely decided to keep airing new episodes anyway. That means viewers will have to interpret the symbolism of tonight's episode (Peter discovers an ancient coded secret! There's a race for the final stone! Avram has an assassin!) without Emily L. Stephen's insightful analysis.
Romy And Michele's High School Reunion (ABC Family, 6:30 p.m.): Arguably one of the best (and most underrated) comedies of the '90s casts Mira Sorvino and Lisa Kudrow as weirdo best friends who pretend to be Post-It inventors at their 10 year high school reunion. More importantly, however, it offers the best dance sequence in cinematic history (sorry Singing In The Rain).
Paid To Kill (TCM, 9:30 p.m.): A businessman hires someone to kill him so his wife can collect the insurance money in this 1954 British film noir. But when his financial circumstances change he has to hunt down the man he… Paid To Kill.

NCAA Tournaments: March Madness continues in our hearts and on the following channels.
Wichita State vs. Notre Dame (CBS, 7 p.m.)

North Carolina vs. Wisconsin (TBS, 7:30 p.m.)
West Virginia vs. Kentucky (CBS, 9:30 p.m.)
Xavier vs. Arizona (TBS, 10 p.m.)
In case you missed it
Modern Family: The extended Pritchett clan celebrate Spring Break, and Haley helps Alex loosen up and have fun. Gwen Ihnat reports back on whether the duo wound up on any Girls With Low Self-Esteem videos.