With so many TV networks and streaming services now available, time is at a premium even within the two full weeks of the Television Critics Association conference. So even a juggernaut like HBO only commandeers a single Saturday morning at the TCAs, and was limited to five particular shows.
The first of these is already on the air. The Night Of has been one of this summer's few acclaimed hits, leading to a panel that included John Turturro chiming in from New York. The show was seven years in the making, based on the BBC drama Criminal Justice. Expanding that series from four hours to more than twice that enabled the filmmakers to get extremely detailed, making it "like a nine-hour film" that evokes a cinematic sense of New York City, according to executive producer Steven Zaillan. "The antithesis of Law & Order." Even the critics have not been able to view the final episode of the series, leaving the question of a possible second season open-ended. Although Zaillan confirmed that The Night Of was designed as a standalone piece, the success of the show is such that "We're thinking about it. If we come up with something that's worthwhile, we'll do it… There are ways of certainly expanding it."
Internet star Issa Rae translates her life into a HBO sitcom in Insecure, premiering October 9. She plays "Issa Dee," a young woman whose awkwardness frequently gets in the way of her relationships. The series dives into neighborhoods not often viewed in L.A. sitcoms, like South L.A., Inglewood, and Baldwin Hill, and features musical supervision by Solange Knowles. For Rae, it was important to "portray authentic black female friendship" on the show, and the laugh-filled teaser certainly appears to fit the bill. One of the questioners stated that Rae didn't seem very insecure herself, to which she shouted, "Ha! Fooled you!"
Also premiering on October 9, Sarah Jessica Parker returns to familiar territory as Frances in Divorce: New York, nice dresses, and affairs of the heart. HBO describes the series as more of a half-hour drama than a comedy, as the story of a "very, very long Divorce." The panel was TBD until the very last second, when Parker, series creator Sharon Horgan, writer Paul Simms, and Thomas Haden Church, who plays the soon-to-be ex-husband, walked onto the stage. Not present (presumably recovering from his recent Flight Of The Conchords tour) was Jemaine Clement, who portrays Frances' rebound fling. Series producer Parker said that she was adamant about casting "a man, not a boy; an unexpected person," and so succeeded in spectacular fashion.
New series Vice Principals has kicked off to a very strong start, making it the only show currently on air that HBO decided to promote (along with The Night Of). Danny McBride wrote the script with co-creator Jody Hill as early as 2006, and tried to get it into production as a movie in 2014. But McBride said that the story of "two assholes who don't have it together" couldn't really be jammed "into an hour and a half," leading to the eventual series. He chuckled at the series description of assholes still trying to figure it all out: "Yeah, I can relate to that." Kimberly Hérbert Gregory, who plays the principal who snagged the job desired by McBride's and Walton Goggins' characters, said this story "is about power. It's not about race or gender." Of her co-stars, she enthused, "I like these guys. I like their brand."
HBO wisely saved the most explosive for last: the mind-blowing peek at the upcoming Westworld, J.J. Abrams' and Jonathan Nolan's take on the 1973 Yul Brenner classic, which premieres on October 2. The show appears to put a version of Battlestar's cylons in a Deadwood setting alongside Inception's overlapping realities, and so compels from the outset. Detailed questions came up about the robots, who are called hosts; for example, they apparently can be shot by guests with their vintage six-shooters, but can't shoot the guests themselves, or each other. The reason for this has "something to do with the bullets," stated cast member Ed Harris, who plays the mysterious Man In Black. Evan Rachel Wood, who plays lead host Delores, had many questions about her synthetic status: "Will the sun blind us? Do we sweat; do we bleed?" Fellow host portrayer Thandie Newton agreed, "The details were meticulous, as you can imagine."
G/O Media may get a commission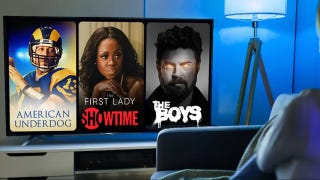 UNDER $1
99¢ Prime Video Channels
Nolan attempted to explain the show's setting as a synthetic western set in the future, where "machines have been built to evoke emotion." Unlike in the original movie, the new series starts with the point-of-view of "the hosts, and their limited understanding of what this world is." Although various guests will drop into Westworld, "We didn't do the Fantasy Island version of the show," stressed Nolan. He was then asked if the "outside" world will appear, and chided, "Who's to say there is an outside world?" Seeing as this rhetorical question was lobbed at journalists on day four of a 24-7 stay at the Beverly Hilton, the possibility of an outside landscape did appear somewhat remote.