Here's what's up in the world of TV for Sunday, September 30. All times are Eastern.
TOP PICK
Homeland (Showtime, 10 p.m.): If there remained any doubt that Homeland could sustain the paranoid thriller at its core for more than 12 episodes, the events of the first-season finale buried those doubts in Carrie Mathison's shattered memories. Now storing an armful of Emmys in Brody's Garage of Secrets, the series returns to fill Todd VanDerWerff's head with all sorts of crazy theories about where its story is heading.
---
REGULAR COVERAGE
The Thick Of It (Hulu, 5 p.m.): It's a crazy-busy day for television—and that includes television that's not on television. David Sims still finds some time to deliver flowers to a newly appendix-less Ollie, though.
G/O Media may get a commission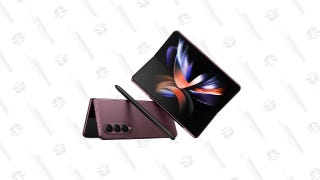 Save Up to $300
Galaxy Z Fold4
Once Upon A Time (ABC, 8 p.m.): As far as foreboding taglines go, "magic is coming" lacks the sinister ring of "winter is coming." To Oliver Sava's relief, this does not mean the residents of Storybrooke will suddenly be seized by a mania for collectible card games.
The Simpsons (Fox, 8 p.m.): Want a good indication of where Fox's priorities are nowadays? The plot of The Simpsons' 24th season opener is driven by Zooey Deschanel's character from "Apocalypse Cow." Who's that reviewing The Simpsons? (Who's that reviewing The Simpsons?) Who's that reviewing The Simpsons: It's Robert David Sullivan.
The Amazing Race (CBS, 8 p.m.): In a show of impressive reality-show work ethic, there are only three fewer seasons of The Amazing Race than there are of The Simpsons—this despite the fact that the former didn't debut until 2001. Scott Von Doviak feels like he's living at twice the speed of the average human.
Call The Midwife (PBS, 8 p.m.): PBS representatives at this summer's Television Critics Association press tour were eager to paint this BBC import as the new Downton Abbey. We won't know if that's true until people on your Facebook feed are talking incessantly about the baby-delivering adventures of Jessica Raine—but allow Brandon Nowalk and Alasdair Wilkins to start the conversation.
Bob's Burgers (Fox, 8:30 p.m.): Louise loses her bunny ears, and the only people who can find them are… the members of a biker gang? Sounds like Bob's Burgers, all right—and music to Rowan Kaiser's ears.
Revenge (ABC, 9 p.m.): REEEEEEEVEEEEEEEEENGE!!!! REEEEEEVEEEEEENGE!!!!! REEEEEEEEEEEVEEEEEEEEEENGE!!!! Carrie Raisler! REEEEEEEEEEEEEEEEEEEEEEVEEEEEEEEEEEEEEEEEEEEEEEEEEEEENGE!!!!!!!!!
Hell On Wheels (AMC, 9 p.m.): Real TV's back, preparing to chase Hell On Wheels off the rails next week. But before that happens, Alasdair Wilkins watches and wonders if the show can continue its recent hot streak.
The Good Wife(CBS, 9 p.m.): The return of the CBS legal drama introduces Kalinda's ex-husband, a development which supposedly turns very, very kinky later in the fourth season. David Sims is amassing an army of Margaret Dumonts to collectively clutch at their pearls when that ice-cream parlor scene airs.
Family Guy (Fox, 9 p.m.): Peter scales Mount Everest, because that's what an animated series' protagonist does at this point in the show's existence. Kevin McFarland awaits the 24th-season appearance of a character played by whoever the 2025 equivalent of Zooey Deschanel is.
Boardwalk Empire (HBO, 9 p.m.): Van Alden "finds himself in the wrong place at the wrong time": Like Main Street during a Fourth of July parade? Or Bring Your Own Baseball Bat Night at a meeting of The Legitimate Businessmen for Repeal of the 18th Amendment? Or Noel Murray's house after a heart-breaking Atlanta Braves loss?
Dexter (Showtime, 9:30 p.m.): Having caught Dexter in the act at the end of season six, Deb must now deal with the fact that her brother is the Bay Harbor Butcher. And Joshua Alston must deal with the fact that he's once more reviewing Dexter.
American Dad (Fox, 9:30 p.m.): Langley Falls' hottest nightclub is Smiths' Attic. This place has everything: A foppish alien, a goldfish who speaks like Wolfgang the German Soldier from Laugh-In, and a Human Cartoon Review Machine—that's that thing where Kevin McFarland reviews the eighth-season debut of American Dad.
666 Park Avenue (ABC, 10 p.m.): Potential for campy fun abounds in this new drama, where a young couple assumes the management of a cursed Upper East Side apartment building—cursed not by vermin or lack of cable-provider options, but by supernatural forces. Zack Handlen and Alasdair Wilkins put down first and last month's rent (because the place will kill them. Because it's evil. Do you need to read the the title of the show again?)
Copper (BBC America, 10 p.m.): Detective Corcoran must figure out what's to become of the show's little orphan, Annie. Farihah Zaman knows a wealthy, bald benefactor who's in need of a scrappy ward…
Treme (HBO, 10 p.m.): The show takes an assumedly New Orleans Convention & Visitors Bureau-approved trip to Preservation Hall. Please don't tell the bureau about the unvarnished look at The Big Easy provided in other parts of this episode, Keith Phipps.
---
TV CLUB CLASSIC
Doctor Who (Classic) (11 a.m.): When in Rome, the TARDIS crew does as the Romans do: throw on togas, get caught up in the slave trade, and invite Christopher Bahn to a good old fashioned bacchanal of alternate history.
The Simpsons (Classic) (3 p.m.): We'll sing the "Mr. Plow" jingle all day (and watch this "Last Exit To Springfield" excerpt for a similar length of time), but Nathan Rabin is just getting to the source of the fourth season's most versatile quote: "History's greatest monster!" Casual mentions of highly visible disappointments would never be the same.
---
WHAT ELSE IS ON
Bolt (Disney Channel, 8 p.m.): Before The Neighbors branded him "history's greatest monster" (see?), Cars screenwriter Dan Fogelman penned this enjoyable Incredible Journey riff about a TV-star dog who believes he's actually living the life he plays on the big screen.
The Crying Game (Flix, 8 p.m.): The true secret of The Crying Game: There's still, like, half a movie following the big twist that everyone knows about 20 years after the film's theatrical release.
Sunday Night Football: Giants at Eagles (NBC, 8:20 p.m.): Good news: Thanks to an agreement between the referees' union and the NFL, the outcome of this marquee matchup will be determined by Michael Vicks' ability to outwit the Giants' defense, not the poor judgment of officials fired by the Lingerie Football League.
---
ALSO RETURNING
The Mentalist (CBS, 10 p.m.)
---
IN CASE YOU MISSED IT
Doctor Who (Saturday): Keith Phipps bids a tearful farewell to Amy and Rory Pond—made all the more tearful by the presence of those terrifying Weeping Angels.