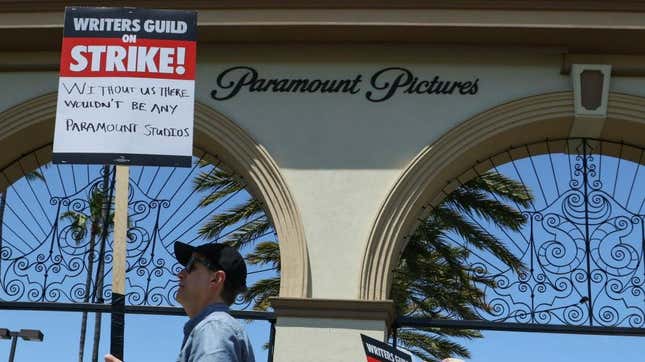 Studios and networks have been preparing for a WGA strike for months, stockpiling scripts, closing deals, and holding back programming so their content pipelines don't dry up. While late-night talk shows, network sitcoms, and streaming dramas, as we've reported, have all already been affected by the work stoppage, film producers have more breathing room—for now. Movies need finished scripts, too, and if the strike lasts long enough studios may have to reshuffle release schedules as early as the end of this year.
Young Mazino talks "Beef," needle drops, and karaoke
For audiences, this could mean waiting longer to see tentpole titles like Aquaman And The Lost Kingdom, the next Ghostbusters sequel, or Timothée Chalamet's Wonka, all currently set to open in December. The strike may also affect films currently in production with release dates in 2024, including Bad Boys 4, which Will Smith and Martin Lawrence are currently filming in Atlanta; It Ends With Us, a romance starring Blake Lively and Jenny Slate; and the horror remake Faces of Death, set to wrap soon in Louisiana.
Even if production continues on these projects, no changes to the scripts can be made by union writers while the strike is ongoing. There are reports that Marvel's long-delayed Blade reboot starring Mahershala Ali, originally set to go into production later this month, will be pushed further back. The Hollywood Reporter revealed last week that True Detective creator Nic Pizzolatto had just come on board the project to rewrite the script, but now that work has stopped.
Movies can take anywhere from 12 to 18 months to go from completed screenplay to final cut, so even with production delays, it could be a while before moviegoers will see any changes to the schedule. The last time the WGA went on strike, at the end of 2007, the walkout lasted for 100 days. The longest strike in the union's history took place in 1988 and lasted five months. According to Deadline, studio sources estimate that the current theatrical schedule can be sustained for about four months before any changes are required. If the WGA and the Alliance of Motion Picture and Television Producers can't reach an agreement before that, some fall and winter film releases may be spread out, causing a domino effect.
At a time when cinemas are struggling to compete with streamers and return to pre-pandemic levels of attendance, any potential slowdown in the rate of new releases could spell further trouble for the exhibition business. In 2022, although ticket sales increased year over year, they were still down by 35 percent compared to 2019, the last pre-pandemic year. Box office numbers have continued to trend upward so far this year, and estimates were adjusted higher ahead of last week's CinemaCon event. A prolonged strike, however, could easily change that trajectory.
Even if there's a backlog of finished scripts waiting to be filmed, production may not be able to commence without the Teamsters, which has pledged support for the WGA and stated that their members "do not cross picket lines." Teamsters Local 399 handles on-set logistics for Hollywood, which covers transportation, location management, warehousing, delivery, and even animal wrangling. It would be difficult, if not impossible, to make a movie without them. One option for the studios is to film overseas instead of stateside, where they would not be required to use Teamster labor. Deadline reports that if the strike goes through Memorial Day weekend, some films scheduled to begin shooting in June may have to be rescheduled.
Other Hollywood guilds—the DGA (directors), IATSE (crew members), and SAG/AFTRA (actors)—have expressed support for the WGA, but their contracts contain a "no strike" clause that prohibits them from engaging in or calling for a strike while their agreements are still in place. The DGA will begin negotiations for a new contract with AMPTP on May 10, followed by SAG/AFTRA on June 7. Both contracts expire on June 30, and if they don't have a new contract by that point, they too could go on strike.

While many of the proposals made by the WGA address issues facing writers for TV and streaming projects, some of the bargaining points cover feature writers as well. The WGA is seeking an increase in theatrical residuals for low-budget streaming films and a guarantee of payment for a "second step" of writing, which basically means getting paid for a rewrite rather than being asked to make numerous changes to scripts for free.
Here's how one writer described the AMPTP's response to that request on Twitter:
There's no way to know how long it will be before the WGA and AMPTP can reach an agreement on a new contract. We can't even use the past as a reliable measure, because the media landscape is so different this time around. The impact of a strike will change over time and hit different segments of the industry in different ways. The most obvious adjustments will hit television networks and streamers first—the area negotiators will be most closely focusing on—but it won't be long before film producers will have to find ways to adapt as well. And filmgoers will have to adjust along with them.