Yellowstone, the inaugural television effort from Sicario and Hell Or High Water screenwriter Taylor Sheridan, feints at being several types of programs throughout its feature-length premiere: a pulpy modern Western, a sudsy family drama, a consequential clash of cultures on the final American frontier. But none of that indicates what the show will become like the show's very first scene, in which a bloodied Kevin Costner comforts a horse, the only other survivor of a horrific highway accident. We see them among the wreckage, the horse sticking its head out of an overturned trailer. Then the camera angle changes to reveal the revolver in Costner's hand, and he relieves the beast of its burden. It's not poignant, it's not unintentionally funny—it's just peculiar, and miles wide of its mark.

"I know you deserve better" Costner growls before he pulls the trigger. He may as well be addressing the audience: Though it's a fascinating mess at times, the fledgling Paramount Network's latest lunge at cable prestige comes up empty. Costner squints and snarls his way across the open range as John Dutton, owner of a ranch the size of Rhode Island and head of the family who'll do anything to maintain their control of that land. Son Jamie (Wes Bentley) and daughter Beth (Kelly Reilly) have left the Yellowstone Dutton Ranch to ride herd over the courtroom and the boardroom, respectively, while their disposable brother Lee (Dave Annable) gives Pa a hand in his capacities as cattle driver and livestock commissioner. They've got a black sheep amongst all the cows and horses, too: Kayce Dutton (Luke Grimes), a military veteran who lives across the property line on an Indian reservation with his wife, Monica (Kelsey Asbille), and his son, Tate (Brecken Merrill). It's a modern-day Dances With Wolves setup that places Kayce at a point of clashing loyalties and interests when ambitious new tribal leader Thomas Rainwater (Gil Birmingham) uses some wandering Dutton cattle as a bargaining chip in a border dispute.
If there's one thing the Yellowstone premiere does well, it's manage conflict. In addition to the increasing friction between John and Thomas, there's also a devilish real estate developer, Dan Jenkins (Danny Huston), who has his eye on the Duttons' land. Progress is pitted against preservation, and rightful heirs against usurpers, and that's all refracted through the relationships between the Duttons themselves, complicated by matters of greed, guilt, and John's abiding stubbornness to keep things exactly how they are—even though they changed forever the day his kids lost their mother.
When the premiere climaxes with a tense action sequence befitting Sheridan's big-screen work, it seems like Yellowstone is going to be something worth following, a dustier, more violent addition to TV's current wave of dynastic soap operas. It's fairly conventional, but it's also wrestling with some big ideas between scenery-chewing speeches and sweeping vistas.
G/O Media may get a commission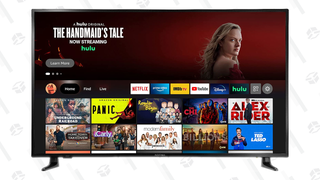 38% Off
Insignia 50" 4K UHD Smart TV
The promise goes unfulfilled. In the next two episodes screened for critics, Yellowstone goes screaming off the rails, sacrificing the intrigue and control of the premiere to turn into that "Kevin Costner shoots the horse" show. Dutton family enforcer Rip Wheeler (Cole Hauser) becomes a bigger presence, going to unnecessarily elaborate lengths to stage a suicide and entering into hot-and-cold romance with Beth. Kayce can't seem to go on a drive without witnessing a mysterious explosion or stumbling onto a suspicious vehicle. When the latter happens, and he instructs Tate to hide out in a drainage pipe—where the kid promptly comes across a rattlesnake—you'll be excused for thinking that Conan O'Brien has just pulled the Walker, Texas Ranger lever.
Costner delivers one of the most leaden performances in the recent history of marquee stars coming to TV, operating from a baseline of mild irritation that's modulated only when he's, say, in mourning, or being shot at in a helicopter. (And even then, just barely.) Much of the cast is out to sea here, whether it's Reilly being saddled with a slippery accent, a lifeless femme fatale routine, and some tin-eared insults ("Have you been watching TED Talks on YouTube?" Beth sneers at one of her brothers), or Bentley having to dig and dig to find the personality behind Jamie's poise and polish. Only Birmingham and Huston are any fun to watch—and the latter is largely sidelined for episodes two and three—but that's because they're appearing in a different, more entertaining version of Yellowstone.
Part of the show's failure to connect might have to do with Sheridan (who co-created with fellow Sons Of Anarchy vet John Linson) crafting his characters primarily as symbols. At least they think of themselves that way: At one point, Thomas declares, "I am the opposite of progress, John. I am the past, catching up with you." But as skilled as Yellowstone initially is at articulating age-old struggles, it's not as good at showing us the people engaged in those struggles. It has a habit of juxtaposing its characters with images of wildlife, then dispatching that wildlife in gruesome fashion—emblematic of the story Yellowstone is trying to tell, but already tired by the time Kayce watches a lone wolf get flattened by an oncoming semi. And without that solid ground to stand on, hazier elements—like the band of branded ranch hands who do the Duttons' dirty work—tend to dissipate into that big Montana sky. Yellowstone sure is pretty, but you wouldn't want to live there.