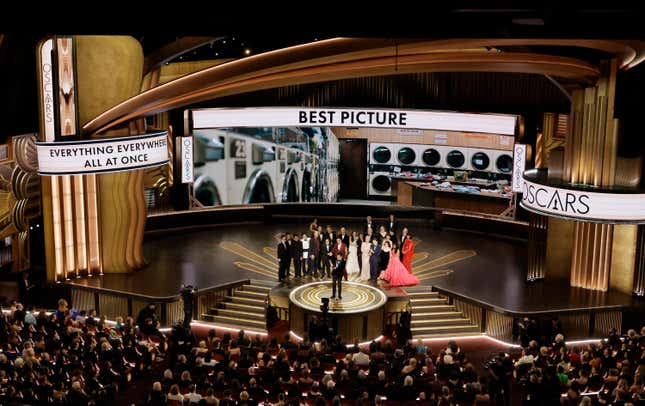 After sweeping the various Guild awards, to say nothing of big wins at the Golden Globes and the Critics Choice Awards, Everything Everywhere All At Once has taken home the ultimate prize of Awards Season: the Best Picture Oscar. That makes it the fifth movie to pull off this kind of sweep, with the others being Argo, No Country For Old Men, Slumdog Millionaire, and American Beauty.

Though this may have seemed impossible before the film became a sensation, when it was just the new movie from farty boner corpse directors Daniel Kwan and Daniel Scheinert (a.k.a. Daniels), this win seemed practically inevitable by the time Oscars night actually came around—and not just because one of the first awards of the night was Ke Huy Quan's emotional Best Supporting Actor win. And also Jamie Lee Curtis for Best Supporting Actress. And then Paul Rogers won Best Editing. Oh, and Daniels won Best Director and Best Original Screenplay. The fact is, Everything Everywhere All At Once had the kind of awards season momentum that other movies dream of, to the point where even its competitors were probably rooting for it a little bit. After all, it did have 11 nominations, and it ended up winning a total of seven awards.
And all of this for a movie about hopping through a bizarre multiverse of hot dog fingers, secret chef raccoons, and googly eyes, all of which are there to ease you into a surprisingly emotional story about intergenerational trauma and how an infinite multiverse of infinite possibilities doesn't necessarily mean that none of those possibilities matter: It means they all matter. After tonight, one thing is for sure: There have definitely been less interesting films to win Best Picture.