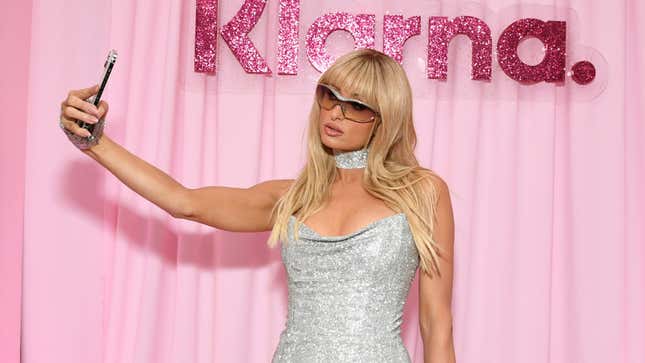 The story of Paris Hilton's pregnancy, in retrospect, almost seems too unlikely to be true: despite being one of the most noticeable pop culture figures in America and one of the most photographed women on Planet Earth, Hilton and her husband Carter Reum managed to keep the existence of their son Phoenix under wraps until a week after he was born—not even Reum or Hilton's families knew.
According to a new profile on Hilton published today in Rolling Stone, Hilton chose to keep her pregnancy—accomplished via surrogacy—under wraps to maintain a protective, close-knit environment, decidedly unlike the one that Hilton usually inhabited. Simply put, Hilton wanted to connect with her baby privately.
One of the ways she did that? Playing episodes of The Simple Life aloud for her son in utero, so that he could grow accustomed to the sound of her voice. The series, which ran from 2003 to 2007, followed Hilton and fellow starlet Nicole Richie as they tackled different forms of manual labor: farming, fast-food service, and even stints as camp counselors. Although The Simple Life certainly isn't Hilton's only onscreen work, it's likely her most enduring—plus, what better way to introduce her son to the duality of celebrity than with a show that depicted Hilton running away from the life of a socialite, but bringing the cameras along with her?
Despite Hilton's vested interest in keeping her pregnancy private, once Phoenix came into the world, all bets were off. These days, Hilton doesn't pause at sharing photos of her son, as Rolling Stone's Alex Morris learned firsthand when Hilton excitedly showed her a snapshot she took herself of her son almost immediately after his birth.
"This is when he was three hours old," Hilton said excitedly. "He was so freaking cute. He came out camera-ready."