Paul F. Tompkins has spent the better part of a decade gradually changing his style as a comedian from the quick, conceptual material he showcased on his first album, 2007's Impersonal, to a longer-form stories that happen to be funny. He hits his stride for the latter on Laboring Under Delusions, a series of anecdotes about his checkered employment history, from a day job at a Betamax-only video store (in 1990, when "the dream of Beta had long since died," as he notes) to acting opposite Daniel Day-Lewis in There Will Be Blood, to his stint hosting Best Week Ever.
Although Tompkins recorded Laboring Under Delusions in New York with plans to release it as an album, he shelved it after Comedy Central approached him for an hourlong special, which aired in April (and was released in much longer format on DVD). The newly released record hits the same beats as the special, but features some additional stories and 10 minutes of opening riffing, Tompkins' specialty.
That is to say, the Laboring Under Delusions record is basically for hardcore fans or people who only saw the special on TV. Fans who have the DVD have more or less heard everything, though the additional stories are quite funny. Tompkins extends his bit about college with a story of the hilariously theatrical exit he made from his final class, and he offers an extra bit during his movie-experience story about working with Matt Damon on The Informant! There's also an anecdote about being sort of recognized from Best Week Ever that adds a kick in the ribs to what was already a soul-crushing experience for Tompkins.
Super-fans should check out both the record and the DVD (which also features an encore with Pod F. Tompkast partner Eban Schletter, a behind-the-scenes look at episode 16 of the Tompkast, and director's commentary from Tompkins as Garry Marshall), because together they offer the fullest portrait of one of the best comedians working today. Although Tompkins excelled at the conceptual comedy of Impersonal, he's always been a natural raconteur; Laboring Under Delusions finds him at the peak of his storytelling powers.
G/O Media may get a commission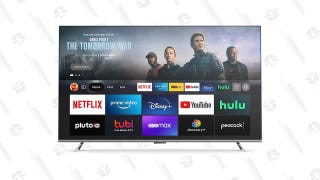 Save 46%
Fire TV 55" Omni Series 4K UHD Smart TV