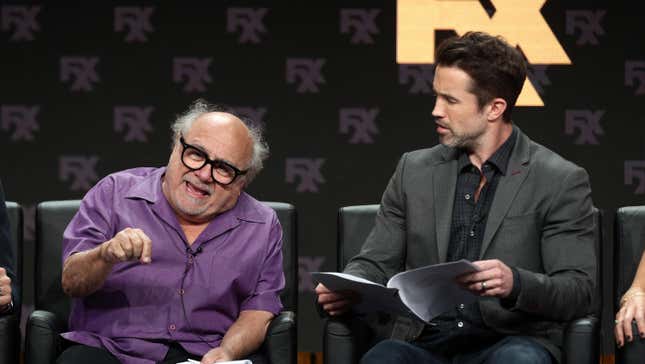 Nearly eighteen years after the Paddy's Pub gang first burst into our collective lives, applying Wild Card energy with reckless abandon, Rob McElhenney has revealed that his improbably long-lived sitcom, It's Always Sunny In Philadelphia, has officially begun filming on its 16th season.
Per Bleeding Cool, McElhenney broke the news in his Instagram Stories today, showing footage of himself, Glenn Howerton,Charlie Day, Kaitlin Olson, and David Hornsby on the Paddy's Pub set. (Danny DeVito was also there, per Olson's own Instagram Stories.) He also confirmed the announcement on his Instagram proper, by showing a picture of his wife Olson after she apparently suffered a black eye on the first day of filming.
It's Always Sunny last aired new episodes in December of 2021, so it's been a minute since we last checked in on the show's resident degenerates. Originally airing on FX, and then transitioning to FXX in 2013, the series has somehow become the longest-running show on either network's schedule. (Archer, its next nearest competitor, doesn't even come close in terms of length.) And, given that the series is currently renewed through its 18th season—and that the cast and crew seem dedicated to making it, even as their individual careers have taken off in the wake of Sunny's success—it doesn't show any signs of stopping soon.
Bleeding Cool noted that McElhenney, Day, and writer Megan Ganz recently addressed the writing of this upcoming season on their It's Always Sunny podcast, revealing that they're currently in the process of editing down scripts to fit them into the show's half-hour format. (Day also referred to his current work life as being "a deep, dark writing hole.") There's no word yet on when Sunny's 16th season will start airing on FXX.